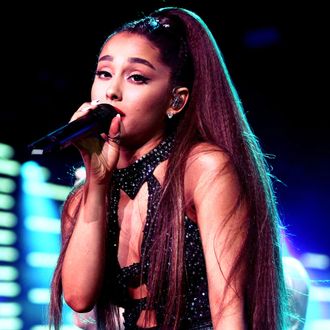 Photo: Rich Polk/Getty Images for iHeartMedia
It is by now not news that Ariana Grande has a brief song on Sweetener that is called "pete davidson" (lowercase hers), and is about — spoiler alert — her fiancé Pete Davidson. In the scheme of Permanent Relationship Monuments, this ranks somewhere below getting tattoos for each other, but above moving in together in the earliest stages of dating because it would "just be easier." The existence of the song is sweet, but it's not necessarily going to light up the charts. "everytime" (again, lowercase hers), on the other hand, could easily be her next single, and it very much seems to be describing a less idyllic relationship than the one she currently in.
The track is all about contrasts. Grande's voice floats almost playfully over a foggy bass synth provided by superstar producer Max Martin, but she's actually singing about a codependent relationship. She's deeply in love, but knows that it's not that healthy for her to get drunk and pretend it's all okay. She loves to hear from the dude, but he keeps getting high and hitting her up. Crucially, this isn't a song that provides any answers — if it did, it'd lose its allure. Instead, it's a chillingly accurate depiction of how a brain can tie itself in knots trying to justify an untenable situation.