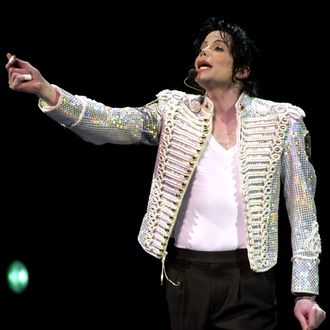 The real Michael Jackson.
Photo: Getty Images
In another turn of one of pop's weirdest conspiracy theories, Sony is fighting back against stories that it admitted in court this week that three posthumous Michael Jackson songs it released in 2010 were not sung by Jackson. "No one has conceded that Michael Jackson did not sing on the songs," the label said in a statement to Variety. "The hearing Tuesday was about whether the First Amendment protects Sony Music and the [Michael Jackson] Estate and there has been no ruling on the issue of whose voice is on the recordings."
Some background: For years, Jackson's relatives and fans have claimed that three songs on the 2010 album Michael, a collection of ostensibly unreleased tracks from the late singer's archive, were not actually sung by the King of Pop. A Jackson fan named Vera Serova agreed, and in 2014 she filed a class-action lawsuit against Sony, the songs' producers, and the Jackson estate over the alleged fraud. This week, multiple sites (including Vulture) ran a story claiming that, according to court documents, Sony conceded that the tracks — "Breaking News," "Keep Your Head Up," and the 50 Cent collaboration "Monster" — were actually performed by an MJ sound-alike named Jason Malachi. (According to TMZ, Malachi confessed to taking part in the hoax back in 2011.)
However, a source tells Variety that this week's stories stem from a misunderstanding of a remark by a lawyer for the Jackson estate, who was speaking hypothetically in a hearing about the album's liner notes, which state that the album "contains 9 previously unreleased vocal tracks performed by Michael Jackson." Sony had previously allowed that songs might have been fakes, but argued that since the label had believed the producers' claims that they were sung by Jackson, it should not be liable for the fraud. A decision on the label's culpability is expected within 90 days.
This story has been substantially updated and corrected.