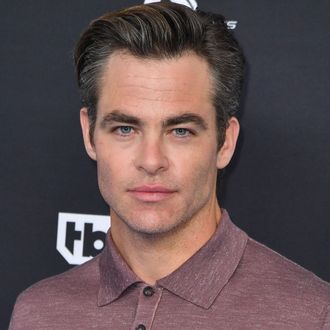 Chris Hemsworth.
Photo: ANGELA WEISS/AFP/Getty Images
There's big trouble in the United Federation of Planets. According to The Hollywood Reporter, the Chrises Hemsworth and Pine, who have been expected to return for Star Trek 4, are in a financial deadlock with Paramount that could end with them leaving the franchise. "The deal points came down to the usual suspect: money," says THR. "Pine and Hemsworth, among Hollywood's A-list when starring in DC or Marvel movies, are said to be asking the studios to stick to existing deals. Paramount, according to insiders, contends that Trek is not like a Marvel or Star Wars movie and is trying to hold the line on a budget. The actors, according to sources, insist they have deals in place and that the studios are reneging on them, forcing them to take pay cuts as they try to budget a movie that is following a mediocre performer."
So since Star Trek Beyond underperformed at the box office (according to THR, it may have even lost the studio money), Paramount is trying to tighten the belt, and reps for the Chrises are saying sorry, but no. The report doesn't say this is the absolute end of negotiations, so the Chrises might yet return. But it doesn't sound like deals with other stars — including Zoe Saldana, Zachary Quinto, Karl Urban, Simon Pegg, and John Cho — have closed yet either, so there are a lot of questions and very few answers at this point.
Pine is meant to play Captain Kirk in the fourth film, with Hemsworth reprising his role … also as Captain Kirk (the time-traveling father of Pine's character), who appeared only briefly in J.J. Abrams's first edition of the rebooted film series from 2009.