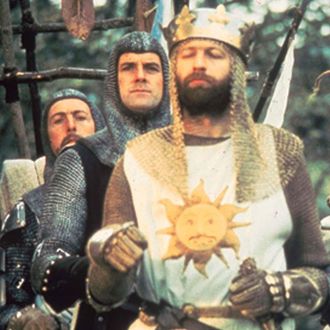 Graham Chapman in
Monty Python and the Holy Grail.
Photo: EMI Films/Cinema 5 Distributing
Monty Python is the gift that keeps on giving. Troupe member Michael Palin has given his private archive to the British Library in London, and it contains several cut and never-before-seen scenes from 1975's Monty Python and the Holy Grail. Palin spoke with the Times of London about the scripts, including an alternate ending to the film and two scenes written by Palin and Terry Jones in 1973 — one featuring a "Pink Knight" and another set in a "Wild West bookshop." The Times also posted the scripts for the Pink Knight and bookshop scenes online.
The alternate ending to the film centers on a battle between the knights of Camelot, the French, and the Killer Rabbit of Caerbannog — presumably a much pricier option than the ending that made the cut of King Arthur getting arrested, which the Pythons ultimately chose because it was "cheaper" and "funnier."
Another Palin script introduces a character that didn't make it into the final film: the Pink Knight, who offers King Arthur a "camp but defiant gesture" and won't let him cross a bridge until he gets a kiss. Speaking to the Times, Plain acknowledged that the Pink Knight probably wouldn't have been written today: "When we were writing Python in 1973, there was much more homophobia — or rather not homophobia exactly, but awkwardness of dealing with the whole subject of homosexuality." Here's an excerpt from the script:
P.K: Oh just a little one. I won't touch you with my hands




ARTHUR (TRYING TO GET BY): no no I'm afraid not




P.K: Come on, it won't lead to anything, I promise.




ARTHUR: No I don't want to




P.K: I won't get involved or anything. Just a bit of fun




ARTHUR: No




P.K: Oh go on. No-one'll know. We don't have to go all the way




ARTHUR: Get away




P.K (TRYING TO MAUL HIM): Come on




ARTHUR: Stand back!




P.K: You've got super little dimples just there (INDICATES)




ARTHUR SLAMS HIS VISOR DOWN AND STARTS TRYING TO GET AT HIS SWORD BUT THE PINK KNIGHT IS MAULING HIM




P.K: Come on, come on, it'll be super




ARTHUR: No no




P.K: You want to really




ARTHUR: Leave me alone




THE PINK KNIGHT TRIES TO EMBRACE HIM AND AFTER A VERY BRIEF STRUGGLE THEY LOSE THEIR BALANCE AND FALL OVER ON TOP OF EACH OTHER. A COUPLE OF BITS OF THEIR ARMOUR GET CAUGHT




ARTHUR: Get off! Get off!!




P.K: I can't I'm stuck




ARTHUR: Get off me




P.K: My knees got caught in your tasset




ARTHUR: Will you stop it




P.K: Oh it's no good
In another cut scene called "The Cowboys Sketch," a man enters what he thinks is a Wild West saloon, but it's been transformed into "the last bookshop before you get to Mexico" filled with "reading cowboys" instead. Here's an excerpt:
DUDE: Haven't you got some water even?




BAR: Well you see this hyar town's right in the middle of a goddam dried up creek. Ain't no good for nothing but reading.




SCOTT: Yup. Rootin, Ridin and Readin.




THEY SUDDENLY LOOK UP TERRIFIED. SOUND OF DOORS SWINGING OPEN. CUT TO SEE THE KID AND HIS SIDEKICK – BOTH EVIL TREACHOUROUS BANDITS.




EVERYONE LOOKS TERRIFIED AND PRETEND TO READ ALL THE HARDER. KID SWAGGERS UP TO BAR.




SIZES UP THE PLACE. BARMAN QUAILS.




KID: Hey you! Come here?




BARMAN: Who me?




KID: Come here. (BARMAN APROACHES. KID LEANS OVER AND DROPS HIS VOICE SLIGHTLY) Do you have "Black Beauty" by Anna Sewell?




BARMAN: Yeah yeah…I think so. I'll have a look.




HE RUSHES OFF TERRIFIED. THE KID AND SIDEKICK STARE ROUND THE ROOM HOSTILELY.




BARMAN COMES BACK WITH A SMALL RATHER SHABBY PAPERBACK.




BARMAN: Yeah. I got it. It's the last one.




KID TAKES IT.




KID: What kind of edition do you call this?




BAR: It's…it's a nice little book, isn't it?




KID: Listen! We gotta ride south tonight. We got another 5 days on the trail. This is gonna get all crumpled and bent.




BAR: It's quite strong.




KID: Listen, Mister! When you ride like we do, things get real rough treatment. You don't know what it's like til you've settled down round the campfire to the sound of the wild dogs and the rattlesnakes, and you get out a book to read, and it's bent in the cover, and it's got creases right across the pages, and the paper's got all roughed up…




BAR: (LOOKING WITH FEAR FROM FACE TO FACE) We…we're expecting some more in, boys.




KID: Do you have any other stories about horses?
Additional scripts include a scene where Hamlet becomes a present-day "foul-mouthed private detective" and a knight named Sir Tristram who "tries ineptly to track down the grail using scientific principles." Speaking to the Times, Palin said, "The Holy Grail took shape gradually and at the beginning it had far more ideas in it than ended up on screen because you had to have a narrative. In the end the story of the knights was strong enough."
Selected scripts from Palin's private archive will be available to view at the British Library starting August 7.