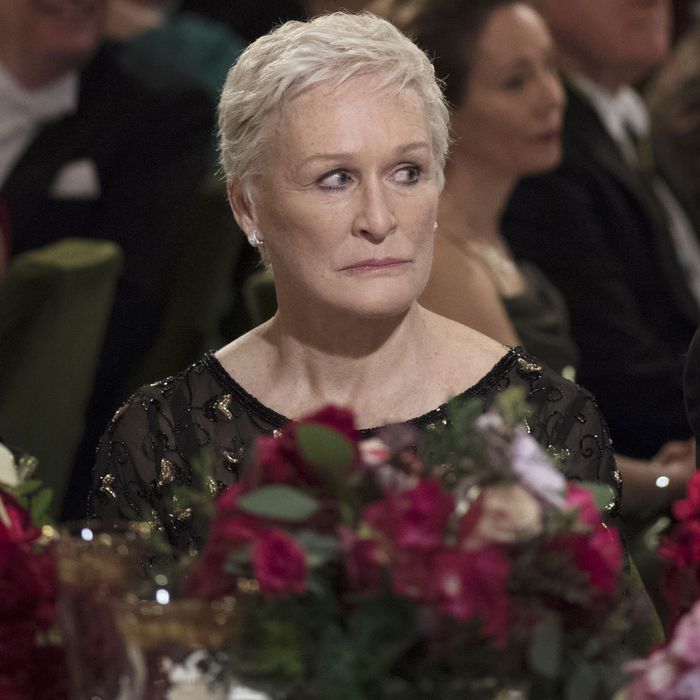 Photo: Graeme Hunter/Sony Pictures Classics
If you're looking for an aspirational backdrop against which to set a domestic drama, you can do worse than the Nobel Prize ceremony. It has it all: highbrow glamour, an exotic locale, swanky banquets, and obscure enough proceedings that few viewers will be able to determine if you "got it right" or not. The Wife makes good use of all these assets. Over the course of a few snowy nights in Stockholm in the winter of 1992, the marriage of newly minted Nobel laureate in literature, Joseph Castleman (Jonathan Pryce), and his long-supporting and suffering wife, Joan (Glenn Close), undergoes a barrage of white-tie galas and dinners and chilly limo rides, and is even awakened in the night by Santa Lucia herself. If your marriage is doomed to dissolve, it's nice to at least get in some culture along the way.
That dissolution also plays out as a kind of mystery in Jane Anderson's tense, hair-trigger-sensitive script. When Joe gets the call from the Nobel folks the morning after a sleepless, tossing-and-turning night, Joan runs to the other room to listen in on the line. As the messenger happily declares Joe that year's Nobel laureate, praising his works as a gift to humanity, his reaction is about what we'd expect — breathless, overwhelmed, near tears. But hers is more inscrutable, something incredibly interior and private, something like awe and heartbreak rolled into one. That silent look is more or less what the rest of the movie spends its time unpacking, riding on the single, steady rail of Close's exquisitely realized performance.
The Wife is based on a nearly 15-year-old novel by Meg Wolitzer, but I went in knowing little to nothing of the plot, and I don't intend to spoil any of it here for those who are similarly in the dark. Director Björn Runge and Close do such patient, simmering work in letting Joan's secrets and hidden frustrations inch into the light on their own (though with a little cajoling by Joe's insistent would-be biographer, played by a well-cast Christian Slater) that no statement of the surprise would do it justice, anyway. By the time the dramatic fireworks start popping off, each one feels earned. Along the way, through flashbacks (starring the very good Annie Starke as a young Joan) and richly painted, alternatively loving and passive-aggressive exchanges between Joan and Joe, we get a picture of Joan's life and its undercurrent of frustration: a promising writer in her own regard, she abandoned her career, discouraged by its male-dominated realities in the early '60s, instead becoming the dutiful caretaker/manager/fixer for her esteemed husband.
The Nobel hoopla around which The Wife centers is the natural culmination of what we can imagine has been decades of subservience on the part of Joan. But this is no case of loveless embitterment. That's what's great about The Wife: Joe is no saint, and his philandering appears to be an open secret in the literary community, but it doesn't mean Joan doesn't love him. If she didn't, none of this would be half as wrenching. In the middle of one particularly bad fight in their opulent hotel suite, they get a phone call from their daughter back in the States, who has just given birth to her own child. They drop the entire dispute, and embrace each other; Pryce and Close convey a truly lived-in, complicated familiarity with each other. "It doesn't get much better than this," Joe muses, with blissful tears, and as the rest of the film plays out, that ends up being a more prescient than he knows.
The Wife was nominated for an Oscar in 2019 for Best Actress.