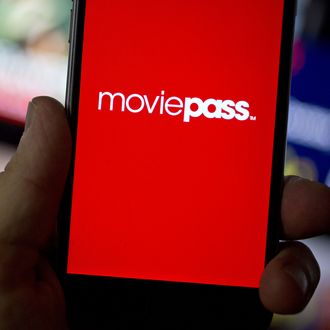 Photo: Andrew Harrer/Bloomberg via Getty Images
It's been a cruel summer for MoviePass. Over the past few weeks, the embattled movie-ticket subscription service has been jolted by one distressing development after another. Users became livid when the company raised its price from $9.95 to $14.95 a month, implemented surge pricing, and began limiting attendance to first-run films. (A subscription now costs $9.95 but limits users to three films a month). Amid frequent service outages, MoviePass's parent company, Helios and Matheson Analytics, had to take out an emergency $5 million cash loan last month to keep operations running. Helios stock fell from $20 to just two cents a share on Monday and faces being delisted on Nasdaq, making MoviePass's prospects of staying financially afloat even more dicey.
Now, adding insult to injury, a new poll indicates the number of MoviePass subscribers who are "very satisfied" with the service has plummeted to just 48 percent — down from an 83 percent satisfaction rate earlier this spring. Moreover, according to the poll by the entertainment strategy and polling firm National Research Group, 47 percent indicated they are at least "somewhat likely" to cancel the service thanks to the recent changes. "MoviePass's innovation was offering the freedom and flexibility to see any movie, at any time, almost any theater, for a low price," Jon Penn, chief executive of NRG, said in a statement. "By constantly changing the terms of the service — limiting which film subscribers could see and when they could see them — MoviePass has eroded brand trust and undermined their leadership position."
Those abysmal polling numbers stand in stark contrast to the poll of MoviePass NRG commissioned in March that expressed general subscriber happiness with the service — and how it had fundamentally reconfigured the way people see movies in theaters — even while reflecting users' doubt that MoviePass would remain in business.
Other key findings from the new NRG poll:
* Only 37 percent of subscribers said they planned to remain subscribed "for a long time," with the top two reasons for cancellation being: "They kept changing the rules" and "I couldn't see the movie I wanted when I wanted to see it."
* Of the recent cancellations, 50 percent of the former subscribers canceled in the month prior to taking the survey. And 50 percent of lapsed subscribers say they are going to the movies less often now.
* In March, 32 percent of responders thought MoviePass "wouldn't last"; that number has now shot up to 50 percent.