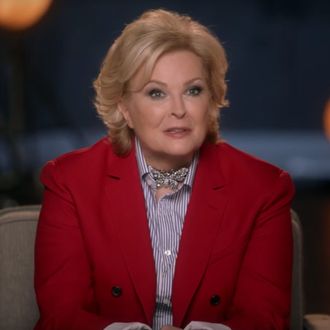 When CBS announced its Murphy Brown revival last January, the move was celebrated by fans who wanted Candice Bergen's liberal, unapologetic and outspoken journalist now more than ever. But that was before the New Yorker published its exposé about CBS CEO and chairman Les Moonves, among other allegations against the network and its high-powered producers. Diane English, who created Murphy Brown and is the executive producing the revival, wasted no time assuring journalists at the Television Critics Association press tour on Sunday that Murphy will be all over #MeToo stories.
"On behalf of everybody on our show, we take the allegation of sexual misconduct extremely seriously — so seriously that we actually developed an episode about the #MeToo movement many months ago and that will be our fourth episode," English said, adding that those involved with the show fully support the Moonves investigation. (English said she has never experienced sexual misconduct or misogyny at CBS.) The fourth episode will also be promoted with the perhaps-telling hashtag #MurphyToo.
Here are seven other takeaways from the Murphy Brown panel:
They first "toyed" with a reboot when Sarah Palin ran for vice-president in 2008
English says they didn't seriously consider a reboot back then, but eight years later, Donald Trump's shocking presidential victory changed their minds. The new show will begin with a montage set on November 8, 2016 — the day of the presidential election — and English wants the show to advocate for journalists. "We've always been a political show with something to say," she said. "But I'm focusing the show on the press. The First Amendment and the free press is under attack like I've never seen before and like I don't think anyone has ever seen before."
Murphy's son is a liberal journalist working at a Fox News-esque network
Jake McDorman plays the grown-up Avery, who is now employed as the liberal voice of Wolf Network — a cable news outlet that Bergen made sure to say is the show's version of Fox News. McDorman said that his character will be shaped by a life spent growing up around journalists — Faith Ford's Corky, Joe Regalbuto's Frank, and Grant Shaud's Miles taught him about reporting and ethics — and by being the child of a celebrity. "He's at an age where he's gotten the opportunity to put all those lessons into practice, albeit at this other network, when they're under attack," McDorman said.
Of course, Murphy being Murphy, she'll definitely take the business rivalry with her son seriously. "She is a fierce mom, but she is a competitive mom," Bergen said. "Avery has his work cut out for him."
Charles Kimbrough's old school newsman Jim Dial will be back, but not as a series regular
English says that Kimbrough will guest star in three episodes, playing the retired journalist who "finds a compelling reason to return." Because the show films in New York, she explained, it was too much of a commitment for Kimbrough to move from Los Angeles for a bigger role.
The show will pay tribute to Robert Pastorelli
Pastorelli, who played the fan-favorite handyman Eldin, passed away in 2004. But Bergen says his presence will still be felt and the character is mentioned in the first episode. "We haven't yet replaced him with anyone," she said.
Corky and Miles are kaput
Ford says Corky and Miles are not a couple anymore, since that storyline happened after English had left the original series.
The premiere has an 'enormously famous' cameo
"We always try to meld the worlds between fiction and reality. We were so successful in the first version of the show that the vice- president thought Murphy was a real person," English said. "We plan to do the same thing again and we've approached a number of people. We haven't closed the deals yet, but we do have an enormously famous person in our first episode. That's top secret, though, so I can't tell you."
Will Scott Bakula return as Murphy's love interest?
"He works all the time," Bergen teased, referencing Bakula's current gig on fellow CBS show, NCIS: New Orleans.