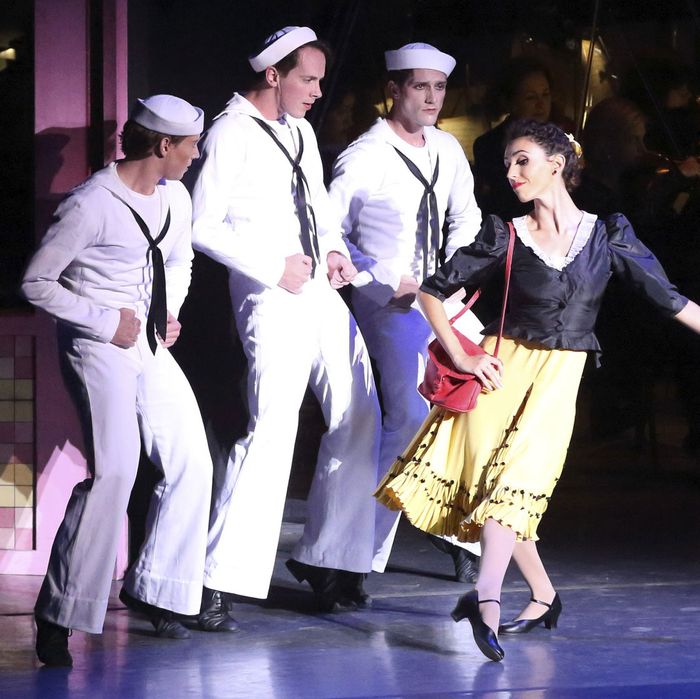 Three sailors on shore leave hit the city, and within moments, accompanied by the swaggering score of Leonard Bernstein's Fancy Free, they surround a passing young woman, grab her handbag, shove her around, and chase her down the street. To Bernstein, and to Jerome Robbins, this sequence represented a blithe flirtation, typical of the wartime courtship rituals of 1942. Reenacted by members of the Boston Ballet on the stage of the Tanglewood Music Shed, the scene acquired a lurid, violent cast that seemed utterly at odds with the easy, cantering music. Robbins came up with the premise and the choreography, went hunting for a composer to supply the soundtrack, and danced in the premiere. But time has transformed this mid-century artifact, curdling its macho humor into something darker. Now we see the night of fun, not just from the sailors' point of view, but from that of their prey as well.
The three men prowl the streets for females, preferably one each, and resolve their rivalry in a frisky brawl behind a bar counter. The mistreated women grin, flounce, parry, and then vanish, leaving the dudes with their homoerotic intimacy intact. (The marvelous Maria Alvarez seemed to be suppressing an inner Wonder Woman's desire to crack a few heads.) The best way to honor Robbins's spirit, and Bernstein's, is to give the original scenario a thorough renovation: keep the playfulness, romance, and slapstick, and ditch the overtones of rape.
Bernstein's centennial is being celebrated all over the world, nowhere with more sustained fervor than at Tanglewood, the Boston Symphony Orchestra's idyllic summer home. This was his spiritual home, too, the place where he matured into a musician and and later returned as guru, where he cultivated both protectors and protégés, where the plush gardens and soft misted hills of Western Massachusetts merged with the urban landscape of his imagination.
This performance was one step in Tanglewood's summer-long march of Bernsteiniana, which culminates with a gala on August 25, his 100th birthday. (Fancy Free eventually matured into the musical On the Town, which had a single performance there in July.) But the concert had a dutiful, not a festive air. Andris Nelsons conducted as if he would rather be at home watching TV. Some music can endure an uncommitted performance with its magic unscathed; Bernstein's can't. All those slinky dance steps, jazzy brass choruses, and clackety syncopations can go soft and dull if they don't receive proper care. The same goes for the dance. Robbins's moves should burst from the stage in a whoosh of good cheer and vigor. Instead, the performance was three-quarter-hearted, at best.
After the Boston Ballet's exit, Nelsons returned, possibly reluctantly, to conduct Divertimento for Orchestra, a suite of sketches that Bernstein wrote for the Boston Symphony Orchestra's centennial in 1981, and that the ensemble now used to mark his. But his ideas are truncated, his joy uneasy, and the result oddly unfestive and certainly under-rehearsed.
Bernstein's violin concerto, a serenade inspired by Plato's Symposium feels less like a free-flowing philosophical conversation about love than a free-associative monologue, a guided tour through all the music rattling around the composer's expansive memory. In a performance supercharged with fervor and nuance, the piece can be effective. Delivered lukewarm, as Nelsons and violinist Baiba Skride did, it has a tendency to congeal. Bernstein laced his entertainments with tragedy and cut his deeply serious works with slashes of wit. All you need to perform his music adequately is an intuitive feel for his mixtures of melancholy and hilarity, and for the way he conflated philosophical ambitions with wisecracking irreverence. His music could be repetitive, tedious, and meandering — and Serenade is all three — but sympathetic performers can minimize these faults and bring out its imperfect charms. Nelsons did the reverse.