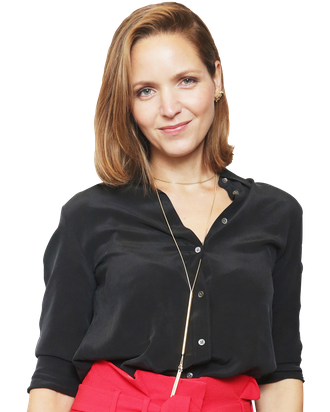 Though she's known for her acting work, Jordana Spiro has spent the past ten years quietly — and deftly — building her resume as a filmmaker. In between roles on shows like My Boys, The Good Wife, and Ozark, Spiro has somehow found the time to earn her M.F.A. in Film from Columbia University; to write, direct, and produce a series of short films; and to become a mom. Now, she's releasing her feature directorial debut, Night Comes On, which earned her the NEXT Innovator Award at this year's Sundance Film Festival.
The film, which has been nearly ten years in the making, is a passion project for Spiro — and it shows. It tells the story of Angel LaMere (Dominique Fishback), who, after being released from juvenile detention on the eve of her 18th birthday, embarks on a road trip with her 10-year-old sister Abby (Tatum Marilyn Hall) to right the wrong that landed them in foster care. Part coming-of-age tale, part revenge flick, the film — which Spiro co-wrote with the Shade Room founder Angelica Nwandu — steers clear of either genre's most obvious tropes and instead becomes a story of empowerment. Vulture spoke with Spiro about jumping into features, procrastination, and the challenges of being a woman who makes movies.
When did the idea for Night Comes On first come to you?
I wanted to make a movie about a young woman who was typically cast aside, and really get the chance to explore a certain side of her journey: the darkness, the beauty, the tenderness, the humor, all of the complexity of what life might be like for her. At the same time, I was volunteering with a foster youth organization called Peace4Kids and was learning about what it means to age out of foster care. I just felt compelled to set a story within those circumstances, because it seemed to me that there was just so much to admire.
What were you seeing that made it seem so ripe for exploration?
When you enter into foster care, it's because something traumatic has happened. But then you're bounced around from home to home, and the volume of homes that a lot of these kids bounce into is astounding. Oftentimes, with each new home comes a new school, so every day is really a survival.
Yet, a lot of times, there's no real opportunity for these kids to work through the trauma of the event that placed them in foster care. So now, cut to them being 18, or in some states 21, and they're released out into the world with no support system or safety net under them … And they have to be fully financially independent. That was the moment where I just thought, How on earth are they managing? But with a lot of the young people I got to meet, there's this incredible resilience and bravery and strength. And I wanted to make a story about that.
As much as it's about a very specific trauma, there's a universal quality that allows anyone to relate to the challenges these girls are facing.
I really appreciate that you say that, because that was my primary goal: that we could take a character who we normally just look at from the outside and see ourselves within her. And to me what that has to do with is, fundamentally, she feels lost. She does not feel powerful, and she does not feel meaningful. And that's a feeling I think almost everybody can understand, what it feels like to face the unknown.
How did the story change once Angelica Nwandu came aboard as co-writer?
The biggest and certainly the most meaningful change is that initially it was Angel and her little brother. As we started to work together, I think how we were working together and the fact that both of us have several sisters, it felt like an obvious and sort of perfect change, to make her have a little sister.
It was actually my mentor at Columbia, the director Ramin Bahrani, who said, "I don't understand. You have a bunch of sisters and your co-writer has a bunch of sisters. Why is this about a sister and a brother?"
Was finding financing your biggest challenge?
For sure, which was not surprising, unfortunately. On the one hand, while I'm happy for this moment that we're in where there's some celebration around female filmmakers or female films, I also think it's a little bit of a double-edged sword because they're putting you in a subcategory.
The fact that we even use the term "female filmmaker" is unfortunate.
Right. And the problem with that is that then you become neutral, and then that becomes harder to finance. Because people say, "Oh, you know what? I'd love to make a female film, but I already made one last year, and that's all I can give to that." My big question these days, to myself even, is: to what degree is it helpful to be a female filmmaker versus just a filmmaker?
In the past ten years, of the 1,000-plus top-grossing films, just over 4 percent were directed by women. What do you think needs to happen in order to change that?
Like any great problem, there's a lot of different things that need to happen. First of all in the hiring. I hear a lot of people say, "I'd really like to hire more diversely, but they don't come with enough experience." But how do you get more experience if you can't get hired in the first place? So people in power need to take more risks and be excited instead of discouraged by that risk. Because they get to be part of the solution. Surely there are as many instances of first-timers excelling because they have so much to prove as there are of veterans failing because they've gotten complacent.
So there's that. And then it's what we were just talking about: allowing ourselves to see films not as a "female film," but as a film.
It amazes me that this is Tatum Marilyn Hall's first film. She's so funny and natural and her chemistry with Dominique felt so authentic. Where did you find her?
I was working with two incredible people, Marlena Skrobe and Olivia Cresser, for about a year to find Tatum. And they were just incredibly determined to find the right Abby with me, and I'm eternally grateful for the heavy lifting that they put into that. We auditioned about 1,000 girls … Then they met Tatum at a step competition in the Bronx. They actually called me right away and said, "I think we have an interesting Abby," and we just sort of knew.
She has such a swagger coming into a room, and then at the same time can access an incredible level of emotion and nuance and tenderness, and then jump right back into being sassy and sarcastic.
How has your work as an actor influenced your approach as a director?
I think I have a good sense of when, let's say an actor is not getting a line because maybe they need to come at it from a different angle or maybe it's actually just because the line sucks. Or maybe it's just not an honest line of dialogue. I think I have a good ear for that, so I know if a scene needs to change course just in the way it's on paper … Not that I can do that myself as an actor.
You've been working steadily for years. Yet somehow found the time to earn your M.F.A. and become a mom. You must be the world's greatest multitasker.
No, I'm the biggest procrastinator! I'm so terrible. I just don't sleep, and I don't take very good care of myself. I don't know. I look around and I see people with more than one kid and it baffles me.
Are you anxious to get behind the camera again? Or dying to take a break?
I definitely want to direct again; I feel like I've learned so much and I'm excited to dive into that setting. I'm juggling a few different ideas right now and seeing what feels like the richest idea to dedicate the next several years of my life to.
I love all these directors who are putting out their first film and still wiping the sweat off, but they're like, "My next film is this and it's about this and I'm already casting it." That to me is totally mystifying. Right now I'm just coming back to center and trying to listen and hear what my heart is saying that I want to do.
This interview has been edited and condensed.