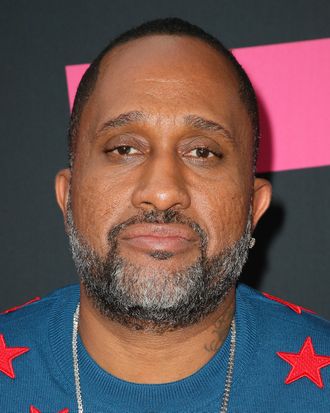 Photo: David Livingston/Getty Images
Black-ish creator and Girls Trip writer Kenya Barris has landed at Netflix with a multimillion-dollar overall deal, just six months after ABC scrapped a politically themed episode of the writer-producer's sitcom for "creative differences." The pact is no surprise: In April, The Hollywood Reporter broke the news Barris was looking to leave ABC's studio arm for Netflix, and late last month, Barris and the Disney-owned company confirmed they were breaking up three years before their existing agreement was set to expire.
Barris is the latest powerhouse producer to leave linear TV for Netflix, joining Ryan Murphy and Shonda Rhimes in setting up shop at the streaming juggernaut. Netflix's description of its agreement with Barris said only that it is "a multi-year overall deal to produce new series exclusively at Netflix, starting today," and that all projects would be funneled through the Barris-led Khalbo Ink Society. THR last month described the agreement as a "nine-figure" deal over the course of its lifetime (likely three to five years). A Hollywood agent not directly connected to Barris but familiar with such deals says it's understood the deal will end up being worth around $100 million. (Murphy and Rhimes both signed deals estimated to be worth well over $100 million — some reports have suggested as much as $300 million.) Though rich by any definition, those dollar amounts are in line with what the top producers in linear TV have made historically once profits from the sale of reruns of their shows — a.k.a. syndication revenue — is tallied. Netflix doesn't sell shows it owns to other outlets, so it has to pay producers more to compensate for what their creations would earn in traditional syndication.
The Barris news comes one year to the week after Netflix shocked ABC and Hollywood with news it was snatching up Rhimes. Barris hasn't had nearly the same track record of success as Rhimes during his shorter tenure at ABC, but he was undeniably one of the company's most important comedy producers (he also helped launch the Black-ish spinoff Grown-ish at ABC sibling Freeform). The Netflix pact, for now at least, appears to be only over Barris's TV work. Netflix original content chief Cindy Holland issued a statement calling Barris "one of our great modern storytellers. Kenya uses his voice to make audiences more aware of the world around them, while simultaneously making them laugh." Barris, meanwhile, issued a lighthearted statement confirming the news. "When my agents reached out to me about this little garage start-up called Netflix, I wasn't sure what to think," he wrote. "But after I talked to Ted and Cindy, I started to believe that maybe this mom-and-pop shop with only 130 million subscribers might just be something … so I decided to take a swing … a leap of faith if you will, and take a chance with the new kids on the block."
Barris has not spoken much about his skirmish with ABC over the Black-ish episode it scrapped in February, though he told Vulture in May that it came down to a "difference of opinion" and they "mutually decided just to move past it." Although the script for the half-hour has yet to leak, it's believed the episode dealt in part with the controversy over NFL players kneeling to protest police brutality. ABC Entertainment Group president Channing Dungey has said that the kneeling "was not even really the issue."