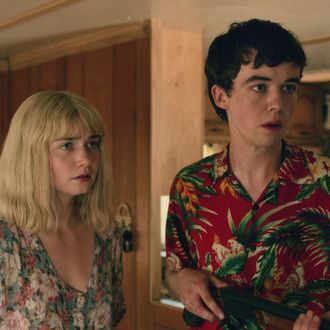 The End of the F***ing World.
Photo: Courtesy of Netflix
Your favorite would-be psycho killers are back to cause some more trouble. Qu'est-ce que c'est? Vulture can confirm Netflix has renewed the acclaimed dramedy The End of the F***ing World (the network's preferred asterisk style, not ours) for a second season. The series originally premiered on the U.K.'s Channel 4 last October, before being snapped up by the streaming service and finding success in our neck of the woods earlier this year. The leading duo of James (Alex Lawther, a low-key period drama dreamboat) and Alyssa (the lovely Jessica Barden) will be back for more psychotic shenanigans, as will Charlie Covell, who wrote all of season one's episodes. "It was astounding how popular it was for us," Ted Sarandos, Netflix's chief content officer, previously told Vulture. "It didn't do great on linear TV in the U.K., and we premiered it everywhere and it was hugely popular in every country." To reiterate: Fuck yeah, great news!