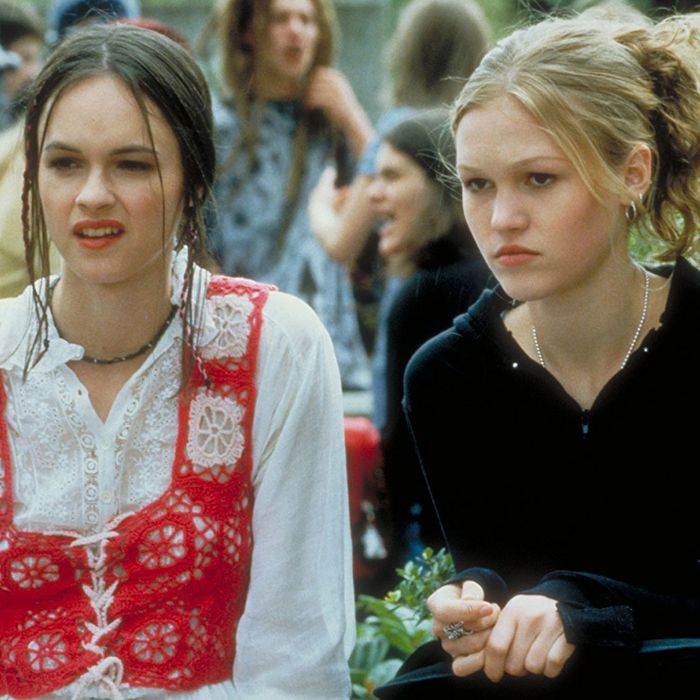 Photo: Buena Vista Pictures
At the beginning of (and during) every month, Showtime adds new movies and TV shows to its library. Below, you'll find our recommendations for August 2018. For more coverage of the best titles available on Showtime, including our top picks from last month and updates on what's leaving Showtime this month, check out Vulture's What to Stream Now hub.
Available August 1
Because damn, it holds up: 10 Things I Hate About You
Have you revisited 10 Things I Hate About You lately? Well, guess what? It's still great. Pulling from the tried-and-true playbook of placing Shakespeare in a modern context (in this case, The Taming of the Shrew through a '90s lens) yet still delivering charm and wit of its own, 10 Things is a rom-com classic. With its delightful tangle of complications, the movies ties all its characters together with bungee cord and sends them running free. Joseph Gordon-Levitt plays Cameron, the new kid in school, who falls hard for Bianca (Larisa Oleynik), a popular girl who isn't allowed to date until her older sister Kat (Julia Stiles) does. Only problem? Kat couldn't be bothered with dating, or with boys in general. So when Cameron enlists bad-boy Patrick Verona (Heath Ledger) to win Kat over, star-crossed drama ensues, and the rest is rom-com history. Available August 1.
Available August 4
Because why wouldn't you want to watch grown men fumble over Reese Witherspoon: Home Again
While it doesn't quite live up to the talent behind it — Reese Witherspoon! Candice Bergen! Michael Sheen! — there's something about Home Again that's strangely enticing, the kind of movie that taunts you until you simply cave in. Maybe it's because the film's premise is … kind of amazing? Following her 40th birthday and separation from her husband, Alice (Witherspoon) moves back to L.A. from New York with her daughters — and, after a night out, decides to let a trio of aspiring filmmaker dudes crash at the house after nearly hooking up with one of them. Eventually, the men form an oddball family with Alice and her children, which is both very complicated (sexually) and ridiculously off-kilter. Home Again isn't a revelation, but it's the perfect title to queue up if you're looking for something breezy and Nancy Meyers-ish — it is, after all, directed by her daughter Hallie Meyers-Shyer. Available August 4.
Noteworthy selections in bold.
Available August 1
• 10 Things I Hate About You
• All Styles
• Anger Management
• The Beaver
• Camp X-Ray         
• Chef
• Dogville  
• Freeway  
• Hey Arnold! The Movie        
• The Hunt for Red October
• I Got the Hook-Up      
• I'm Gonna Git You Sucka    
• Jasper Jones    
• Leaving Las Vegas     
• The Legend of Bagger Vance
• Lost in Translation 
• Rosewater        
• School Ties       
• Texas Chainsaw Massacre: The Next Generation         
• The Thomas Crown Affair
• Urban Legend
• Valkyrie
• Waiting
• Whale Rider      
• Who Is Cletis Tout?  
• Windtalkers  
• Martin Lawrence Live: Runteldat
Available August 4
• Home Again
Available August 6
• Spy Kids 2: Island of Lost Dreams (2002)
Available August 7
• The Loft
Available 10
• Henry Rollins: Keep Talking, Pal
Available August 11
• All I See Is You
Available August 15
• Enemy of the State 
Available August 18
• Lynyrd Skynyrd: If I Leave Here Tomorrow
Available August 19
• Bridge to Terabithia
Available August 26
• Captain Fantastic
Available August 30
• Deuces Wild  
For more coverage of the best movies and TV shows available on HBO, Amazon Prime Prime, Showtime and Hulu, check out Vulture's What to Stream Now hub, which is updated throughout the month.
For next month's guide, check out September's list. For last month's guide, see July's list.