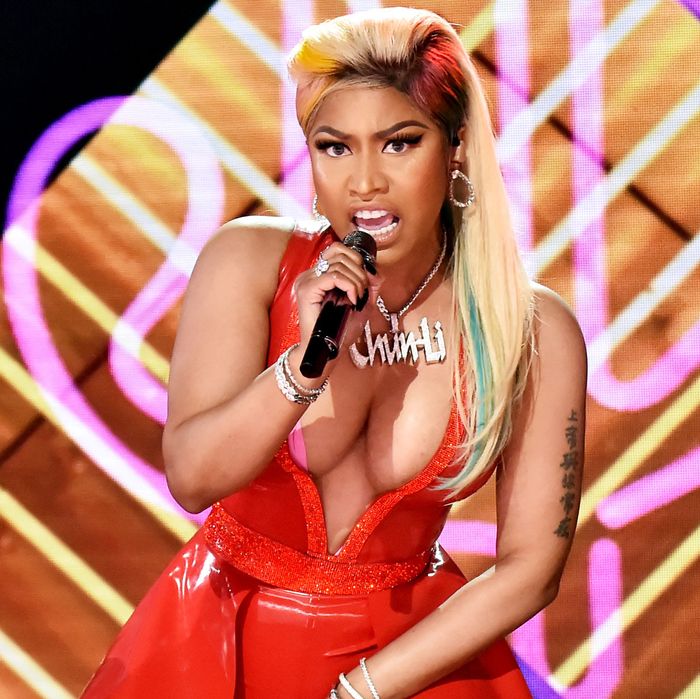 Nicki Minaj onstage at the 2018 BET Awards in Los Angeles, California.
Photo: Kevin Mazur/Getty Images for BET
If you're a rapper who woke up this morning assuming you and Nicki Minaj were on good terms, check again. This afternoon Minaj released her long-delayed, mired in utter confusion, fourth album Queen. It's a mostly innocuous effort, save for the stray potshot here and there, with the extreme exception of third track "Barbie Dreams." It's a song that takes its aim before a single bullet rolls off the barrel of Nicki's tongue: Its inspiration comes from Biggie's "Just Playing (Dreams)," which famously listed off all the women in R&B of that era he wished to have sex with, and was then famously flipped by Lil' Kim for her own song, "Dreams," where she fantasized about all the R&B men she'd have sex with. 50 Cent made the conceit more sinister with his version, 1999's "How to Rob," listing all the rappers and R&B singers he wanted to rough up.
Minaj's "Barbie Dreams" revisits Biggie's original by once again recycling the beat via sample — remember, she and Kim have had an unwavering feud since Minaj first arrived, making this shot all too cheap — except her interpretation isn't fiction. It's Minaj listing by name all the men of the rap game who've tried to have sex with her, wined and dined her, and most juicy of all, crossed her. Some attacks are made in jest, like the friendly ribbing she gives Drake and, ugh, Tekashi 6ix9ine, but other jabs are more barbed, particularly those for Meek Mill, Young Thug, and … DJ Khaled? Here's what she had to say about each guy — and one girl.
Meek Mill
Minaj and Mill dated for a time, until she ended things in 2015. Since then, Mill has become the face of prison reform, but Minaj hasn't been so supportive of his cause. On "Barbie Dreams," she accuses him of still wanting to be with her, and uses his most famous verse to mock him.
Meek still be in my DMs, I be having to duck him

"I used to pray for times like this"

Face ass when I fuck him
Young Thug
Who knew Thugger and Nicki even had beef? The two have worked together many times, even as recently as April, but it appears their relationship has turned sour. But we'll never actually know why because instead of giving us a reason, Minaj instead resorts to queer "jokes" about Thug's fashion.
Used to fuck with Young Thug, I ain't addressing this shit

I caught him in my dressing rooms stealing dresses and shit
DJ Khaled
Khaled made the pitiful mistake of revealing he doesn't go down on his fiancée — or any woman — and Minaj is not here for it.
Had to cancel DJ Khaled, boy, we ain't speaking

Ain't no fat nigga telling me what he ain't eating
Drake
They've always claimed to have a brother-sister dynamic — even when Drake tried to make it incestuous — and this is precisely how older sisters destroy their little bro's spirit.
Drake worth a hundred milli, always buying me shit

But I don't know if the pussy wet or if he cryin & shit
50 Cent
This is perhaps the only fantasy of the song, but we're having far too much fun believing it actually happened.
I tried to fuck 50 for a powerful hour

But all the nigga wanna do is talk Power for hours
Desiigner
Now this is just plain rude.
I remember when I used to have a crush on Special Ed

Shoutout Desiigner, 'cause he made it out of special ed
Karrueche
Nicki doesn't only have words for men. She also spills some apparent tea about Claws' Karreuche Tran, who once dated Migos' Quavo, Nicki's close friend and collaborator.
Somebody go and make sure Karrueche okay though

I heard she think I'm tryna give the coochie to Quavo
Odell Beckham Jr.
The Giants player lost a shot at Nicki Minaj by participating in the "In My Feelings" challenge, proving yet again why it's the worst!
And I would've had that Odell Beckham banging the cake

'Til I saw him hopping out of cars dancing to Drake
Tekashi 6ix9ine
In which Minaj jokes about having sex with a sex offender.
Tekashi want a ménage, I said tre-way

Curved him and went the Kim and Kanye way