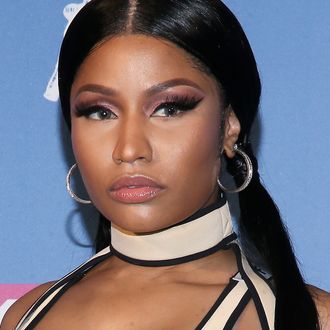 Nicki Minaj.
Photo: Paul Zimmerman/Getty Images
Nicki Minaj's recent Twitter spats may have been spurred by more than just competitiveness over album sales. Rolling Stone reports that as of Tuesday night, the rapper has cancelled her North American tour with Future that was set to kick off on September 21. According to Live Nation, Minaj "has decided to reevaluate elements of production on the 'NickiHndrxx Tour.'" However, Page Six claims an unofficial source at Live Nation told them the ticket sales were abysmal. "Nicki's tour could be the most disappointing ticket sales of the year for any artist," the source is quoted as saying. "These are big arenas with up to 20,000 capacities. Sales for opening night in Baltimore is 2,000 tickets. L.A. is 3,400, New Orleans 1,000, Denver 1,300, Chicago 3,900. Even her hometown Brooklyn is only 5,050." However, Minaj is from Queens, so maybe this person has no idea what they're talking about.
Page Six also quotes an industry insider who says Minaj has "gone off the rails," though honestly have you ever planned a big event and then had to worry whether anyone would show up? It's stressful! She will continue with the European leg of her tour, which launches in February, and a new North American tour will happen next summer, though dates have yet to be announced. Future will not participate due to scheduling conflicts, and we're guessing Travis Scott would not be up for filling in.
Updated 8/22, 1:35 AM: Minaj took to Twitter to address the reason for her tour cancellation, saying that it was in fact due to her album's two-month delay, which made the necessary rehearsal time impossible. "I just simply don't have the time to rehearse and be on the road in time to give you guys the level of a show I need to give. Jamie King and I are working tirelessly to give you guys the best show of my life, and I fully apologize, but it'll be worth it." Watch her full statement below.