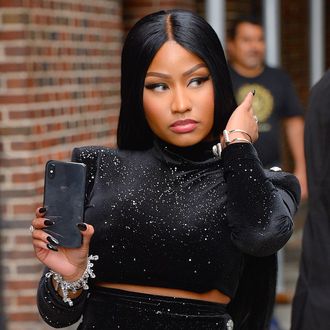 Nicki Minaj.
Photo: Robert Kamau/GC Images
Onika Maraj woke up aggrieved on Sunday, after Travis Scott's Astroworld came in at No. 1 ahead of her new album Queen, and she took to Twitter to lay out an intricate web of criticisms leveled at Scott, Scott's girlfriend Kylie Jenner, Spotify, her label, and Billboard to explain why she came in second.
Minaj's main beef? The fact that Kylie Jenner promoted Scott's Astroworld tour packages, which allow fans to purchase tickets, T-shirts, and the album concurrently, on Instagram. Those package deals, Minaj claims, shouldn't count toward Scott's Billboard ranking, especially since his extremely famous girlfriend suggested that fans who attended the Astroworld tour could maybe, possibly, conceivably get a glimpse of their equally famous baby.
On the other hand, many artists, including Minaj herself, have offered their fans merchandise/album and ticket/album packages, one of the many complicated metrics Billboard and other outlets must figure out how to weigh when calculating album sales. Just another thing the internet has left a mess.
Speaking of which, Nicki goes on to indict Spotify for allegedly trying to "teach her a lesson" for inadvertently playing her album on her Apple Radio show prior to its release on Spotify, a mix-up she says she didn't realize had even happened until after the fact. Minaj further asserts that her current label, Republic Records, didn't want her to cause a fuss about Spotify's actions, lest any fallout affect her "Bed" collaborator and label-mate Ariana Grande.
In the end, however, Nicki pivoted to an "I'm just playing" approach when it comes to how she really feels about all these aforementioned ills. "Omg y'all this is sarcasm/dry humor," she tweeted Sunday night. "Yikes." As the extremely Not Mad singer herself put it, "Im actually laughing."
Update, August 20, 1:58 pm: A representative from Spotify has responded to Minaj's claims, denying her accusations of sabotage and insisting that they, like the rest of us, are all fans. "Spotify supported Nicki Minaj with a Times Square billboard, a host of the largest playlists, New Music Friday and the new music release shelf," the representative said in a statement to Variety. "Her song 'Bed' actually saw an increase based on the promotions put behind the campaign. The company continues to be big fans of Nicki."