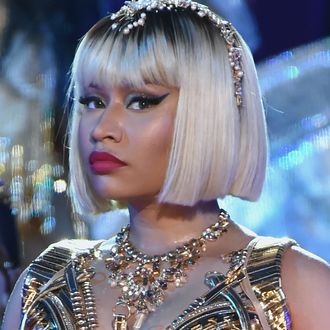 Nicki Minaj.
Photo: Kevin Mazur/Getty Images
In an extremely disappointing turn of events, this website has once again missed out on being named Nicki Minaj's "Cocksucker of the Day." The exclusive honor is one Minaj has been bestowing on only her most conniving rivals, and this week the title went to Travis Scott co-manager Irving Azoff. On her Beats 1 radio show on Thursday, Minaj accused the former Live Nation/Ticketmaster CEO of actively trying to undermine her tour. "Allegedly, he tried to put out a smear campaign against my tour, and contacted people in the media to spread negative things about my tour," the rapper told listeners, referring to the rumor that the first leg of her tour was cancelled over lackluster ticket sales. "May God be with you, Irving. It's disgusting what these people have been systematically trying to do."
Azoff did not respond to Variety's request for a comment, and it's unclear why he would engage in this subterfuge. However, the ticket sales rumor did originate with an unofficial Live Nation source who spoke to Page Six. So who knows, because honestly, the competition for this award is so fierce.