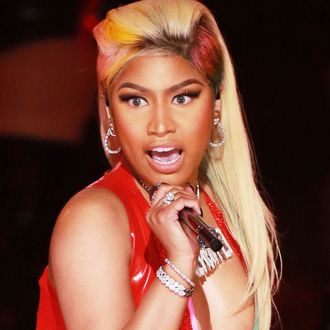 Oh, Nicki.
Photo: Leon Bennett/Getty Images
Nicki Minaj's new album, Queen, is either coming out next week, the week after that, or never. After already delaying the album once, Minaj took to Twitter on Tuesday night to put out an open call to Tracy Chapman in a series of since-deleted tweets asking her to please get in touch so Minaj could clear a sample of one of Chapman's songs, or else the album will be delayed again. The only problem is, Chapman isn't on Twitter, so she'll probably never see Nicki's plea, and worse, she rarely licenses her songs (Nice & Smooth, you still really lucked out).
Nicki also then did a poll asking fans whether or not she should lose the song and keep her August 10 release date, or wait to hear from Chapman and push the album back another week. She further hinted that this mystery song would spill some piping-hot tea and "features one of the greatest rappers of all time," which won't sway the votes at all. She also shared a screenshot of a very bold fan who slid into a Chapman fan account's DMs offering $2 million for the sample … out of Nicki's pocket. Well, at least their heart was in the right place, if not their bank account.
Meanwhile, all Lena Dunham had to do to get "Fast Car" on the Girls series finale was personally call Chapman like the olden, pre-Twitter days. Just a thought!
Update, 12 p.m. E.T.: Nicki has announced that her album will indeed be pushed to August 17, revealing the news in a rambling note to fans with a playlist she curated for Apple Music. In it, she defends working with Tekashi 6ix9ine, says she's making a second "Bed" video with Ariana Grande, and calls out Post Malone for not releasing the video for their collaboration:
My darlings!!! I have a huge surprise that I can't share until the day before #Queen drops. So in the meantime, check out this playlist I made for you guys. I did #FEFE with my new BFF from BROOKLYN. He's a little funny looking but he's really sweet under all those tats. :weary: New York til da DEF!!!! Ha! Last time I teamed up with YG was for his remix to "My Hitta." We recently performed #BigBank at the BET Awards and had a blast wit my dudes Big Sean and 2 Chainz. I have classic bops with all 3 of them so I'm including them on this list. I'm super excited about my recent collaboration with Ariana Grande. She's one of the realest artists I've had the pleasure of working with. She couldn't fly with me to Turks to shoot the #BedVideo so we shot her scenes in Malibu. We're actually working on edit number 2 for the #BedVideo to include all the fun stuff we had to remove. I love "Ball For Me" with Post Malone. Not sure why he won't release the video. :speaking_head_in_silhouette: It's DOPE!!! :stuck_out_tongue_winking_eye: I hope you enjoy my playlist. Can't wait for you guys to hear my 4th album QUEEN ON AUGUST 17!!!!!!!