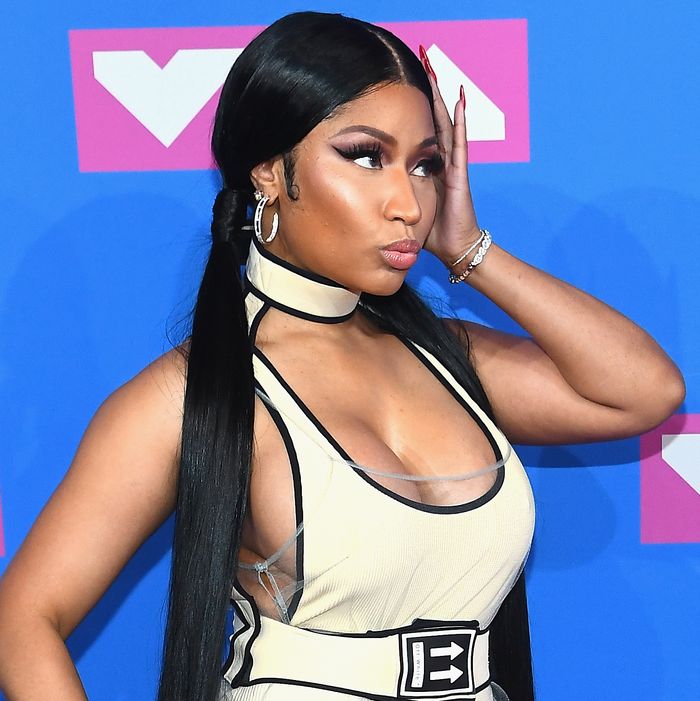 Photo: Nicholas Hunt/Getty Images for MTV
Some weeks feel like a year, but if you were to ask Nicki Minaj right now, she's probably feeling more like she aged a decade over the last seven days. A mere two weeks after releasing her fourth album, Queen, with a sloppy rollout, she's spun an even more tangled web rooted in conspiracy.
It all started when Queen failed to debut at No. 1 — and Minaj decided to play the blame game, implicating everyone from Travis Scott to Spotify to even baby Stormi in an apparent plot to sabotage her first-week sales. Thus far there are no winners or losers to be had, but there are "cocksuckers" and "hoe niggas," and "queens" — and all of them were declared just by Tuesday. But is she correct in believing it's the world vs. Nicki? Let's recap Minaj's terrible, horrible, no good, very bad week, explore the nitty-gritty details, and attempt to fact-check some of her claims.
August 15: Nicki Minaj retroactively adds "Fefe," her feature with controversial rapper Tekashi 6ix9ine, as the last track to Queen despite it not technically being her song, presumably to boost the album's overall streaming numbers. (Streams for previously released singles on an album count toward its first-week numbers, and "Fefe" had charted higher than any of Queen's other singles.)
August 18: Nicki claims she's being "bullied behind the scenes" in a series of tweets. She insinuates that Pitchfork and Forbes were paid to write articles critical of her working with 6ix9ine, and retweets fans saying that Minaj's treatment by the media is sexist and inconsistent by pointing to a list of male rappers who've also defended or worked with artists accused of misconduct and never caught flak for it.
August 19: Nicki Minaj's Queen officially misses out on a No. 1 debut, coming in second behind Travis Scott's Astroworld, which spends its second week at No. 1. Billboard reports that her album sold 185,000 album equivalents to Scott's 205,000. Though both albums technically sold around the same in traditional sales (78,000), meaning both digital downloads and physical purchases, Scott's outpaced hers on streaming and therefore pulled ahead in the overall total. That's even with Queen being Minaj's highest-streamed album in the first week to date. (Note: As Nicki will later continuously bring up herself, because Queen was released at noon on a Friday as opposed to midnight, it lost 12 hours on Billboard and Nielsen's tracking week, which could account for fewer sales.)
August 19: Nicki unravels on Twitter, accusing Travis Scott, Kylie Jenner, Spotify, Billboard, and her own record label of foul play that kept her album from reaching No 1. Let's break down her claims:
• Travis Scott. Nicki's principal grievance against Scott is that he cheated the system by juicing his album sales with album-tour-merchandise bundles. "Travis sold over 50K of these. With no requirement of redeeming the album! With no dates for a tour, etc," she writes. Scott's strategy of guaranteeing album sales by tethering them to tour and merch purchases is a common industry trick, and it was done first by Prince in 2004. It's more recently been done by Taylor Swift, Pink, Bon Jovi (their bundle even got their latest album back at No. 1 on the charts), Nicki's BFF Ariana Grande, and, turns out, even Nicki Minaj herself: Billboard, in its initial report on the chart, pointed out that both Scott and Minaj benefited from bundle deals. He just benefited from them more, which she argues is because his deals were disingenuous since no code had to be redeemed — or any work on the fans' part — for the sale to count, whereas hers apparently did.
But that might not be true. Billboard has historically only counted such sales if codes are redeemed or, in other words, once the symbolic purchase has been made, meaning Minaj may be misinformed about how Astroworld's sales were actually counted. (Billboard has not commented.) The precedent was set (and tweaked over time) when Billboard went back and forth on how to count Prince's Musicology bundle sales. Simply put: "free" albums do not count toward the charts. (Fun fact: Technically, any album priced under $3.49 doesn't count on the charts for its first four weeks of sale, per Billboard rules.) Minaj also claims to have spoken directly to Scott, who she says agreed that her album was rightfully No. 1 that week regardless of the final chart tally.
• Kylie Jenner. Similarly to Travis, Nicki is annoyed at his girlfriend Kylie Jenner's role in promoting the tour bundle. She takes extreme exception to a tweet Kylie sent implying that if you go see Travis on tour, hey, maybe just maybe you'll get a glimpse of her and their daughter Stormi, too. Which is just straight out of the Kris Jenner marketing playbook.
• Spotify. Nicki then accuses Spotify of punishing her for premiering her album on Apple Music by not properly promoting Queen on their service. She says Spotify told her they'd have to "teach her a lesson." She brings up their unprecedented Drake promotional rollout for Scorpion — in which they allowed him to take over every single playlist on the service — despite his long-standing Apple Music deal, as evidence of unequal treatment. (Note that Drake's previous album was an Apple Music exclusive, but he has since reversed course; Scorpion was fair game for all streaming services upon release, as was Queen, despite its Apple Music premiere on Beats 1 Radio – though Nicki mistakenly claims otherwise.)
• Republic Records. Nicki claims that when she tried to complain about Spotify's alleged sabotage and have her label intervene, she was told that Republic feared that picking a fight with Spotify would hurt her labelmate Ariana Grande's chances at promotion on the service, too.
• Billboard. Oh, but she's not done yet! Nicki is also upset at Billboard for allowing artists to game the system with tour bundles in the first place, which she says they've said they'll no longer allow. (Again, Billboard has not commented.) In the past, Billboard has been averse to permitting gimmicks to manipulate their charts: They did not, for example, count the sales for either of Jay-Z's last two albums that were prepaid for in bundle deals with both Samsung and Sprint and then offered to fans for free, despite even the RIAA adjusting its own rules to allow such albums to reach gold and platinum certification automatically upon release in the cases where, say, 1 million albums were pre-purchased. (RIAA later also started counting streams toward its certifications, a cause Nicki also trumpeted when she felt her Pinkprint sales were being unfairly lowballed.)
Nicki ends her rant with the classic "Just kidding."
August 20: Spotify denies Minaj's claims of sabotage in a statement to Variety, saying they fairly promoted her album and boosted streams for one of her singles: "Spotify supported Nicki Minaj with a Times Square billboard, a host of the largest playlists, New Music Friday and the new music release shelf. Her song 'Bed' actually saw an increase based on the promotions put behind the campaign. The company continues to be big fans of Nicki."
August 20: TMZ reports that, after learning he was to be seated directly behind Minaj at the VMAs, Travis Scott requested a seat change to the opposite side of the room for both himself and Kylie Jenner. His reason, according to TMZ, was to "avoid bad optics" and because he felt the artist with the No. 1 album shouldn't be seated behind the runner-up, not because he feared a potential in-person incident with Minaj. Later at the show, Scott ends his performance reminding the audience — but mostly Minaj — that he has the No. 1 album in the country.
August 20: Nicki declares Harriet Tubman "Queen of the Week," for reasons that still don't entirely make much sense, but if we had to guess, it has something to do with great female disruptors and Minaj counting herself among them. Tubman freed slaves; Minaj says she helped legitimize streaming.
August 20: Nicki finally finds someone who'll stand in her corner and it's Chance the Rapper.
August 21: She hosts her fourth episode of Queen radio on Apple Music's Beats 1 Radio and doubles down on the offensive against Travis Scott, declaring him "Hoe Nigga of the Week" as part of her episodic awards section. Per Pitchfork's transcript: "What we're not gonna do is have that Auto-Tune man selling fucking sweaters telling you he sold half a million albums, because he fucking didn't," she says. It only gets uglier from there: "You stupid fuck. You got your fucking homeboy talking for you and you got your girlfriend selling tour passes. Stop it. Knock it the fuck off." Oh, there's more: "When [Travis] comes along and sells a tour pass that has nothing to do with his fucking music and says he's sold more than Kanye West and Nas—no you fucking didn't, keep it the fuck real. I know I'm that bitch, I know I'm No. 1." (She gives Kylie a pass, however, saying she loves the Kardashian-Jenners.)
Switching subjects, she brings up her track record on helping streaming count toward the Billboard charts. (Billboard starting counting streams as sales equivalents in 2014.) "Some of y'all favorite artists need them streaming points. Shout out to Chance the Rapper. Let it be known Onika was one of those people fighting," she says. "You know how many bullets I took for you motherfuckers to get streaming to count on Billboard? Do you know record companies are in business with these streaming services? An artist signs a 360 [contract] and all their music pretty much goes to their label … Most artist have no fucking clue, most artists do not read their contracts, most artists do not have a clue what is happening."
She also addresses her VMAs performance, saying she wanted to perform "Fefe" with 6ix9ine but MTV would not approve him: "Tekashi, I wanted to perform with me at the VMAs. And somewhere along the line he didn't get approved to perform by the powers that be. I don't want anyone to think for a second that I would not have asked him to come on my stage to perform his amazing hit 'Fefe.'" She goes on to explain why she defends him despite the allegations of misconduct again the rapper: "I want everyone to know my character. I would never ever ever. And it is what it is. The thing with me, when I know somebody there's nothing you can tell me about them. That's just how it is. So people have a lot to say because obviously the Nicki hate train is in full effect. So I laugh, I don't give a fuck, y'all can't stop me. I ain't going nowhere."
She also reads tweets from various journalists, including Vulture's own music critic Craig Jenkins, tells media not to write about her, and nearly declares HuffPo"Cocksucker of the Day" for a post they wrote about her comparing herself to Harriet Tubman. (There's even a promise to name a certain male rapper who's been secretly spreading hate about her behind the scenes, except she never gets around to naming him.)
Ultimately, though, Nicki attempts to diffuse the overall tension between her and the music industry by stressing that her frustrations should be viewed as a matter of workplace equity, not just an oversensitive artist complaining about not getting a No. 1 album: "Having said that, none of this is some serious anger shit. No — we are in a time right now where black music is prospering. And I am one of the people who, I'm so excited to see where rap has come from and where we are. But right is right and wrong is wrong."
August 22: Minaj reschedules her upcoming NickiHndrxx Tour to "reevaluate elements of production," pushing its start date to February in Europe and postponing the North American leg indefinitely. As a result of the schedule change, her co-headliner Future drops off the tour. Reports surface claiming that Minaj postponed the arena tour due to drastically low ticket sales. Minaj later lashes out at Billboard for writing that she canceled her tour and for "shaming" her, clarifying that she "hasn't canceled anything" and needed extra time for tour rehearsals because of her album delays. "The narrative they are trying to create is disgusting," she writes.
August 22: TMZ posts video footage of what appears to be Kylie Jenner nearly running into Nicki Minaj on the VMAs red carpet, but stopping in her tracks and turning the other way before any interaction could occur.
August 23: Ariana Grande once again gets caught up in Nicki and Travis's feud when she makes an offhand remark at a event that it's not a given her album Sweetener will beat Travis either. "We got three days left," she tells her manager, Scooter Braun. "You don't know what Travis could pull!" Ari later tweets that she meant nothing shady by the comment and it's all just good fun in this game of subterfuge.
August 23: Minaj airs her fifth episode of "Queen Radio" — in less than two weeks! — where she declares Travis Scott's manager, Irving Azoff, as the "Cocksucker of the Day." She accuses Azoff of "launching a smear campaign" against her tour and persuading media outlets to negatively cover her tour. (Azoff is the former CEO of Live Nation/Ticketmaster and, coincidentally — or was it? — "Page Six" attributed the low ticket sales claim to an anonymous Live Nation source. Hmmmm.) She also named Pitchfork "Dick Rider of the Year" in further response to an article criticizing her for working with 6ix9ine. And, yet, again, she reiterates that she has no ill will toward Kylie Jenner because, the way she sees it, Kylie "had to ride for her man." (Nicki spends the rest of the episode detailing how she also — *wink* — rides her men.)
August 24: Running dangerously close to complete implosion, Nicki releases a collaboration with K-pop royalty BTS, featuring on the remix to their new song "Idol." It's a tactical move: BTS are the biggest act on the planet (universe, even) in the final phase of their American crossover, and Nicki is an artist hungry for a hit (see also: why she did "Fefe") who's long flirted with and profited off of Asian culture. Marry the two and it's a no-brainer for success. It's also Nicki's best shot at ending her no good very bad week on a salvageable note — except, of course, there's still the weekend.