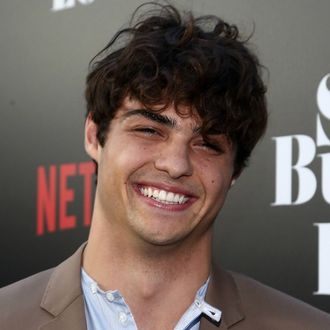 Noah Centineo.
Photo: Tommaso Boddi/Getty Images
In To All The Boys I've Loved Before, Noah Centineo plays Peter Kavinsky, the smooth-but-vulnerable jock the entire internet has a crush on. But in Centineo's next Netflix romantic comedy Sierra Burgess Is a Loser, his character Jamey is a little more self-conscious in love. "Jamey has a scene where he's taking selfies of himself shirtless trying to get it right. He does it like six or seven times, and I've totally been there," Centineo told Vulture at the Sierra Burgess premiere Thursday night at the Arclight Hollywood. "That might be a generational thing, I think we all just want to put our best foot forward." Lucky for us, Centineo is a man on a mission: "But at the same time, I want to bring back proper intimacy, getting to know people."
Centineo is happy with being a romantic comedy leading man, but lamented real romance in the age of Tinder. "We are from a swipe right generation, and that just comes to, Oh you're cute, let's hook up, and that's that. Where is actual, genuine connection that comes from spending quality time with someone?" he said, adding: "I'm going to speculate I would say that it probably has to do with this instant gratification that comes from likes, comments, followers, shares, etc. We're so used to getting everything we want now, my generation."
Reporting by Antonia Blyth.