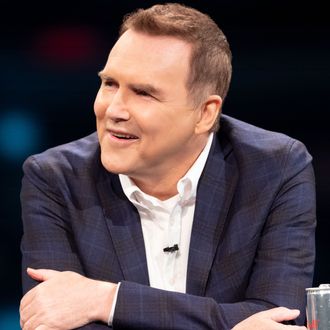 Norm Macdonald.
Photo: Eddy Chen / Netflix
First it was a rumor, then it was a confirmed fact, and now, Norm Macdonald's Netflix talk show is a real thing with a premiere date and guest lineup. The streaming network announced today that Macdonald's ten-episode talk show, Norm Macdonald Has a Show, will make its debut on Friday, September 14. Macdonald will be joined by his longtime Norm Macdonald Live sidekick, Adam Eget, and the guest lineup includes Drew Barrymore, David Spade, Judge Judy, David Letterman, Jane Fonda, Chevy Chase, M. Night Shyamalan, Michael Keaton, Billy Joe Shaver, and Lorne Michaels.
As previously reported, Letterman is also credited as the show's official location scout, while Macdonald serves as an executive producer alongside Lori Jo Hoekstra, K.P. Anderson, and Daniel Kellison.