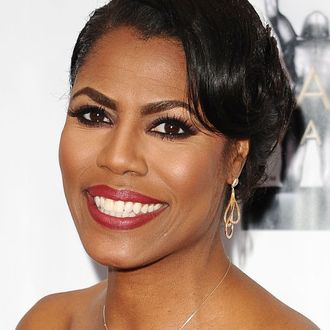 Omarosa Manigault Newman.
Photo: Jason LaVeris/FilmMagic
President Trump, who, in the past, has referred to Omarosa Manigault Newman as everything from a "loyal friend" to "smart and strategic," is breaking out some decisively different adjective use to describe his former senior aide. Per a pool of reporters who asked Trump about Manigault Newman's forthcoming tell-all book Unhinged, he responded with "lowlife, she's a lowlife." Well, this lowlife is spilling all of the Republican tea fit to print with her tell-all, and Trump should have major cause for concern with her media tour — in one excerpt Manigault Newman already released, she wrote how she believes Trump is mentally unfit to remain in office. "His mental decline could not be denied. Many didn't notice it as keenly as I did because I knew him way back when," she wrote. "They thought Trump was being Trump, off the cuff. But I knew something wasn't right." Unhinged is out on Tuesday, or you could read these tweets instead.
Simpler times.