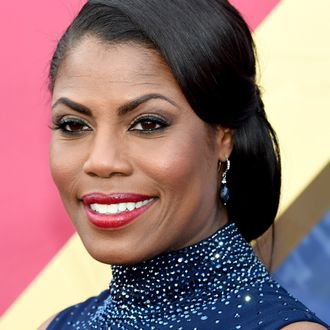 Omarosa.
Photo: Ethan Miller/Getty Images
Omarosa Manigault Newman, former White House staffer and, according to President Trump, newly minted "lowlife," is in the midst of the press tour for her upcoming White House tell-all Unhinged. The Apprentice star has already described POTUS as experiencing mental decline and has played a recording of her firing by White House chief of staff John Kelly on Sunday's Meet the Press, but, in a much lighter reveal from her book, she also reportedly says President Trump floated the idea of foregoing a Bible during his 2017 inauguration, and instead being sworn into office on a copy of his own 1987 book Trump: The Art of the Deal.
"The Art of the Deal is a best seller!" the president allegedly told his then-employee when she balked, according to Slate. "It's the greatest business book of all time. It's how I'm going to make great deals for the country. Just think how many copies I'd sell — maybe a commemorative inauguration copy?!" Omarosa says Trump ended up playing off the suggestion as a joke, but she felt he had pitched the idea in earnest. And frankly, why shouldn't he?
Despite what some might mistakenly believe, one does not have to swear on a Christian Bible, or a text of any religious nature at all, to enter office. While some might recoil at the idea of vowing to uphold the presidency on one's own ghostwritten business memoir (and he probably was just joking), it would have really set the pace for the rest of Trump's presidency. We know, we know. Save some surprises for the second term!