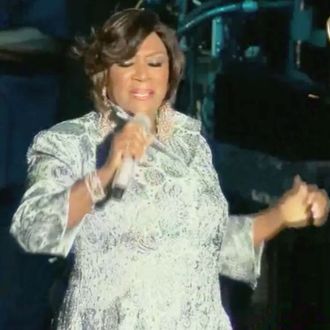 Over 40 musicians and celebrities gathered to celebrate Aretha Franklin on Thursday at "A People's Tribute to the Queen" at Chene Park Amphitheater, according to the Detroit Free Press. On the lineup for the free memorial service: Patti LaBelle, Tyler Perry, the Four Tops, and more. LaBelle performed her song "You Are My Friend," and eulogized her friend-in-feud: "Aretha Franklin, y'all," she said. "We're gonna miss her. She was the best singer in the world — trust!" Perry told the crowd that Aretha would smile at the festivities: "There's no place in the world that knows how to send somebody home like Detroit, Michigan."
Gospel singer Kurt Carr, Johnny Gill, Dee Dee Bridgewater, and Franklin's longtime bassist and friend Ralphe Armstrong also performed tributes.
Franklin died on August 16 from pancreatic cancer. She was 76.