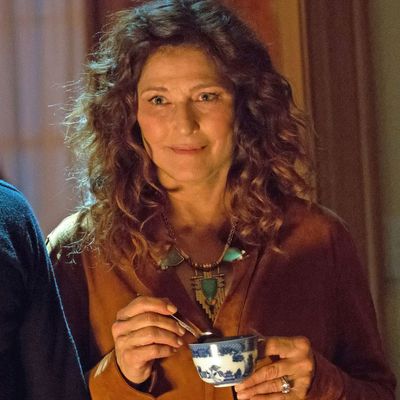 Photo: Universal Pictures Home Entertainment
Each month, Vulture staffers bring you the best — or at least most intriguing — pieces of pop-culture merchandise we come across. Here are our picks for August.
The Unofficial Shark Jaws Adult Coloring Book
It's my favorite time of the year — summer. Except: I hate the heat, I don't go to the beach, I still prefer all-black everything to sundresses and sandals. But I love sharks! And summer is shark time. I watch Jaws regularly in emotional preparation. I saw The Meg the weekend it came out. I love Deep Blue Sea and its absurdity. Sharks, they're important to me. And apparently adult coloring books are supposed to be stress relief, so this is great? Either way, I think this Jaws-inspired coloring book is the perfect Shark Season companion. —Hillary Nelson
Gucci Paramount print tee
Classic-cinema hypebeasts, skip the line outside Supreme! What better way to celebrate Paramount Pictures, the iconic (and newly not-failing) movie studio than a T-shirt that costs about half a month's rent? For just under $600, the good folks at Gucci will let you say it with your chest: Paramount — home to paragons of cinema like The Godfather, Titanic, and Transformers: The Last Knight — rules! Once the fashion brand gets around to seeing Eighth Grade, it's over for us. —Hunter Harris
Hocus Pocus and the All-New Sequel
The Sanderson sisters are back! Well, sort of. This newly released sequel brings us back to Salem, 25 years after Max lit the black-flame candle in front of high-school crush Alison — and accidentally confessed to being a virgin by unleashing the lovably fumbling Winifred, Sarah, and Mary Sanderson (who just happened to be witches). But things have changed: Max and Alison are married now and they have a daughter, Poppy. I won't give too much more away, but we will reveal that this installment of Hocus Pocus has an LGBTQ plotline. Something to tide you over until they finally get Bette Midler to sign on for a sequel! —Hillary Nelson
Waechtersbach "You Are Special Today" plate from Lady Bird
During the summer of Lady Bird's discontent — a.k.a. when her mom gives her the silent treatment after she decides to go to NYU — she and her dad celebrate her birthday solo. Larry (Tracy Letts) presents his daughter with a birthday cupcake on a red plate that reads "You Are Special Today." Because I am, as Lady Bird was, dramatic and extra and also born in August, the theme of my birthday party this year was H24, riffing on the indie studio A24. When I sent the company a head's up, they were kind enough to drop me a link to this plate. Celebrate your birthday (or any special occasion, really) Lady Bird–style, cupcakes and maternal resentment optional! —Hunter Harris
New Era Brooklyn Bagels hat
Baseball is best in the summer, and the best place to watch baseball in the summer is Coney Island. (Why? It's cheap, it's right next to the beach, and they sell knishes at the concession stand.) When I went to a Cyclones game a few weeks ago, I stopped by the gift shop and saw this hat. Turns out the team changes its name as a gimmick a few times every season, and this time around, they chose the Bagels. The Brooklyn Bagels! What's not to love about that? —Chris Heller
Get Out–style coffee cups (with saucers)
Because you can never have too much 2017–18 Oscar-season-themed dinnerware in your life (see: the Lady Bird plate above), this eerie Blue Willow teacup-and-saucer combo is a dead ringer for the one Catherine Keener sunken place'd Daniel Kaluuya with in Get Out. Buy it, and watch the tears stream down your dinner companions' faces. —Ray Rahman
BoJack Horseman replica sweater
Like it or not, two things are about to happen: autumn and a new season of BoJack Horseman. Why not prepare for both by taking this purple sweater right out of BoJack's closet and into your own? Ideal for wearing during your season-five binge (out September 14); at Halloween parties; or while explaining to your not-at-all-annoyed friends how it's not just a cartoon, it's also deep and dark and about depression. (Bonus: If you really want to get into it, they also have BoJack's Horsin' Around sweater for purchase.) —Ray Rahman
Charlie Puth "Soundwave" bracelet
CP Family, unite! Voicenotes made it cool to like Charlie Puth now. What better way to celebrate the ascent of a pop prince than with his official merch? Everyone has a T-shirt, but the real OG Puthers can dangle a bracelet repping the very good, very sexy "Attention." This rose-gold "soundwave" design shows a two-second snippet of Voicenotes' lead single. *Extremely Men's Wearhouse voice*: You're going to like the way you look — I guarantee it. —Hunter Harris
Costumes from The Americans
The Americans! Remember how great it was? Remember how great the costumes were? Well, a lot of them are for sale now. Want to dress like Elizabeth Jennings disguised as an '80s party girl (including the jewelry), or Phil Jennings's depressed D.C. hockey dad, or Oleg Burov's swaggering Russian spy–cowboy? All those outfits are currently up for auction right now, but, personally, I prefer this perfect George Costanza–meets–Rhode Island dad ensemble sported by the low-key FBI agent Dennis Aderholt in the series. The bad news: Henry's hockey jersey has already been sold, but we will certainly keep an eye on it in case it resurfaces. —Ray Rahman
Every editorial product is independently selected. If you buy an item through our links, Vulture may earn an affiliate commission.