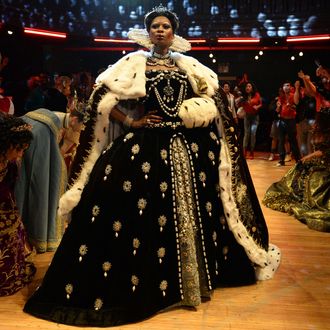 Photo: JoJo Whilden/FX/FX Networks.
The category is … vogue, maybe? During a TCA panel in Beverly Hills on Friday, Pose co-creator Ryan Murphy revealed that the FX drama will make a one-year time jump in its second season and end in March 1990. Which, as any Madonna fan will tell you, is when the iconic pop star released her landmark single "Vogue," a song that paid tribute to the very underground ball culture that the FX series depicts. So, is there a chance Madge herself will appear in Pose?
"I have a good relationship with Madonna thus far," Murphy said during the TCA panel, mentioning how he's licensed her work for the Fox series Glee and the first season of Pose. But Murphy also stressed that Pose has strayed from his usual penchant for stunt casting due to its focus on emerging talents, particularly those from the trans community. Still, he added, "I always love to talk to Madonna."
Pose co-creator Steven Canals also told journalists that he hopes this time jump will allow show to "dig deeper into AIDS activism." It's certainly a fitting subject. Murphy previously tackled it with his 2014 adaptation of Larry Kramer's play, The Normal Heart, and he promised that season two will "very much involve" the HIV diagnoses of Pose characters Blanca (Mj Rodriguez) and Pray Tell (Billy Porter).