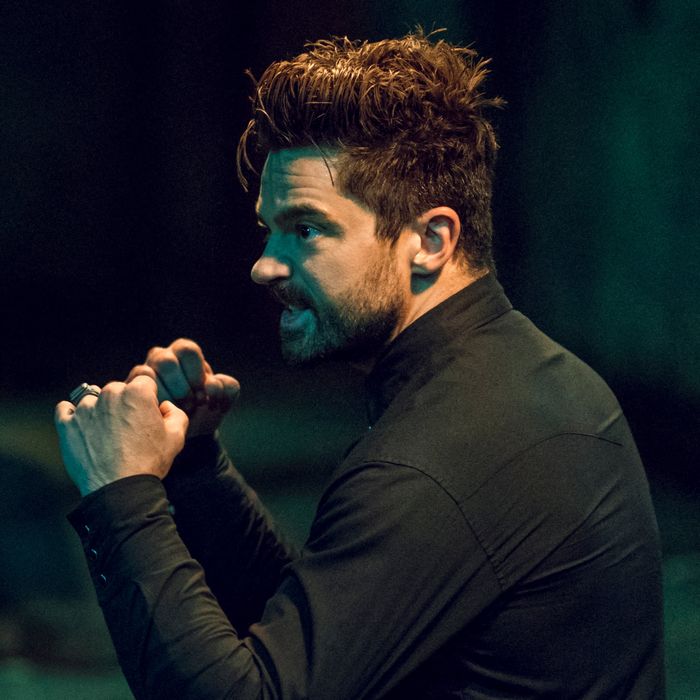 Photo: Alfonso Bresciani/AMC/Sony Pictures Television
… So, that's it?
At best, "The Light Above" — or, more to the point, the relative cliffhanger it ends on — feels like a penultimate episode rather than a finale. At worst, it's a bit of a disappointment (and an attempt to get fans to rally for a fourth-season renewal). It's not really all that wild, in the end, and plot points that ought to land with real weight instead register as mere blips.
For instance, though I hope that Hoover's death means that Malcolm Barrett is departing for greener film/TV pastures, it's played so casually that it's unclear why we've been asked to invest in this character for two seasons in the first place. Starr snatches his hat while they're both standing in the sunlight, and so Hoover, given his new status as a vampire, burns to death. And that's that.
The episode ends with Starr declaring his intent to destroy Jesse (with the admitted corker of a line: "I'm tired of chess; it's time to play some fucking checkers"), with Cassidy in custody and the Grail set up in the (very real) fortress of Masada. For an ending that's supposed to pull out all the stops — if the number of soldiers present are any indication, the Grail means business — it feels strangely anticlimactic. There's no resolution to the season, and the positioning of Starr as the new Big Bad isn't exactly novel — we've always known he was bad. It's more of a surprise that Hitler ends up in charge of Hell after the Saint decides he's had enough of everybody breaking the rules and puts a bullet in the Devil's skull.
With that in mind, just how quickly affairs resolve themselves in Angelville is a bit of a downer. We've barely seen Gran'ma in the past few episodes despite how fearsome a villain she's supposed to be (and how truly frightening Betty Buckley is in the role), and though her death is awful to watch — Jesse uses his voice to force her to right every curse she's placed, and then kills her by strapping her into the soul machine — it feels like it's being hurried in order to get to the Grail.
Now that we're at the finale, I don't feel presumptuous in saying that the Angelville-focused episodes were the best part of this season. This is equal parts due to how narratively neat the Angelville-centric story was, and how much more interesting Jesse is in that context. The first few episodes of this season set up long games in terms of our three heroes reckoning with past traumas, and the only person for whom branching out has worked is Cassidy, which has everything to do with the fact that his problems aren't borne out of his interactions with Jesse and Tulip. But even that success has to be qualified, as the resolution of his storyline is achieved by a sort of reset; though he defeats Eccarius by turning all of Les Enfants into vampires, who converge upon and devour their former leader, almost of them except Cassidy are soon turned to ash by the Grail.
Tulip's had a slightly more complicated go of it. Her through-line this season has been the supposed O'Hare family curse, but her storyline has been so much in service of Jesse's (and Cassidy's, to some degree) that her latest encounter with God (who saves her from the Saint, and says He'll lift the family curse if she keeps Jesse away from Him) doesn't read as significant.
As for Jesse, though everything he's done this season has been to get out from under Gran'ma's thumb, the Grail-centric detour he's taken has had the effect of removing the emotional hook from the equation, and turning it into more of a fetch quest. When we're suddenly reminded of Jesse's dues as his past self and his present self cross paths — color grading and all — it's fascinating, but a little too late.
Preacher is damn good at cranking up the emotional stakes as well as the Southern Gothic elements of its story, which is why it's a little disappointing when it abandons them in favor of broader religion-based shock-horror. If cutting the Nazi intervention might have given Gran'ma, T.C., and Jody just a fraction more screen time, then I'd have advocated for it, because the best parts of the finale handily belong to them.
If there's any scene that stands out in the third season's final hour, it's the deaths of Jody and T.C. Jesse's relationship with the pair has always been complicated, as exemplified by the way he won't kill T.C. outright (T.C. himself says, "You don't hate me that much"), and how he doesn't use his voice in his final showdown with Jody; and the degree to which the payoff works only makes it more of a pity that we didn't get to spend any more time with them.
Though Jody's built like a brick house, the fight was only ever going to end one way, i.e., with Jesse coming out on top. Still, Jody manages to stand up despite having his skull caved in, murmuring, "Proud of you, boy," before dropping dead. For his part, T.C. elects to die with Jody, staying behind in the inferno after Jesse commands him to set Jody — and the Tombs — on fire. Angelville may be an awful place, but as T.C. says, "I got nowhere else to go." (Credit to Colin Cunningham and Jeremy Childs: I actually cried.)
That the deaths of two henchmen were the most affecting part of the finale speaks to just how broad the season got, and how much I wish it had been more contained. It's a problem of narrative balance, and as for whether or not Preacher manages to achieve it with its larger game, we'll just have to wait until next season to see.
Confessions
• The Preacher sideways bus fight is the new Oldboy hallway fight.
• In having been wrongfully sent to (and then abandoned in) Hell, as well as in being betrayed by Hitler, Eugene seems to have finally started getting a little bitter. Now that he's out of Hell — and following in the Saint of Killer's footsteps — he seems poised to become a more dangerous piece on the board.
• There are a few good Cassidy moments in this episode, including his starting to cry when Tulip calls to ask if he's okay ("Thanks for calling me up, alright?"), and saying that his plans to unwind include "getting really high and blasting some Nickelback."
• A few last Grail updates before we break: Starr's favorite torturer apparently lives in Bensonhurst, and some Humperdoos are still at large.