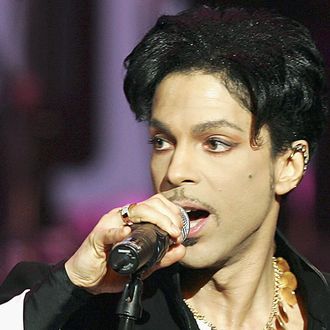 Prince.
Photo: Kevin Winter/Getty Images
Prince's family filed a lawsuit Friday against a physician who counted Prince among his patients for allegedly failing to diagnose and treat his opioid addiction, a failure they say helped cause the singer's death in April 2016. According to ABC News, the suit says Dr. Michael Schulenberg saw Prince twice shortly before his death of a fentanyl overdose and neglected to identify or offer counsel on the singer's "recognizable opioid addiction." Said the suit, "These departures from the standard of acceptable medical practice had a substantial part in bringing about Prince's death."
In the investigation following the musician's death at 57, Schulenberg allegedly admitted to authorities that he had twice prescribed Prince oxycodone, specifically Percocet, under the name of one of his bodyguards, Kirk Johnson, in an attempt to protect the singer's privacy. As a result, in April of this year, the doctor settled with the U.S. attorney's office. The settlement requires him to pay a $30,000 fine and become subject to monitoring by the Drug Enforcement Administration for two years.
But while Schulenberg might have prescribed opioids to Prince, they were not the pills that ultimately lead to his death of fentanyl toxicity. Police determined that Prince inadvertently overdosed by taking counterfeit Vicodin containing fentanyl. They believe the singer did not know he was taking fentanyl at the time. Police were unable to identify the source of the counterfeit drugs and, as a result, no criminal charges have been filed.
The new suit, which will reportedly replace a different lawsuit filed in April, also names North Memorial Hospital, Schulenberg's now-former employer, the Walgreen Company and UnityPoint Health as being culpable in Prince's death, a claim they all deny. "We understand this situation has been difficult on everyone close to Mr. Nelson [Prince] and his fans across the globe," Schulenberg's attorney Paul Peterson told ABC News. "Be that as it may, Dr. Schulenberg stands behind the care that Mr. Nelson received. We intend to defend this case."