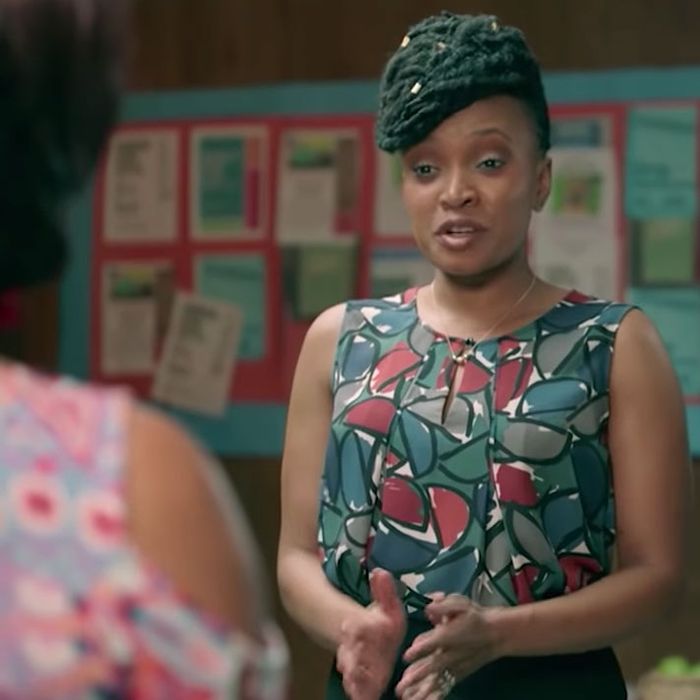 Last week's episode was a turning point for the Bordelon clan. In this week's episode, "Your Passages Have Been Paid," Charley, Nova, and Ralph Angel must all deal with uncomfortable truths.
Charley's private investigator opens her eyes to Micah's involvement in the plantation fire. In the season's third episode, Charley told Micah, "I'm putting a lot of trust in you," as he set off to his new school. Now the issue of trust is back in play. The revelation of Micah's involvement in the plantation fire has shaken Charley to her core and she orders him to stop hanging out with his new friends. Her seething, "You don't see those kids," is all bark and no bite. She, and the audience, know that Micah will do no such thing. There is certainly a lack of trust in the Bordelon-West household but it's not just between Charley and Micah: Davis, Charley, and Micah have spent the season talking at each other.
I know that Charley is pummeled by this situation because she calls Davis to set Micah straight. She wants him to learn that "some things can't be undone." One gets the impression that she's talking about more than just Micah — Davis knows a lot about doing things that can't be undone. Micah's sense of self has developed in direct opposition of his father's mistakes. He makes this clear in his conversation with Davis: "Why do you think I'm fighting for the community? I made up my mind to do what it takes to not be like you." This is probably the most honest conversation that the father and son have ever had. "I just want to fix it," Micah says of the inequity in St. Josephine. "Take it from me, you can't," Davis tells him somberly. Whether that's true or not, Micah is staying the course, wherever that may lead him.
Charley isn't just losing battles at home. Her intricate plan to team up with the Boudreaux family may have been all for naught. Sam Landry (who probably also has his own private investigator like every other person of means in St. Josephine) conveniently flubbed Charley's invitation to the board meeting in which they voted on the jail. Even with her significant number of new shares, Charley was disenfranchised. For now, the jail has been approved by Landry Enterprises, and all that stands in the way of it now is a parish council vote. How much did the Boudreauxs know about Sam Landry's plans to exclude Charley from the vote? It's hard to tell whose side they're truly on. This battle may have been lost, but Charley and the farmers of St. Josephine plan to rally before the parish vote. If they want to save the land, it's their last choice.
Darla and Ralph Angel's custody battle is ramping up. Ralph Angel is now seeking full custody — taking Darla's 70/30 proposal off the table. This battle continues to escalate, and to what end? Is Ralph Angel's new determination to have complete custody in the best interest of Blue? Ralph Angel betrays any notion that this is solely about Blue's welfare by saying: "I stayed even after she ripped my heart out," during the mediation. Ralph Angel's inability to confront his emotions head-on have caused him trouble before, and it looks like it's going to impede his decision-making for this custody case.
What the mediation scene does demonstrate is that Ralph Angel kept Blue's paternity between him and his sisters. He acknowledges the paternity results so calmly at the mediation: "I've done my research. You can't just take him away from me." For her part, Darla seems overwhelmed by her mother's involvement: "I will not allow you to do this to the father of my son," Darla tells her mother during the mediation. Is it possible to have a fair custody battle with all of the unresolved hurt that floats under the surface?
"They want your story," Nova friend tells her after she receives edits back on her book. Nova has been writing outside of herself, not about herself. Her editor wants her story including the skeletons in her closet. Her edits serve as a vehicle for Nova to admit the harm she caused a friend — one who was locked up over weed that Nova provided. She's able to apologize to that friend, something she wasn't able to do before beginning the process of writing her book. Nova is often able to solve the problems of those around her while neglecting her personal life. This book will require to confront the parts of her that she hides away head on and lay them bare for the world to see.
The title of this episode, "Your Passages Have Been Paid," is drawn (like all the previous episodes before it) from a line in Maya Angelou's 1993 presidential inauguration poem, "On the Pulse of the Morning." It reminds me of another saying that Angelou is known for: "Your crown has already been paid for. You just have to put it on your head and wear it." The Bordelon ancestors have already paid for the land with the blood, sweat, and labor of the enslaved. The land they stand on is theirs, now all they have to do is whatever it takes to keep it.