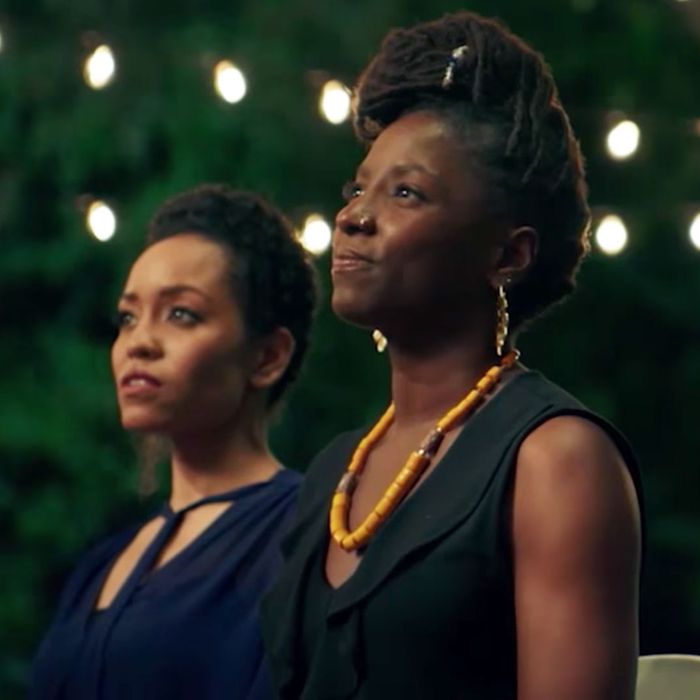 "Find something good and wrap your heart around it," Ralph Angel tells a room full of men imprisoned at the local penitentiary. "From on the Pulse of Morning," the season's 90-minute finale, concerns itself with the power of love, for both one's family and community.
Micah is flexing his skills as a leader. At the rally against the prison, he publicly reveals the abuse he suffered at the hand of Officer Orson. "Right now standing here, I'm bleeding. You can't see it but I've been hurt, violated," he tells the crowd. Micah comes alive during that speech as he transitions from a nervous speaker to commanding the entire rally in a matter of minutes. "Prisons aren't made of brick and mortar, they are made of bodies and blood," he tells the enraptured crowd. Micah has spent the year looking for his place as an activist and that rally stage is where he found his voice.
Charley isn't done with Landry Enterprises. She plots with Sam's sister to expose Landry Enterprises' real financial books. Whatever is in the real books will stop the prison deal in its tracks — no one will want to work Sam in the near future. She negotiates a portion of her stake in the company in order to regain the tenancies for the black farmers, the return of the Queen Sugar Mill to the Bordelon family, and the deed to Prosper Denton's house and the land. Sam's sister may be a snake, but Charley is victorious in this moment. The long game that she's been playing since acquiring one percent of Landry Enterprises has finally played out and she is the clear winner. Nefarious Sam Landry has been defeated by Charley with an assist from his own sister.
"You made a deal with a woman who would stab her own brother in his back and watch him bleed out. In God's name what do think she'll do? … The devil you know, Ms. Bordelon. The devil you know," Sam warns Charley.
Charley is clear that she isn't afraid of any Landry: "I've been a black woman for a long time. The devil I know, the devil I don't — it doesn't matter. I'll conquer them all," she triumphantly tells Sam. Even if Sam does bounce back from this fall from grace, he should be very clear that Charley is a formidable foe.
"You're playing with fire," Nova's friend tells her after reading her manuscript. Time will tell if the book Nova has finished will alienate her family, but for now, it is finished. The scene of Nova removing all of her brainstorming notes also serves as a visual way to wrap up all this season's plot points. Her forthcoming book, Blessing and Blood, is one step closer to entering the world.
Ralph Angel and Darla share a few tender moments. "I want to [be] okay, you and me. I want us to be okay," Darla tells Ralph Angel as the two have a delicate conversation in Blue's room. Alone, the two are able to talk about their personal lives and co-parenting in a way that they haven't been able to earlier. "I think [of] Blue and of his joy and I walk through it," Darla says of her current state of sobriety and heath. "I'm proud of you," Ralph Angel tells her. What a full circle they have come after the events of the last season's finale. After all of the things that went unspoken between them, there may be hope for their relationship to be repaired.
There is a jarring moment when Ralph Angel arrives home to find two police officers waiting for him — including an officer who witnessed Micah's rally speech. It's clear they are there to intimidate Ralph Angel: "I could send you to prison for dropping a piece of gum on the ground," the officer from the rally tells him. Ralph Angel's request for an early release from his parole has been granted and he cannot risk being arrested. Ralph Angel calmly tells them that he has cameras all over the property that are recording their presence. That's enough to get them to leave, but I think this is a foreshadowing of trouble to come for Ralph Angel (and possibly Micah) in the fourth season.
Elsewhere, Violet needs to decide what storefront is best to launch the first standalone Vi's Prize Pie shop. Her business partner, Jared, tells her that the High Yellow is up for sale. Violet could launch her business in the very place she worked for decades. In the end, Violet doesn't have to stress about the decision at all. Hollywood presents Violet with her new store — the High Yellow Diner — that he bought for her. At her home, Violet and Hollywood's nuptials take place in a surprise, intimate ceremony with just close family. Celebrating the love between Violet and Hollywood is a culminating end for a season rocked by betrayal and battles.
As with every episode in this season, the name of this episode was drawn from Maya Angelou's 1993 inauguration poem, "On the Pulse of the Morning." This stanza sums up the Bordelons' journey this season.
Lift up your faces, you have a piercing need
For this bright morning dawning for you.
History, despite its wrenching pain,
Cannot be unlived, and if faced
With courage, need not be lived again.
The Bordelons are triumphant in this moment and hopefully, for many years to come.