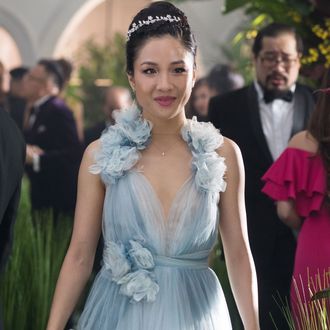 Photo: Sanja Bucko/Warner Bros. Entertainment Inc. and RatPac-Dune Entertainment LLC
Continuing the tradition set forth by Greta Gerwig and her charming snail-mail sonic requests for Lady Bird, Jon M. Chu, the director of Crazy Rich Asians, has released the letter he personally wrote to Coldplay in the hope of licensing its song "Yellow" for the film. As Chu previously explained in various interviews, it was initially difficult to get both Warner Bros. and Coldplay to agree on licensing the song, because of the word "yellow" holding racist connotations with Asian and Asian-American people. While Warner Bros. eventually came around to Chu's reclaiming-the-word rationale — "I told them, 'Well, a white director couldn't do it' " — Coldplay immediately rejected the request, perhaps owing to accusations of cultural appropriation against them in the past. Chu's letter to the band, though, changed its mind within 24 hours, and a Mandarin cover of the song, performed by Chinese-American singer Katherine Ho, closes out the film at a pivotal moment. A portion of the letter, obtained by THR, can be read below.
It would be such an honor to use your song that gave me so much strength throughout the years, to underscore this final part of our film. And for me personally, it would complete a journey that I've been going through, fighting to make it in the movie business. I know as an artist it's always difficult to decide when it's okay to attach your art to someone else's, and I am sure in most instances you're inclined to say no. However, I do believe this project is special. I do believe this is a unique situation in which the first Hollywood studio film, with an All-Asian cast is not playing stereotypes or side-players, but romantic and comedic leads. It will give a whole generation of Asian-Americans, and others, the same sense of pride I got when I heard your song.
Chu added that while the song was going to be recontextualized, the new version would make it more "powerful" in the moment. "I want all of them to have an anthem that makes them feel as beautiful as your words and melody made me feel," he concluded to Coldplay, "when I needed it most." Chris, Jonny, Guy, and Will — thank you, good sirs!