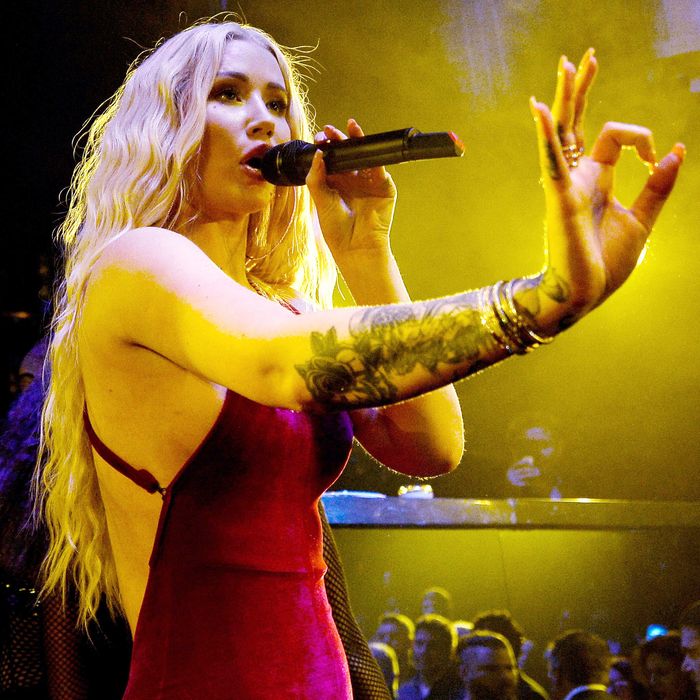 Photo: Brandon Magnus#ENT/Getty Images
Fame has been a weird ride for Iggy Azalea. She struggled for years to find a style that stuck. Early video suggests that at least one attempt at a career as an electro-pop singer was ostensibly torpedoed by a questionable grasp on pitch, while rap snippets like "Hometown Hatred" hinted at a complex backstory and serviceable mic skills. Mixtapes and EPs like Ignorant Art and Glory built a case for the performer, born Amethyst Kelly, as a swag rapper with a workmanlike flow and a wan but relatable palette of subject matter, a kind of Wiz Khalifa for strip-club twerk jams. Connection to T.I.'s Grand Hustle label provided a measure of credibility and cover, but not even T.I. could protect Iggy from the static she drew in her trip up the charts.
Iggy Azalea began circling hip-hop's mainstream at a peculiar juncture. In 2012, Billboard recalibrated its charts to accommodate changes in public listening habits by factoring streams from services like Spotify and YouTube into its song charts. The move inspired instant chaos, as the South Korean internet sensation Psy's "Gangnam Style" zipped to the top of the Hot Rap Songs chart, and Taylor Swift's "We Are Never Ever Getting Back Together" topped the Hot Country Songs list. The subsequent successes of novelty hits like Baauer's "Harlem Shake" and Macklemore and Ryan Lewis's "Thrift Shop" stoked worry that control of hip-hop was drifting away from the inner-city people of color who birthed the scene, that the platinum sales of these singles portended a future where artists could strong-arm their way into hip-hop radio by force of internet virality, occupying space in the culture without winning over the scene first.
"Fancy" hit the right place at the wrong time. The white Australian rapper with the doctored Southern accent and the single that sounded like incidental music from a car commercial were suddenly everywhere at once, informing listeners that she was "the realest." The single snagged 4 Grammy nominations, as well as 6 from the American Music Awards and 12 from the Billboard Music Awards. It was the perfect battleground for a fight over outsiders infiltrating rap. Iggy did not react to flak well. She quibbled very publicly when challenged, feuding with everyone from Azealia Banks (who claimed that Iggy cloned her act) to the pizza franchise Papa John's. She incurred the wrath of hip-hop legends from Chuck D to Q-Tip. Bad press washed in like high tide and eroded Iggy's chart traction, and her label got cagey. Her 2015 Great Escape Tour was canceled; her 2016 album Digital Distortion remains unreleased. It's hard to argue against the idea that Iggy Azalea's mid-decade decline was, on some level, radical self-sabotage.
This week's new Survive the Summer EP marks the first batch of new Iggy Azalea songs since the string of singles leading up to the studio album that disappeared two years ago. STS eases off of the gloss of the rapper's debut album, The New Classic, and its quick-hit reissue Reclassified, revisiting the raunch of her mixtape era. It's an interesting choice aesthetically, since Iggy has grown to be a bit more capable as a rhymer since the Ignorant Art era, but Iggy doesn't try a whole lot in the six-song, 15-minute running time. Cutting out the motivational anthems that gave The New Classic depth means this EP is a game of hastily constructing moods, not unfurling feelings through impactful lyrics; when you pay close attention to the latter, you catch dry lines like "They told me to be humble / So I started humming," "My bitches will chase ya like Moët mimosas," and "I make 'em fight for the pussy / I'm Ronda Rousey." All six songs are done in under three minutes, but most are so breezy that even that seems like too much time.
From whispered verses and airy hooks to beats that comprise little more than bass, 808s, and a lean synth melody, STS aims for sparseness but sometimes comes out feeling palpably empty. It's too slight to set the charts on fire, barring an unforeseen spark from some viral video challenge. It doesn't stand out in the crop of amazing short projects this year that includes Pusha-T's Daytona and Tierra Whack's Whack World, and it can't match the lurid sensuality and gallows humor of Cupcakke's Ephorize. The value is in putting distance between Iggy and her bad year, in getting her name back out there for positive reasons, in showing that the rapper and her label can get on the same page long enough to make it to a release date without a Twitter fiasco or an abrupt cancellation. Iggy will need a lot more practice if her sights are set on revisiting the success of "Fancy," "Problem," and "Black Widow." In its feistier moments — "Tokyo Snow Trip," the title track — STS shows that Iggy is finally ready to stop getting in her own way.