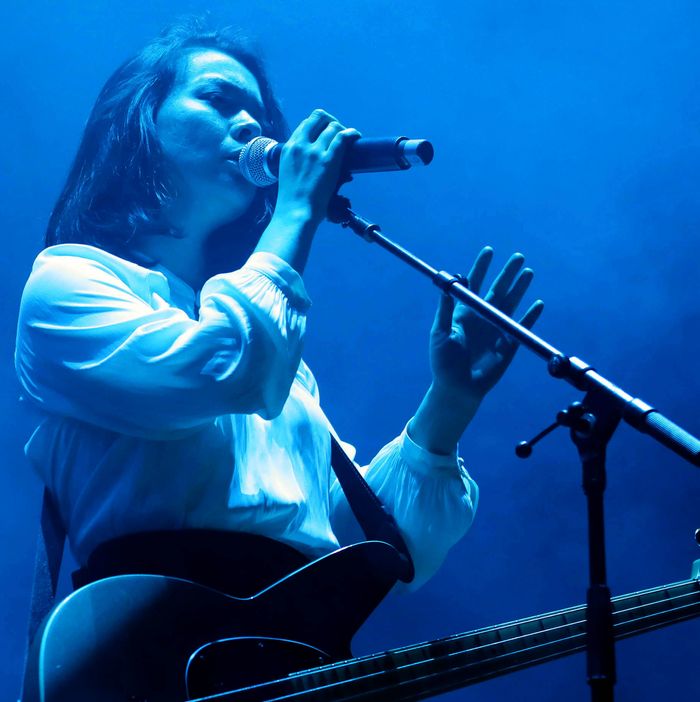 This spring, the North American leg of Lorde's Melodrama World Tour delivered one of modern pop music's most devilish feats of programming, as teens who arrived early to venues ready to shout along to "Royals" and "Green Light" ran headlong into the nihilist boom bap of the New York–Atlanta rap duo Run the Jewels and the biting lyrics and blissed-out guitar noise of indie-rock singer-songwriter Mitski. (For a taste of the spectacle, check Run the Jewels' sinister rework of Melodrama's "Supercut.") Reflecting on the experience this month, Mitski told Billboard, "It was like I was inventing punk music in front of them." The fatalist resignation of tunes like "Fireworks" and "My Body's Made of Crushed Little Stars," off the globetrotting performer's critically acclaimed Puberty 2 must have hit teenage eyes and ears like a flashbang.
Mitski songs are like Everlasting Gobstoppers: They're small, they're sweet, and they don't give themselves away at first pass. They use the beefy guitar sounds and deceptively pleasing melodies of proto-grunge touchstones like the Pixies' Surfer Rosa and PJ Harvey's Rid of Me as a launchpad to explore the bonds that unite us and the behaviors that break us down. The lyrics are heavier than the riffs. In Puberty 2's "Your Best American Girl," the Japanese-American singer covers the hurdles of dating outside her race in a single devastating line: "Your mother wouldn't approve of how my mother raised me." "Crushed Little Stars" examines workplace anomie through crushing gallows humor: "I better ace that interview / I should tell them that I'm not afraid to die."
This month's Be the Cowboy is a feat of both expansion and refinement. It improves on the stunning Puberty 2 by switching up the method. Mitski's ghostly dream-pop vocals are still the anchor, but the building blocks are different this time because the singer widened her palette to include synths, strings, and accompaniment from the Philly Phatness horn section, worrying that her proficiency at scabrous rock riffs might pigeonhole her as a guitar player with a loud-quiet-loud fixation. "Why Didn't You Stop Me?" relegates the guitars to the background, favoring synths and programmed drums until a blast of horns smacks the song out of the park after the last chorus. Opener "Geyser" begins as a funereal drone and explodes into a fit of guitars adorned with a tiny orchestra of strings and brass.
A wider array of tones and textures allows Mitski's compositions to shift into different forms. The forlorn "Nobody" is an evil twin to the Cardigans' peppy "Lovefool" — a beguiling disco bop about suffocating loneliness and the death of civilization. "Come Into the Water" sounds like a lost '60s girl-group ballad; "Me and My Husband" could easily slide onto a mid-'90s Blur album. Cowboy whizzes through 14 songs in just over half an hour, but there are enough solid hooks to support an album twice the size. Mitski never lets an idea linger long enough to grate; they're done almost the minute you grasp what's happening.
What's true of the melodies is also true of the lyrics. Mitski's gift as a writer is startling economy. She can pack a lifetime into a single sentence. Be the Cowboy traverses the peaks and valleys of coupling, from new love to longtime companionship to breaking up. "Me and My Husband" depicts a faithful husband and wife who no longer excite each other. The wife is clearly settling — "I bet all I have on that furrowed brow," Mitski sings in the chorus — and talking herself into spending the rest of her life with an imperfect man she knows will stay the course. "A Pearl" is a window into a toxic relationship that's fizzling spectacularly: "I fell in love with a war / Nobody told me it ended." The album title doubles as advice to all its stranded protagonists. Cowboys, like world-traveling touring musicians, live for the freedom of travel. You wish the lead in every story here could summon the courage to ride off into a new life in a different town.