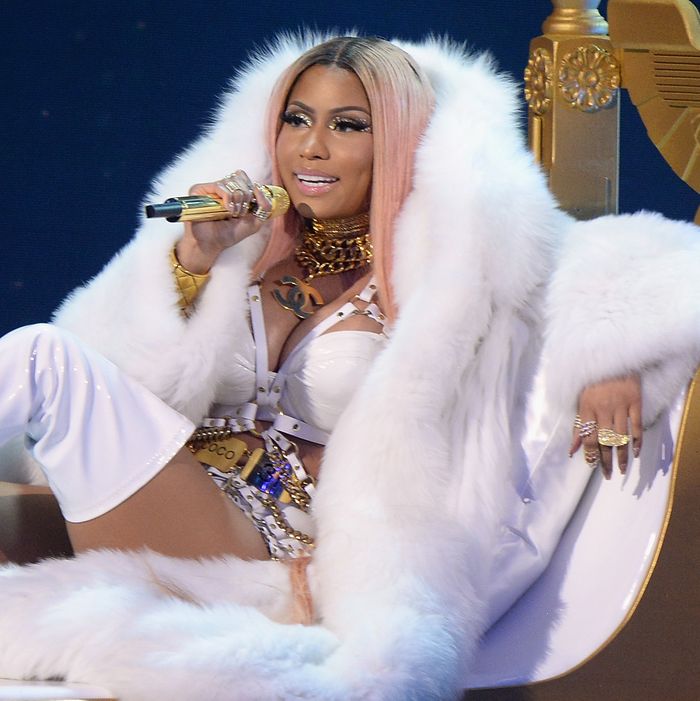 Photo: Kevin Mazur/Getty Images for TNT
The internet's a little nuts. It's an attention economy, which means truth often takes a back seat to sensationalism. Falsehoods and conspiracies are mere clicks away. The pathways from fact to plausible fiction are well-lit. Part of what makes this year a special kind of hell is everyone's matching conviction that their version of current events is the gospel. This state of affairs creates unpleasantness in many different shapes and sizes; a poll released by CBS over the weekend suggests that Americans' sense of the current president's handle on matters of race so far is split cleanly across party lines, with over 80 percent of Republican participants approving and 90 percent of Democrats disapproving. How do you reach people who challenge your very experience of reality?
The last year of Nicki Minaj news inspired a low-grade hysteria online, as the lengthy and occasionally rocky rollout of her new album, Queen, drove speculation about the animus for a few less-than-successful gestures to wild extremes. The flap started when Cardi B began to do radio appearances last year, and hosts repeatedly prodded her for info on beef with Nicki that, at the time, didn't seem to really exist. Before long, relations between the artists actually did get frosty, as Cardi was added to the Nicki and Migos song "MotorSport" and noted that her New York peer rewrote a verse upon learning that she had more company. (It's not an uncommon practice.) The insinuation that Minaj felt threatened by the newer artist's rising celebrity hung around like an evening fog; eventually she decided to go heel.
The turn didn't go smoothly. Gamers groused about a line in the lead single, "Chun-Li," that suggested that the Street Fighter character was evil, when canon says she's a cop. Journalists got upset when the artist sent a long, powerfully rude direct message on Twitter to a blog intern who suggested that her act was unbecoming of her age, and after the message went public, Minaj fans swarmed the young writer's socials. Rap fans recoiled at an Elle interview where Nicki, thinking about her responsibility to younger fans, drew a line between her own exhibitionism and internet models and escorts she called "modern-day prostitutes," in part because her single "Rich Sex" seemed to celebrate sex that is transactional and empowering. Everyone scratched their heads when she popped up on the rainbow-haired Brooklynite 6ix9ine's "FEFE," citing his lingering Use of a Child in a Sexual Performance charge as ample reason to steer clear. Rumors that Nicki Minaj was losing touch and grasping at anything that could save her career reached a fever pitch Thursday night when the inaugural episode of her Beats 1 show "Queen Radio" turned into a battle between the rapper and available record execs to get the album out by noon the next day, a week ahead of schedule.
Queen is out, and it's perfectly fine. Like the last three Nicki Minaj albums, there are moments where it's brilliant, moments where it's a little corny and cloying, moments where it's touching, and moments where it makes you want to drop whatever idiot has been mistreating you all year. There's a touch too much of it to easily sort through, but Minaj has gotten better at sequencing albums since Pink Friday: Roman Reloaded relegated all the rap to side A and all the EDM to side B, and since The Pinkprint smothered a killer streak of rap bangers in a few too many ballads. Queen shuffles between bawdy trap, summery R&B bops, and dancehall jams at a pace that seems true to the experience of trying to navigate romance in the hot months. The flow between the yearning Ariana Grande collaboration "Bed," the vindictive Weeknd team-up "Thought I Knew You," and the vulnerable solo cut "Run & Hide" mirrors the tumult of learning to trust someone new. The album's passage from songs of desire to the resignation of "Nip Tuck" and "2 Lit 2 Late" feels like what happens to a summer fling when the dog days of August come rolling in.
Romance isn't the whole story here. Queen offers a banquet of trash talk for anyone sniffing around for evidence of strife between Nicki Minaj and other rappers. "Barbie Dreams" revisits Minaj's old mixtape cut "Dreams (2007)" in flipping Biggie's celebrity sex fantasy "Dreams" on its head. Everyone from Drake to Young Thug to Meek Mill catches a bar about not being able to please the queen; the idea is to introduce the question of whether the male lead in objectifying sex raps is really the expert lover the songs expect you to believe he is. (People already seem to be missing the point.)
Elsewhere, "LLC" shades artists who use ghostwriters and clamor for famous co-signs: "We don't pay niggas to front like they like my shit / We don't pay niggas to come in and write my shit." And "Hard White" goes after rappers who got their start as strippers: "I ain't never played a ho position / I ain't ever have to strip to get the pole position." These darts are more than likely crass smoke for Cardi B, whose path to success took her through exotic dance and reality television. In a summer where the battle between Drake and Pusha-T spilled out into insults for both artists' friends and family, and 6ix9ine courted the mothers of Chief Keef's children to make him look bad for sport, subliminal disses are business as usual. Nicki doesn't have to love and respect every rapper, and they don't have to pay it forward either. Sometimes, beef is inspiring. Nicki sounds most charged up and engaged when she's delineating all the reasons she gets to call herself a queen. As much as this is an album about kicking iffy dudes to the curb on the way to lasting romance, it's also a pop/rap radio veteran's survey of her decade of wars and spoils.
Queen is solid — was probably always going to be solid. It's a bubbly batch of warm-weather sounds and longing love songs pitched perfectly toward that space where the summer sun starts setting a little earlier, and the light chill on the air tells you the party'll soon be over. It's a steady flow of cinematic beats, kooky raps, and breezy, bright melodies until it falls off a cliff in the last quarter, where the rote trap tunes "Sir" and "Miami" and the drippy ballad "Come See About Me" kill the momentum going into to "Coco Chanel," the killer Foxy Brown duet that closes the album. They picked the wrong tracks to lead with; the release of "Chun-Li" and "Rich Sex" suggested a shakier album than this turned out to be. I also wish there was room for more offbeat songs like the Swae Lee-assisted "Chun Swae," where the Rae Sremmurd rapper/singer likens a club scene to a swarm of sharks, and that the quality of the raps sustained the gleeful spite of the minute-long beat-switch workouts at the end of "Barbie Dreams" and "Majesty."
Queen coming out more or less on par with The Pinkprint for quality casts pre-release worries that it would be a career ender in a new light. When men in rap have beef, we say it's "good for hip-hop." 6ix9ine gets laughed off as a troll for his provocations. When men in rap disrespect journalists, historically speaking, there isn't much blowback. Dr. Dre manhandled Dee Barnes, and it became a punch line in an Eminem single. When men in rap drive a hard bargain, when they're petulant and demanding, they're celebrated as bosses and kings. When women in rap squabble, when women in rap are bossy, it's considered a knock against their character, or in Nicki's case, against her very sanity and sobriety. Now, there's a lot she ought to have done differently in the press campaign for this album. That journalist did not deserve that DM. Someone should have explained Chun Li a little better. She shouldn't have trusted Quavo to be an intermediary in the "MotorSport" flap. She shouldn't disrespect dancers and sex workers. But on the spectrum of chaotic rap album releases in this summer alone, none of this compares to Kanye in the MAGA hat or Scorpion's baby reveal being spoiled. But … people believe what they want.