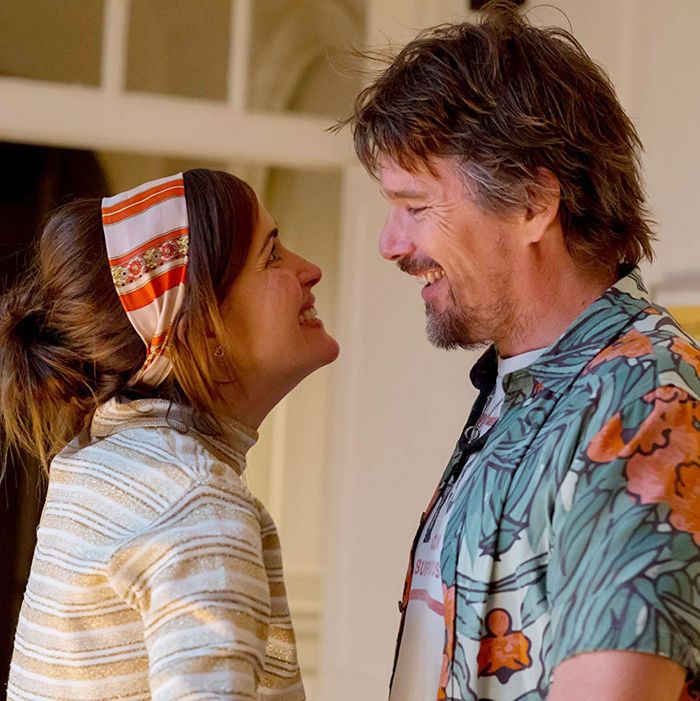 Photo: Lionsgate & Roadside Attractions
Juliet Naked — the film adaptation of Nick Hornby's 2009 novel — follows Annie (Rose Byrne), repressed museum curator and long-suffering girlfriend, who embarks on a transatlantic romance with reclusive rock star Tucker Crowe (Ethan Hawke), much to the chagrin of her pretentious dolt of an ex-boyfriend Duncan (Chris O'Dowd), an Über-fan of Crowe's work. Juliet, Naked earnestly explores second chances, middle-aged romance, the pernicious elements of music fandom, and, of course, arrested (male) adolescence. In short, it's a Nick Hornby movie.
This will be the fifth English-language film adaptation of a Hornby novel in over 20 years, following films like Fever Pitch, High Fidelity, and About a Boy. Since his early success as a memoirist and novelist in the early '90s, Hornby's oeuvre has become reliable grist for the Hollywood mill. His work often features hyperverbal, culturally literate figures mired in various existential and romantic crises, frequently communicated through first-person narration, which renders them compelling actors' showcases even if the films themselves are sometimes inconsistent. Hornby has also penned successful screen adaptations of other novelists' work, and even netted two Oscar nominations. Love him or hate him, he has remained a consistent voice in film for the better part of the new millennium. Ahead of Juliet, Naked, we present an overview of his work to get newcomers started.
Fever Pitch (1997) / Fever Pitch (2005)
In 1992, Hornby published Fever Pitch: A Fan's Life, an autobiographical examination of his lifelong obsession with football (soccer) and, particularly, the Arsenal team. Each chapter covered a different match and how it connected with Hornby's life, from a lost child of divorced parents all the way to adulthood. The book quickly became a smash success, selling over a million copies in the United Kingdom. In 1997, Hornby adapted the film into a fictionalized romantic comedy-drama that follows an Arsenal-obsessed teacher in North London (Colin Firth) and his new co-worker (Ruth Gemmell) around Arsenal's First Division championship season in 1989.
Though most people are more familiar with the 2005 adaptation of Fever Pitch, starring Jimmy Fallon and Drew Barrymore set in Boston during the Red Sox's 2004 championship season, the 1997 version is not only the better film but also a better representation of Hornby's ideas. The film illustrates how sports fandom (or any fandom really) is a double-edged sword: It can provide a person with meaning and purpose, grounding them in the achievements and failures of a surrogate family, as well as hinder or stall any meaningful personal growth. Hornby expertly captures how common interests form tighter bonds than blood and how those bonds can end up isolating you from the myriad experiences life has to offer. There might not be a better "Hornby moment" captured on film than the scene when the young Hornby stand-in goes to his first Arsenal match as a child and falls head over heels in love with a new world.
High Fidelity (2000)
Stephen Frears's adaptation of Hornby's debut novel transferred the setting from London to Chicago (the hometown of star John Cusack) but otherwise remained faithful to the source material. The film follows music-obsessed record store owner Rob Gordon as he reexamines his failed relationships following his latest breakup with serious girlfriend Laura (Iben Hjejle). Cusack perfectly embodies Hornby's voice, warts and all, and his transition from neurotic adolescent to slightly less neurotic adult still packs a punch. Though Rob's petulant attitude might grate for some, High Fidelity has a fairly clear-eyed view of his flaws, mainly his refusal to listen to anyone but his own voice and to set exceedingly high expectations for romantic partners. Rob's mantra "It's not what you're like but what you like" might have been the dominant takeaway for less observant viewers, but it's telling that the film utterly rejects that statement by the end, and preaches that the true key to growing us is settling for a life that you didn't expect and being happy with that choice. Put another way: Rob's fifth choice on his top-five dream-job list is to own a record store. That's the film in a nutshell.
About a Boy (2002) / About a Boy (2014–2015)
Paul and Chris Weitz's About a Boy follows aimless late-30s London bachelor Will Freeman (Hugh Grant), who lives off the substantial royalties of a Christmas song composed by his late one-hit-wonder father. He attends a single-parent support group to meet women and soon becomes a mentor to Marcus (Nicholas Hoult), a lonely, unpopular 12-year-old boy living with his clinically depressed mother (Toni Collette). Over time, Will and Marcus teach each other how to be better people and engage with life, love, and the world around them. Though light on substance and insight, About a Boy was a box-office success, grossing $130 million on a $30 million budget, and continued Grant's string of post-2000 caddish roles. It later spawned an American TV series starring David Walton and Minnie Driver that ran for two seasons on NBC.
An Education (2009)
In 2009, Hornby adapted Lynn Barber's memoir An Education, which stars Carey Mulligan as Jenny, an ambitious 16-year-old schoolgirl who embarks on an affair with charming, artistically minded older man David Goldman (Peter Sarsgaard) in London circa 1961. Aching to break free of her overbearing father (Alfred Molina) and the constricting one-path life that British academia offers, Jenny falls deeper into David's trance as he introduces her to a world beyond her own, despite knowing that he makes money through con jobs. Eventually, she learns that David has conned her as well. A critical success, An Education was nominated for three Oscars, including Best Adapted Screenplay for Hornby. More notably, however, An Education introduced Mulligan to a wider audience and her breakthrough subsequently opened doors to roles in films like Drive, Inside Llewyn Davis, and most recently, Mudbound.
Wild (2014)
Reese Witherspoon and Laura Dern netted Oscar nominations for their work in Wild, Hornby's adaptation of Cheryl Strayed's novel-memoir by the same name. Witherspoon plays Strayed, a recent divorcée and recovering drug addict who sets out to hike 1,100 miles of the Pacific Crest Trail. On a journey of self-discovery and redemption, Strayed confronts the loss of her mother (Dern) to cancer, as well as her own indiscretions and setbacks, all the while pushing through the practical challenges that face a novice hiker. Considered a comeback for Witherspoon, Wild features the actress embracing the physical rigor the role requires, and she imbues her performance with emotional exhaustion and trauma. It also marks the first film from her production company Pacific Standard, whose goal was to produce movies with strong female leads. The company went on to produce the hit HBO series Big Little Lies, starring Witherspoon, whose second season will premiere in 2019.
Brooklyn (2015)
Colm Tóibín's 2009 novel Brooklyn follows a young woman living in 1950s Ireland who immigrates to Brooklyn, New York to find employment opportunities. In spite of some initial homesickness, she eventually settles into America and embarks on a relationship with a young Italian-American. Hornby adapted Brooklyn in 2015 and the film, starring Saoirse Ronan and Emory Cohen, became a critical and commercial success. Aided by Ronan's bighearted, unsentimental performance, Brooklyn captures the internal conflicts of the mid-century immigrant experience — the isolation, the difficulties assimilating to a new culture, the fear of losing one's own heritage and culture. For his work bringing the story and those emotions to the screen, Hornby netted his second Oscar nomination.