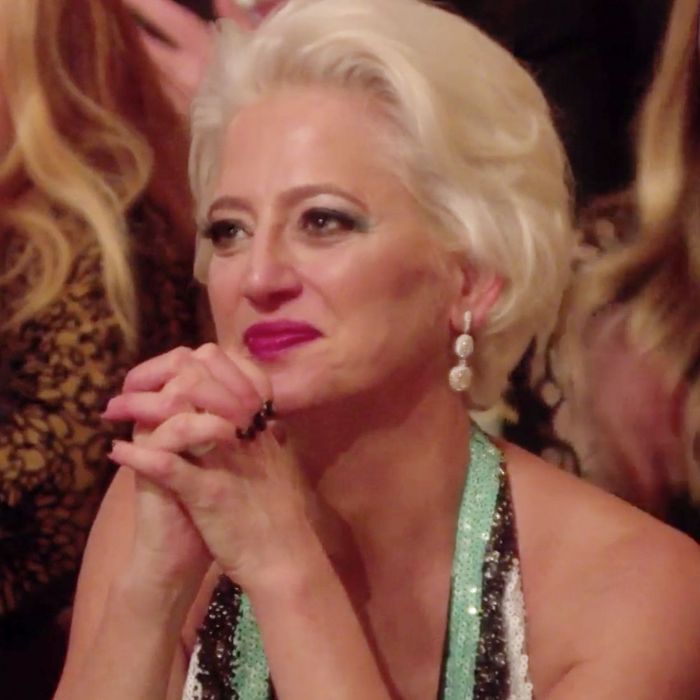 This has been a barn-burner of a season. It started with Luann dressed in blackface as Diana Ross at Halloween, continued with the insane murder mystery party in the Berkshires, and peaked with the Boat Ride from Hell and an otherwise glorious trip to Colombia. But now we end it here. Here at the Countess's Cabaret show with a fight over whether or not John was invited and whether or not Scott was invited and everyone being mad about it. God, what a boring, typical, Real Housewives fight! This was not the cherry on top of a delicious Sunday, it was a poop smear across an otherwise perfect floor.
Before we get into that, I want to say that every one of the women looked absolutely fantastic at Luann's cabaret show. Dorinda was wearing a striped sequin jumpsuit and Divine's eye makeup from Multiple Maniacs. Carole's outfit was also gem-tone sequins, but in splotches. Their outfits looked like the best of frenemies. Tinsley looked like a mother of the bride in one shoulder ruffle and pants. Both Ramona and Bethenny kept it classy in black sparkles and simple hair. Sonja was wearing a dress as flimsy as the paper underwear they give you when you get a massage at a spa, but, well, we all know what Sonja's plan was all along.
The trouble started at Tinsley's "suite" when she, Dorinda, and Carole were pregaming for the cabaret and Dorinda mentioned that John wasn't invited. She says Luann told her earlier that day that she didn't know John wanted to come and there was no room for him. "If you wanted him to come, you should have bought a ticket," she reports Luann said. OK, that is a really sick burn.
If Luann said that then I can understand how that would be very hurtful and dismissive. However, I am sympathetic to the Countess with this one. This is a ticketed event where everyone has to have a seat. It's not like this is a party and you can just squeeze one more body into the joint. On the day of the event, Dorinda calls to confirm that John is coming. That's a pretty stressful place to put Luann in and pretty short notice for such an event.
Before the show starts at the venue, Tinsley tells Carole that Luann invited her boyfriend Scott that day, but he was out of town so he couldn't attend. Tinsley wants to know if she should tell Dorinda, who is already worked up about the John thing. Carole tells her that normally she would advise not to because it would just hurt Dorinda's feelings, but in this case she thinks she should.
The most curious thing about this whole storyline was that Carole was uncharacteristically driving it all. Is it because she hates Luann and wants to make trouble for her? Was it that she wanted to stir the pot so she wouldn't get fired after this season? Her motives seem unclear, but the whole time she was prodding, prodding, prodding Dorinda to a confrontation with Luann. When Dorinda tried to leave the after-party early, Carole went so far as to say, "Don't you want to stay and say something to Luann?" like she's one of the producers on the show.
Tinsley tells Dorinda and this pisses her off even more. That coupled with the drinks at the cabaret causes her to start shouting "Jovani!" "Another Jovani dress!" "Someone bring me a cup of Jovani!" forgetting that the name of the Greek yogurt brand is actually Chobani. This is the company that Dorinda set Luann up with that provided all of her dresses for the cabaret. Dorinda, playing scorekeeper, is mad that she helped her friend out but her friend couldn't invite John to the show.
The Housewives seemed to think that the whole cabaret was a call-and-response kind of atmosphere. Not only was Dorinda scolding Luann the entire time, Tinsley also piped up about her own mug shot from the crowd, which garnered laughs. With hecklers like these, who needs a pack of wheezing hyenas to call friends?
Otherwise the cabaret was pretty spectacular and I must say that I'm really pissed that I missed it. I mean, I would have sharted a little bit every time she said the "hashtag" of #CountessandFriends out loud, but she got quite the cast to join her. Laura Benanti and Tony Yazbeck are both Tony winners and Broadway legends. Andrew Keenan-Bolger is not only talented, he also has a scorcher of an Instagram (and an even hotter boyfriend). Rachel Dratch is, of course, a genius, but the one you are really sleeping on is Bridget Everett, the one who motorboated Sonja Tremont Morgan of the Tearaway Pants and Edible Undies Morgans while singing her song "Pull Them Up." She is a modern cabaret genius and you should all do anything you can to see her at any and every opportunity, or at least watch her video for "What I Gotta Do."
The star of the show, of course, is Sonja, who brought her caburlesque stylings. Ben Rimalower, the director of Hashtag #CountessandFriends and Vice President for Gift Shop Sales at the Real Housewives Institute issued this statement: "From the second Sonja appeared in that tie-away dress, I think we all knew where things were heading. And what Cretan would want it any other way?" I completely agree with Ben. If you meet Madonna you don't want her to be nice. No, you want her to show up two hours late, make fun of your shoes, and mispronounce your name. That is the only way the experience would be complete. The same goes for Sonja on stage. If I don't see at least some of her underwear, I want a refund.
The after-party was a total mess. Carole and Bethenny were having a nice conversation about what is going on in their lives and it seemed sweet. It's almost like when you have a hangover and you puke and then you miraculously feel better. The puking was their fight in Cartagena and now they can go back to something resembling normal. But what happened between the finale and the reunion that Carole and Bethenny have such acrimony? Probably everything they've said about each other all season long.
Just when Bethenny was having a nice normal moment, however, she had to remind us all how unlikeable she is. Ramona comes over and Bethenny basically says, "Will you go away, we're talking." Yes, I get that her conversation with Carole was more important to her, but this is a social event. She could have included Ramona in the conversation. Then when Ramona questioned Bethenny's edict, Bethenny got snide and said that Ramona could call her secretary and schedule an appointment. Ugh, really? God, Bethenny really has no clue how she comes across. No wonder everyone on the show is sick of dealing with her.
Ramona wasn't any better though. After Bethenny asked her to step away Ramona just refused because she had an axe to grind about Bethenny not showing up at her New Skin Renewal by Ramona party. God, watching these two try to out-sarcasm each other was like watching a sploshing video where no one gets off. The whole thing was just disgusting, especially Ramona's fake indignation that Bethenny doesn't support women.
What was even worse though was that Bethenny didn't go to the party because she doesn't take Ramona's businesses seriously because so many of them fail. That is not what a real friend does. A real friend goes to lend support anyway. We all have that friend who always has a new loser boyfriend they want you to meet and, even though the relationships never last, you have to go anyway and pretend to care about this dude who used to be a graphic designer and now is operating a "performance collective" in Red Hook because you want to make your friend happy. Ramona's skin care is her latest shitty boyfriend. Just go and meet him already, Bethenny. It's a lot better than the alternative.
Dorinda, however, was the one who made the biggest fool out of herself at the party. Something happens to Dorinda when she gets wasted where she starts to look like a wilted flower. Her hair is messy, her lipstick is wearing off, and she looks like no amount of water will bring her back to life again. The thing that marks Dorinda the most when she's drunk, however, is that she's cruel.
All of the women, particularly Carole, explain to Luann about how Dorinda is mad about John not being invited. Bethenny, of all people, is the only one generous enough to see that Luann might have a good justification for this behavior. Dorinda is so wound up by her friends and alcohol when Luann finally confronts her that it all goes to hell pretty quickly. Dorinda says, "I don't want to talk about this on your big night. You were so great and you look so good, I don't want to talk about how you didn't invite John but you invited Scott."
A friend of mine once said, "An evil queen will say, 'You look like shit,' but a vicious queen will say, 'You look amazing, darling!'" Dorinda managed to do both in one sentence. It was one of the meanest things I have ever seen a person do on reality television. What's even worse is that she does it again. After trashing Luann to her face, Dorinda then turns and says, "Congratulations. You look great. You were amazing. Have a nice night," like the really vicious queen that she is. I've not been Dorinda's biggest fan all season, but this really did it for me. Even if she was right about Luann inviting John, behaving like that lost her whatever moral imperative she might have had. It's a common Housewife ailment I like to call Brandi Glanville Syndrome.
Dorinda emerged, blurry eyed, into the cold night on her way out of the party. Bethenny and Carole left later and separately, Bethenny looking a little lost and sad that she had to take her town car home alone. Ramona came next, stampeding with a friend and shouting about how Bethenny had let her down once again. She walked past Tinsley, who was arguing on the phone with Scott before getting in a cab and heading back to that big empty penthouse suite all alone. Sonja, of course, left with some 28-year-old gay dude that she was trying to make out with and he kept saying, "But I'm gay," as he threw her in the back of a Lyft and climbed in after her. He would wake up the next morning in her basement wearing nothing but his underwear and a Marie Antoinette wig.
The Countess, of course, left last. I can't say that she was sozzled, but she would be back in rehab before the year was up. She was the last to walk past the black Suburban that was parked in front of the party's entrance with the rain-spattered window rolled halfway down. A woman looked through the slat out at each of the women, each of them marinating in their own hatreds and disappointments, each of them ruined, in one way or another, forever, but each of them also possessing the one thing she was missing: fame. It was that drug she had chased for so long, that she hated them for. It was one with so few dealers but so many sources.
She had learned a lot this year, however, from loss and tribulation. She thought about her husband, and how he always stood by her, even when her addiction was at its worst. How he would do anything she asked, no matter how craven, no matter how sad. She wished now she hadn't. She wished she could have been happy with him on the golf course as they carted around not playing very well. That she could have been happy at the beach, the sand blowing on them in the Hamptons as the clouds eclipsed the sky. Even just at the house, curled up with the new season of House of Cards. Bobby loved House of Cards. Now Jill Zarin knew that she didn't need it any more. She didn't have to chase it. Her work here was done. She rolled up the window and had the driver take her home. That night she slept the sleep of the blessed and woke up in the morning to see the sunlight pour through her window like it was the last gift her husband will ever give her.