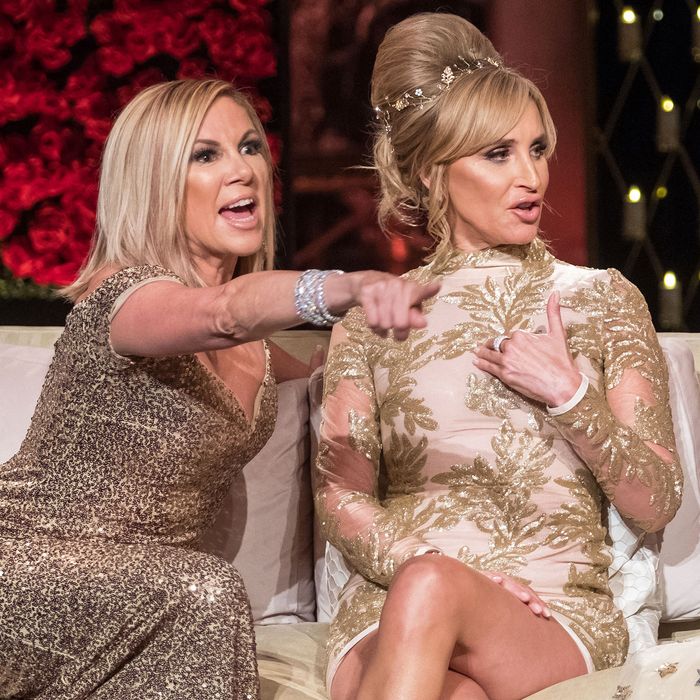 Photo: Bravo/Charles Sykes/Bravo
Apparently we are still taking about Dorinda's drinking problem or lack thereof and the women still are not understanding what the argument is fundamentally about. Ramona says, "If Luann said you're drinking too much …" but that is not what Luann said. She didn't say anything about the amount or frequency of Dorinda's drinking. She said, "You're turning." This was never about Luann lecturing Dorinda about drinking too much because Luann found sobriety; this was always about Luann trying to correct Dorinda's behavior.
Dorinda tries to say that she wasn't drunk during that exchange at dinner in Cartagena, but I do not believe that. I also do not believe that Dorinda doesn't take pictures of things with her iPad, because of course she does. Regardless, she was behaving like a jerk, much like she behaved like a jerk when she sliced her hand open and yelled at Bethenny in Mexico, much like she behaved like a jerk when she was screaming, "Clip!" in a crowded restaurant in the middle of the day. Even if Dorinda got drunk like that once a year, I wouldn't want to be around it because Dorinda sometimes turns into a vicious animal after she's been drinking. That's what Luann was talking about and, regardless of whether or not she has a problem, she needs to address how she treats others.
Sonja Tremont Morgan of the Mount Gay Rum Morgans summed it up perfectly when Dorinda told her she can't say anything because she's always drunk: "Yeah, but I don't get drunk and insult my friends' vaginas." Exactly, Sonja. Thank you. She gets drunk way too often, but Sonja only makes a fool of herself. If she's going to insult someone's vagina, it's going to be her own. She is like a Tasmanian Devil when she's drunk, but when she finally stops spinning you realize that she's completely naked and hasn't been to the waxer in at least six months. Sure she inconveniences her friends by getting sloppy, but at least she never screams at them and insults them. She is the kind of drunk I don't mind being around.
The craziest part of all though is that Dorinda won't take credit or responsibility for any of it. She doesn't see either her drinking or her bad behavior as a problem and continues to excuse it. If I were her friend in this situation, I would need her to cop to at least one of them so that we could move forward.
Speaking of drinking, the topic then shifted to Luann. Do we really need to see her clip package? Do we really need to talk about her "journey" when she wasn't even there to elaborate on it or defend herself? Couldn't we have just cut this all out and made this two episodes? Hmmm? I guess not.
We did get some good information from Bethenny about Luann. We learned that Bethenny essentially had an intervention with her and a few other people after Bethenny gave her boyfriend at the time, Dennis Shields, Luann's case. Anyone who follows the Housewives closely knows that Dennis has since died of an overdose. That is why the New York ladies need to be filmed all the time. They're always only a millimeter away from catastrophe. I was ready to hear that Sonja's new apartment was inside that hot dog cart swarming with bees.
Andy told us a bit about the lawsuit filed by Luann's kids and Bethenny told us that it was a catalyst both to her drinking and to her going to rehab (possibly just to miss this inquisition at the reunion). For a change, this reunion actually filled in some of the gaps behind the scenes that we had been lacking. My favorite new bit of info comes from Ramona, who says that she told Luann some awful things about her ex Tom last year during their Mexico trip. It was the same night Luann got so drunk she fell into the bushes — possibly because she was trying to forget all about her ex.
The other stunning revelation was that the arrest itself might have led to Luann being back in rehab. Both Bethenny, her current bestie; and Dorinda, her current enemy, say that she was "feeling herself" a little bit after the success of her cabaret show. She let her ego go out of control because she felt like her trouble with the law made her even more famous. I never thought of that and, while it seems a little bit backwards, I can totally appreciate as Dorinda says that she "confused fame with infamy." Dorinda ends by saying that maybe Luann should get her very own reunion special. Andy replies, "I look forward to that," as if she didn't get one already last year when she divorced Tom immediately after the filming of the reunion. See, people. We need year-round coverage.
The final event of the night was that Tinsley spoke. Haha. Just kidding. She didn't say anything at all, even when the conversation was about her. The last big fight was between Carole and Bethenny. I spent most of this season being #TeamCarole because we've seen Bethenny treat people like crap for a decade on this show. (Well, maybe not a decade, but at least the past five years.) She displayed it when she asked Carole for an example of how she was bullied and then Bethenny kept trying to get the last word saying, "Okay, go ahead … Okay, go ahead," every time Carole was trying to talk. She really wouldn't let her express herself, when last episode she got all upset when Carole tried to interject on her.
However I am not #TeamCarole anymore. I'm not #TeamBethenny either. I'm #TeamNoOne. I am #TeamMakeItStop. Just as Andy said, and the producers pulled out the montage to prove, both of these women trashed each other the entire season. Yes, they were supportive to each other's faces, but by the time the sit-down interviews were filmed, the gloves were off. Then, once they saw those interviews, the gnawing rot of uncomfortable dislike that seeped into their friendship metastasized and became so huge that it was like the chasm Gandalf fell into in Fellowship of the Ring. It was some from which they shall not pass! [Staff slam!]
Andy asked them what caused this rift and neither of them had a good answer. They both say that they had different priorities for awhile and thought they would get back to normal, but something prevented them. They started to hurt each other's feelings a little bit but it was usually over silly miscommunications that suddenly became huge things. I think the real problem is, to get over those things required one of the women to eat a shit sandwich and say they were sorry, or take some responsibility for something she might not have felt she really did wrong. Someone needed to veer off the road in this game of friendship chicken. But it never happened. They both crashed and burned and we're here looking at the most boring car fire to ever happen on the Real Housewives.
It is boring because we know it is moot. It is boring because we know it is over. It is boring because we know that both women are totally overreacting to what started off ostensibly as nothing but turned into hatred probably because of the format and nature of reality television itself. Do you want someone to blame? Blame it on the thing that brought us all here. Blame it on the thing that is bigger than both of them. Blame it on the thing that we love more than we love #TeamCarole or #TeamBethenny. Blame it on the one thing that won't change, and that we would never want to.