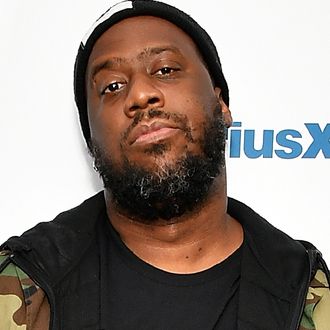 Pianist and record producer Robert Glasper.
Photo: Slaven Vlasic/Getty Images
If it feels a little hotter today, it's probably because of this clip of Grammy Award–winning artist Robert Glasper calling out fellow Grammy Award–winning artist Lauryn Hill for mistreating musicians and allegedly stealing music. In an interview Glasper gave to 97.9 The Box in Houston, the composer recounts a time in 2008 when he was hired to play in her band for a 20-minute show, for which Hill would be paid $500,000. According to Glasper, the quick gig required a week of ten-hour-a-day rehearsals, during which Hill changed the show each day. The band was also instructed not to look her in the eye and only refer to her as "Miss Hill." Finally, Glasper says on the last day of rehearsals Hill was a no-show, and her manager informed the band she didn't like their work so their pay would be cut in half. Glasper's response? "I was eating a beef patty, I'll never forget it. And I said, 'When I finish my beef patty, I'm going home so y'all can do what y'all need to do.'" He ended up getting his full salary, but he claimed that Hill is well-known for regularly firing her bands.
He also bluntly accuses Hill of having stolen her music, making several references to the lawsuit Hill settled decades ago over credits on The Miseducation of Lauryn Hill. "You haven't done enough to be the way you are. The one thing you did that was great, you didn't do." Watch Glasper's comments in full below, or check out a transcript at Madame Noire, but keep your inhaler ready because it's a lot: