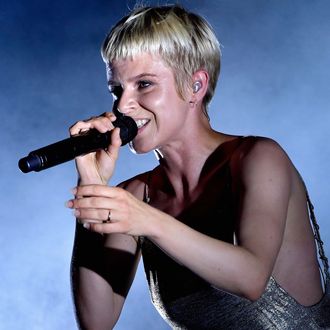 She missed us. She really missed us!
Photo: Paul Marotta/Getty Images
It has been eight long years since Robyn, future-pop extraordinaire has released a song all her own. Sure, there was "Honey," the song she made so exclusively for the final season of Girls — the show that amplified her stardom — that it exists nowhere else but over that episode's credits. And, of course, there have been side projects, both with Röyksopp and as La Bagatelle Magique (with Markus Jägerstedt and Christian Falk). But a solo album? Not since 2010's Body Talk. She has been missed, but at least now we know that sentiment throughout her absence was always mutual. Today Robyn has returned with her first solo single in nearly a decade, "Missing U," which is both a tribute to her fans and to the late Falk, who died of cancer the year before La Bagatelle Magique's album was released.
Its accompanying short film is a love letter to a specific part of her fandom, the ones that host a recurring dance party in her honor at Brooklyn Bowl. The video documents her trying to process her level of influence while also plotting to crash the party back in May and give her fans the shock of their lives. Go ahead and have a good cry.