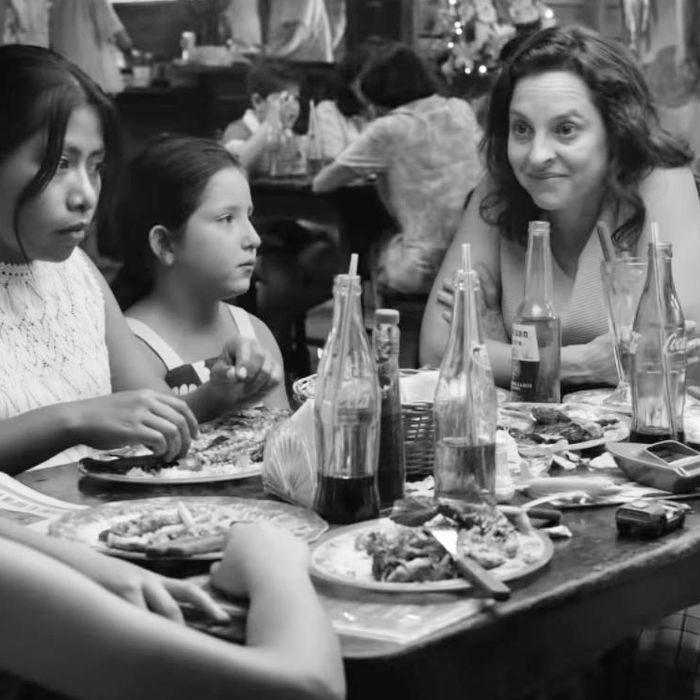 The house at the center of Roma is so minutely detailed that by the end of the film you'll feel as if you spent your life there, too: its packed bookcases, sensible couches, dog-shit-smeared carport and the Ford Galaxy that's just a little too big for it, the commercial jet that passes overhead every morning. It's a comfortable house for 1970s Mexico City to be sure, the very picture of educated bourgeois privilege, and even though the perspective is that of an indigenous housekeeper, it never feels like a scene of oppression. And when it starts to crumble, ever so slightly, it's alarming, if only because the world outside has proven to be so much less predictable and familiar.
Alfonso Cuarón wrote, directed, and shot Roma, which he has called "his most personal film yet." Usually statements like that denote quiet, interpersonal, elliptical dramas, and Roma, which premieres at the Venice Film Festival today, fits that description to some degree. We follow approximately a year in the life of Cleo, a domestic worker for a doctor's family, and much of it is episodic and observational. But it's also a grand, epic tale on the scale of Gone With the Wind — and as a result, more a portrait of a time and place than a specific character. The resurgence of the 1968 student movement rumbles in the background, along with fires and crashing waves and the earth itself, and the personal intersects with the movements of the wider world, as it tends to do in real life.
First-time actress Yalitza Aparicio plays Cleo, a quiet, tenderhearted housekeeper who lives alongside fellow housekeeper Adela (Nancy García) in the maid quarters at Señor Antonio's (Fernando Grediaga) house. The two seem to lead mostly unremarkable lives, revolving around reducing the friction in their employer's lives. But they also have lives of their own — Adela has a boyfriend, Ramón (José Manuel Guerrero Mendoza), and Cleo is dating his cousin, the gorgeous, moody Fermín (Jorge Antonio Guerrero). In a postcoital moment, he takes a shower rod from the bathroom and, fully nude, demonstrates for her the martial arts moves he's been learning from his American instructor while she watches, glamorized and a little frightened. It isn't long before Cleo finds herself pregnant. She tells Fermín while they're at the movies; he goes out for a bathroom break and never comes back.
They do meet again — in heartbreaking, shocking circumstances. In the meantime, we follow Cleo through her pregnancy, while Antonio's wife Teresa tries to figure out what to do after Antonio ditches her and the four children. She distracts them with trips and outings — in one dazzling sequence, she takes them to some rich friend's opulent estate for New Year's, which the families spend shooting rifles in the woods and listening to the soundtrack to Jesus Christ Superstar. It's an overstimulating visual feast — Christmas lights and fireworks and dogs and children running around the frame — that ends in almost biblical catastrophe.
There are more than a few of these catastrophes in Roma, and they are technical wonders. Cuaron's sense of depth and panoramic movement has never been put to more stunning use (and yes, I'm counting that shot in Children of Men: this is more symphonic, more emotionally fantastical stuff). His camera roves around in slow pans and running dolly shots, taking in every moving piece, whether it's the exhilarating simplicity of Cleo and Adela running down the busy streets of Mexico City to meet their boyfriends, or the tense din of a student protest.
The film ends with few answers for Cleo and Teresa — or for their country. The marauding force of the men in their lives has wounded them, and while Teresa has Cleo to help lessen the blow, who does Cleo have? Cuarón never seeks a tidy resolution for their loving, lopsided, complicated relationship. But it's one of the reasons why Roma leaves such a deep and lasting impression.
Roma was nominated for ten Oscars in 2019, including Best Picture, Best Director, Best Actress, Best Supporting Actress, Best Original Screenplay, Best Cinematography, Best Foreign Language Film, Best Sound Editing, Best Sound Mixing, and Best Production Design.