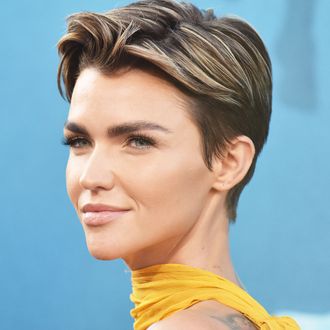 Batwoman
Photo: LISA O'CONNOR/AFP/Getty Images
After being named the CW's brand-new lesbian Batwoman, a character reportedly set to appear in both the network's Arrowverse crossover and her very own forthcoming series, Orange Is the New Black star Ruby Rose enthused about the role on The Tonight Show With Jimmy Fallon last week, sharing her personal motto, "Be the person you needed when you were younger." Now, reports say the actress and model has left Twitter after experiencing a wave of fan criticism about her casting.
As for the nature of the backlash, well, it ranges pretty widely, from criticisms of Batwoman being a Jewish lesbian to begin with (as established as canon by DC Comics' 2006 reintroduction of the character) to claims that Rose is the wrong member of the LGBTQ community to play said Batwoman, whether it be due to her acting skills, the fact she had reportedly previously described herself as gender fluid and the fact she is not Jewish. You can see those criticisms and many more under Twitter's #RecastBatwoman hashtag.
In her reported final tweets, Rose expressed shock at the collective response. "Where on earth did 'Ruby is not a lesbian therefore she can't be Batwoman' come from — has to be the funniest most ridiculous thing I've ever read," she tweeted, per a number of sources. "I came out at 12? And have for the past 5 years had to deal with 'she's too gay' how do y'all flip it like that? I didn't change."
Wrote the actress, "When women and when minorities join forces we are unstoppable … when we tear each other down it's much more hurtful than from any group. But hey/ love a challenge I just wish women and the LGBT community supported each other more, My wish was we were all a little kinder and more supportive of each other … Sending everyone my love and gratitude, it's been a rollercoaster of a year, this month especially."
Before she bailed on the platform for at least the foreseeable future, Rose concluded, "I am looking forward to getting more than 4 hours of sleep and to break from Twitter to focus all my energy on my next 2 projects. If you need me, I'll be on my Bat Phone." As of today, Rose's Twitter account is gone, but she still has an active Instagram.