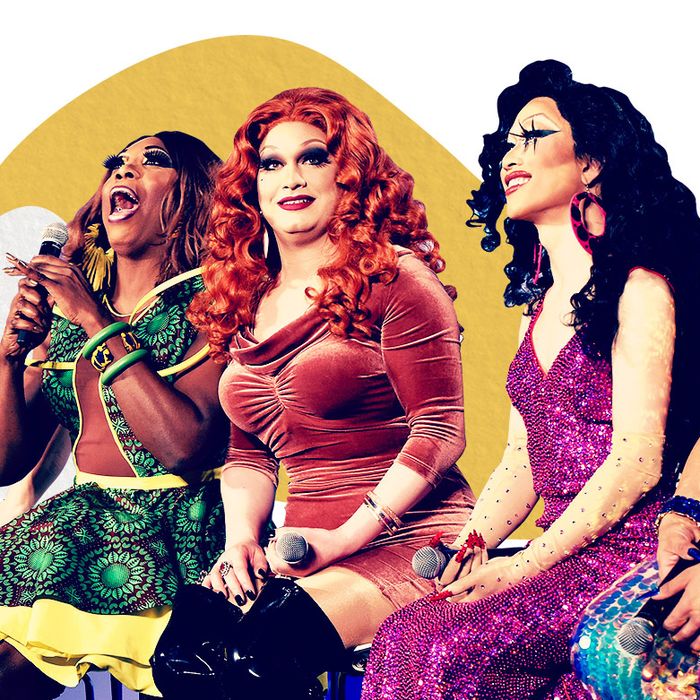 Photo: Maya Robinson/Vulture and Photo by Getty Images
RuPaul's Drag Race is a bona fide TV phenomenon. With ten seasons in the books, plus three editions of the Drag Race: All Stars spin-off — not to mention back-to-back Emmy nominations for Outstanding Reality Competition program, a third straight nod for two-time Outstanding Host winner RuPaul, and a just-greenlit 11th season in the works — it's well beyond clear that these queens are a cultural force to be reckoned with. At this year's Vulture Festival, comedians and Drag Race superfans Matt Rogers and Bowen Yang spoke with judge about all things Drag Race, from the show's widespread influence (Miss Vanjie!) to their Emmy odds and what it's really like filming each season.
Matt Rogers: Ten years in, this is the highest-rated season so far. It gets bigger and bigger. How are we feeling about this? And what are we looking forward to in the next ten years of Drag Race, which we all want, I would say.
Bowen Yang: Let's go down the line. Let's just each answer the question.
Michelle Visage: First and foremost, the reason we are in season ten is because of everybody here. It's because of the viewers around the world, and that's the honest-to-God truth, because people jump through hoops to watch it where it's not on legally. They do whatever they can do to watch it. But I think the beauty of Drag Race and what has changed since we started is the ongoing, ever-changing process of learning about the LGBTQIA+ community.
We were a show that talked about HIV, being HIV positive and living positively with HIV, and also Peppermint coming out as trans on our show. We've had a few girls that are trans on our show at this point. We were talking about the issues around the world with being gay. I know a few of the girls were talking about it overseas. They were talking about the issues in other countries.
Also, losing some of our friends. There were a lot of us that lost friends in the Pulse nightclub tragedy. So there was a lot of conversations that happen on our show that wouldn't happen on any other format on television. I think that has changed over the years, and the more that our beautiful contestants are willing to talk and share about those things, the more we can positively effect and change the way the world thinks.
BY: Great. Beautiful.
MR: Amen. Bebe, the original, how have you seen it change since you were up there?
BeBe Zahara Benet: How has it changed?
MV: We got a new filter.
BB: Oh, bitch. Okay, no shade, honey. Yes, bitch, it's a pretty woman, honey. Hi, guys, hi jungle kitties. How are you doing? No, I mean, well, first of all they have a budget, so. No shade. I made $20,000 when I won the show, honey, now you can win two lip syncs in All Stars and make my money. I always say mother is owing me $80,000, honey. No shade. I love Mama.
The legend has spoken. She said exactly what I would say, but what I would add to what I see in the future, is just, with amazing things happening on the show now, I would love to see it now even become way more inclusive. Because when you travel, and now you've seen everybody now is trying to use the art form of drag. Everybody. Woman, straight man, gay, whoever, whatever you identify yourself as …
MV: Children.
BB: Children. The best part to me of Drag Con was seeing all these little, little kids come and just talk to you about the art form. To me, that's when you know we are doing something special because many, many moons ago … this doesn't mean I'm old. But you know many, many moons ago, it was very unheard of. So just being able to see that the show is doing that much to an audience to kids.
MV: It wasn't even that many moons ago. It wasn't even.
BB:   It wasn't even that many moons ago.
MV:  If you take our show for ten seasons, it was probably ten years ago that the art form was never looked at as a real viable art form. I remember growing up right here in the mean streets of New York City down at Christopher Street Pier, and I was learning about it on those streets and drag was always like laughed at and ridiculed. Within the community, y'all. And it was very interesting. I always hung out with drag queens, which is why my chair is my chair and nobody else's, but that's real. It's not ten years, the course of the show, but before that, the art form of drag was still kind of like, hmm.
BB:  Yeah, but that's the beauty about the show, because the show has made it so inclusive. Because like Michelle talks about, the heart of the show. Because at the heart of the show there are people who were not even that into drag that can identify with our stories. And when you take down that fourth wall, that's what makes it magical. We become human beings to people. And that's why it's so amazing, and so I would like to see that grow even more and more. And most importantly, I would love to see it not be considered an art form for the GLBTQ community. I want it to be an art form for everybody. Because I think that every time … I love my community, of course, but I feel like a lot of times, people try to put the drag in the GLBTQ community and that's it. So it's almost like if you're not part of that community, then it's not an art form for you. I would like to see it be universal, where everybody can enjoy and be able to appreciate the art.
MV: But never forget where it came from.
BB: Oh, absolutely not. Wakanda. Absolutely not.
MV: It's true.
BB: Absolutely not.
MV: It's true.
BB: You never forget your roots. You never forget your roots, but you can be able to …
MV: I forgot mine. We won't talk about that.
BY: Gorgeous. Jinkx.
Jinkx Monsoon: Yeah, hi.
BB: Sorry, Jinkx.
MV: That's the quietest she's ever been.
BY: Amazing.
JM: I didn't wanna interrupt Angela Bassett over here.
MR: Oh my God. That's kind to Angela Bassett. This is stunning. Just kidding, love Angela. Close friend. Close friend.
JM: No, I've been doing drag for 15 years. So that's five years before the show was on. That makes me at least 15. And I have just seen the stigma, not just within the whole world, but even within the queer community there was a stigma around being a drag queen. There was so much misinformation out there about what it means to be a drag queen and what you're doing when you're doing drag.
Now, my community celebrates me for being a drag queen when I used to feel like it shunned me, you know? And even though drag queens are lots of people's favorite aspect of the LGBTQ community, for a long time I just didn't feel like … I felt like it was okay to stand up onstage and make a joke and make them laugh, and then they wanted me gone. Sing your song, tell your jokes, and then go be by yourself. And now, I feel like we're influencers and we're advocates for the community in a way we never were before.
And what I wanna see for the future is … Bebe's talking about Drag Race continuing to embrace inclusivity. I think this is our one big show that people really take seriously, so a lot of pressure is being put on it to be the voice of the entire community. And no one entity should be the voice of an entire community, especially one as diverse and multifaceted as ours. So I would like to see TV executives look at the show as an example of what we can do as a community and how important we are in the world.
MR: Absolutely.
JM: And how important our representation is, and create more programming, so that there are multiple voices of the queer community out there, so that we can continue to educate the world at large, and make it a better place for weirdos like me.
MV: It's happening. It's happening. Slowly, but it's happening. We've got Pose coming up, which is huge for the trans community. And people of color. So it's really, really important that these shows, and thanks for Ryan Murphy and World of Wonder and production companies that are …
JM: The new season of Queer Eye is wonderful. I hope people realize that drag queens and queer people, we're not just archetypes and stereotypes. We're human beings with a lot to share. And a drag queen doesn't have to just be a clown, she can also be like a cooking TV personality or like a DJ, or a talk-show host. We should be able to infiltrate TV everywhere.
MR: Absolutely. Now, we have seen it be embraced in such a mainstream way, and that actually includes the Emmys. Last season, eight nominations, including obviously a well-deserved win for RuPaul as best host. For the second time.
BY: Two wins, for the second year in a row.
MR: And I think he sewed up the third win when he called Aquaria a bossy bottom on the last episode. I'm like, I'm sorry, but that's Emmy number three right there. But we have not won Best Reality Competition Program. I wanna ask you guys on the end, what do you think has to change or what do you think has to happen to bring the big one home?
Kalorie Karbdashian Williams: Ladies first.
Yuhua Hamasaki: I think it starts with the people in charge. I think it starts with power, and it starts with people saying it is okay for someone LGBT to win an Emmy as well, because if you look at the statistics, more males have won awards than females. That's a problem. More people that are white have won awards than people of color. That's a problem as well. When it goes back to RuPaul's Drag Race winning Outstanding Award for the Emmys, I mean, it goes back to that factor as well. That's what I think.
KW: Dang, she got real deep. I was just gonna go with I think we need to vote more. No, I'm just kidding. I think what possibly could possibly help is exactly what you all said. I feel that we're still counted as … Oh my God, I was gonna try to use a big word, sorry. That's what I get. We're still a minority. I feel that we're all struggling with it, but I believe that with the direction that the show is going, and of course what future years are to come, I really think that possibly we will get that Emmy. Hopefully, within this next go round.
YH: And it's just not about winning, actually, but it's also about recognition for our work as our community. And it all starts with everybody, the fans, now it lays in your hands as the fans, because drag has trickled down to a much younger generation than before [when] to see a drag show, to see someone in drag, you had to go to a bar. But now it has trickled down to someone who is … 6-year-olds, 5-year-olds, 11-year-olds. So when you guys get older, I hope you guys go out there and vote for someone to win an Emmy who is LGBT.
MV: I'm gonna just add on to this.
MR: Go for it.
MV: We were nominated once. So it's not like they've bypassed us every year. The fact that we were nominated last year was a joy and an honor in and of itself. It was remarkable that our little queer television show in nine seasons was finally nominated. So that was fantastic. Now, Ru and I were there and I knew we were winning. I was like, bitch, we got this. People know who we are. Everybody knows …
BY: I saw you guys on the carpet, I was like, oh, they're gonna win. Yeah, yeah, yeah.
MV: That's what I mean, like, we knew it.
MR: The winning mentality was present.
MV: And then they said The Voice, and I was like, oh.
MR: The Voice?
MV: But, of course The Voice was surprised that they beat us. Literally, she went up there and she was like, thanks? So, the fact that we were nominated was huge. Think about everything we've done. By the way, it took nearly ten years to get Drag Race on the air, and Logo was fantastic in having the balls, every pun included, to put us on the air. And now we've grown to an even bigger format with VH1, and I do wanna say that if we are lucky enough to be nominated, to think about everything we do in this reality show. We incorporate probably a piece of every single reality show. These queens are run through the gamut and then scrutinized within an inch of their life by me, and I do that on purpose. It has everything you could want. A magical television show and we super serve the queer community. And let's be honest, Hollywood's run by the Velvet Mafia.
JM: Absolutely.
MV: So it is time.
MR: Come on.
JM: It's just like, we've had our hands in show business the whole time.
MV: Correct.
JM: And now we're getting to step in front of the cameras instead of just running our fingers through a diva's hair.
MV: That's it.
BB: And just to add to what the ladies are saying, I think persistence is also a big thing, because if you notice, the reason why you think you're recognizing us is because we are not apologizing for who we are. Yep. We gonna send it, and we're gonna do what we have to do, with your Emmys or without your Emmys. And that's not being …
MV: Correct. And we're not going away.
BB: You know what I'm saying? And I think if we keep doing that, and being persistent, and saying this is who we are whether you acknowledge us or not, we are celebrating ourselves, I think that you have no choice.
MR: And who you are is the best reality show on television. That's without question.
MV: It's a marathon, not a sprint.
BY: Beautiful.
MR: Absolutely.
BY: I wanted to ask a question.
MV: That was a running analogy.
MR: Yeah, that was for running. All the runners out there.
BY: Athletic. It's out of our wheelhouse. Last week, Bebe, you crowned Porkchop Miss Drag Con, I believe. Which I think is a beautifully illustrative thing of how the show is able to honor the 126 canon queens. What do you think it is about Drag Race that is able to celebrate the immense legacy it has, in and of itself? Beyond just having a shared queer vocabulary, what is it about the show that is so self-referential and so joyful without it seeming like the snake is eating its own tail? Am I throwing too many metaphors out there?
BB: Kinda, yeah. I think, in my humble opinion, I think that you can say what you want to say. But in my humble opinion, I think it has to go all the way back to season one. Oh, don't play now with the OG girls.
MV: Season three. The real season one.
BB:  What I was trying to say when I talk of season one, I said because Mama … Mother, she really handpicked, and not saying she doesn't handpick all the other girls, but …
MV: She does.
BB: … going all the way to the first season, the fact that she handpicked every single one of us to start this thing. She believed so much in us, and believed in the concept, and said, "These are the girls that are going to start this journey." I think what has made it so special, and why, as the years go and the seasons go, you get to really be into it, it's because of the heart of the show. Because when we went into the show and not even having any blueprints of how the show was … Honey, they put us down there and said, "This is what you're doing. You better be ready, and do it well." You got to really see the people behind all of the fantasy. And every season that has come after that, you can identify with somebody. I don't care if you're the first person to leave, or the first person to win, you can identify with somebody's story. You follow their journey. You create relationships with these people. And I think because of the heart, that's what is really keeping us together.
MV: The show is very little, actually, about boys dressing up in girls' clothing. It's more to do with heart, integrity, perseverance, [and] one of my favorite words, grit. It's what they do in these situations that got them to where they are today. RuPaul still looks at every single audition video. He handpicks every single one of them still. Those are all his children. They're there for a reason, and that's the beauty of the show.
MR: How many audition tapes do you get?
MV: Thousands.
MR: Okay, yeah. So there's probably like a vetting process and then he goes in, or?
MV: Well, no, he sees them all as they come through. There's levels of who kinda makes it through to the next round, next round. But he looks at all of them. He knows who's ready and who's not. He really does. He can look and say, I've seen this person seven times, they're finally ready. You know? It's not easy. Any of these kids will tell you. It is so grueling.
KW: That audition tape already on itself is like part of the competition.
YH: But I also view the audition tape as a reflection of where my drag is. That's how I see it. Because it goes through so many questions in the audition tape, that when you do it, you reflect on your drag and where you are with your drag. So I think it's a positive outcome as well.
KW: Yeah, I feel even from my audition tape till now, my drag has completely changed, in the best way possible. Even more so since the show has been over.
JM: I think it gets harder and harder every single year because drag is all about surprise and that wow factor and thinking outside the box and coming up with something original, and ten seasons later we've seen a lot.
MV: We've never seen Jinkx wearing thigh-high slut boots.
BY: Yes. Fashion queen.
MV: I love it.
JM: It was a tactical decision.
BY: Something's going on down there.
JM: Every season the girls have to step it up even more because they're building off of the legacy of all the girls that went before, and they have to keep reinventing the wheel over and over and over again. And I think one of the reasons why it's so successful is like, when I was a teenager, Pokémon was all the thing. You know, I was like 10 before I grew out of it.
MV: Nice try, Jinkx.
JM: But Pokémon …
MV: She's trying.
BY: When you were a zygote, yeah.
JM: What I'm trying to say is, back when I was a kid, there were 150 Pokémon and you wanted to learn about all their different traits …
MV: Gotta catch them all.
MR: Catch them all, yeah.
JM: … and catch them all. And queens are kind of like that. We all have different superpowers. We walk into the workroom and it's like, ooh, this is the spicy one. She's gonna be the quirky, lovable goofball, and that's why people are able to relate to us and that's why they write fanfictions about us. It's addicting.
MR: Of all varieties.
MV: Thank you, Charmander.
MR: Let's talk a little bit about season ten. I think that we can all agree, the lip sync from this week's episode was probably one of the best of all time.
BY: It was up there.
MR: Of all time. So, let's talk about favorite lip syncs in history. So, let's go down the line. If there's one that stands out to you as the gaggiest lip sync you've seen. Michelle, what do you think? I know they're all your children.
MV: They're all my children and I've been there a long time and I am not a zygote like Jinkx. I am a woman of a certain age, so I'm gonna remember what I can. But what sticks out to me are Latrice Royale, "Natural Woman."
MR: Yes.
BB: That's a good one. That's a good one.
JM: Do you know why it's so good? It's because Latrice is wearing a pregnancy belly, standing there singing to her unborn baby.
MV: Who was it with, Kenya? Was it Kenya? That was jumping around?
JM: And Kenya's doing like …
MV: Trapeze work.
JM: … behind her, running around in her orbit while Latrice …
MV: It was like, you know the Kibbles and Bits …
JM: … is just singing to an unborn child.
MV: It was Kibbles and Bits.
BY: Yes, yes.
MR: Kibbles and Boots.
MV: Natalie Cole, Dida Ritz, Natalie Cole.
BB: That was mine. That is what I was going to say.
MV: Manila and Delta, "MacArthur Park."
BB: That's a good one.
MV: Raja and Carmen, hot sex on a platter.
KW: Okay, but we're missing the most epic one with Roxxxy Andrews and Alyssa Edwards.
MR: Yes.
KW: She had a wig under her wig.
MR: Yep, the first.
BY: That was a good one.
MV: Now everybody does it.
JM: One was amazing, and I'm not just saying this because she's my sister, but it was absolutely brilliant. BenDeLaCreme versus Shangela on All Stars, when Shangela's bucking and twirling and bringing the party and Ben is like, I obviously can't do that, so the whole time is just standing next to her pretending she's doing this thing. Like, I'm doing it too, you guys.
MV: I also think that Jinkx Monsoon and Detox, was it "Malambo No. 5"?
MR: Unbelievable.
JM: "Malambo No. 1."
MR: Legendary.
BY: Such few foreign-language lip syncs. Are we gonna expand the universe a little bit more and include more foreign …
MV: Are you trying to kill them? As you know, some of them don't know the words to fucking "Party in the USA."
MR: I did wanna talk a little bit about … Monique Heart, that was a rough lip sync.
BY: But Monique, give it up for Monique.
MR: Give it up for Monique. And you know, something that was really a narrative on Monique this season was the financial hardship. You're on the record as saying you don't need money, girl. The Chi Chi DeVayne. Do you stand by that, or has watching Monique Heart's narrative … Has it made you feel like maybe there is a financial disparity here …
MV: No, hold on a minute. Let me just say this, okay? I did not grow up poor. I grew up lower-middle class. Not middle class. In Plainfield, New Jersey. Both my parents worked. I was a latchkey kid. I didn't go without, so I don't know what it's like to be dirt poor, but I can say that I know that those days that I was down on Christopher Street Pier with these kids that were usually thrown out by their family and not welcome in the home, raised by a grandparent who didn't know they were out there tricking on the piers. These were people that found love within their chosen family, and I was gifted to be in those chosen families, and they did drag with nothing.
MV: That's what I'm talking about. I can't sit there and say, my own experience, but I know watching them, how crafty they could be. So although my heart goes out to anybody who has less than, because I feel we're all entitled to equality in all aspects of life, I know that in drag, you can tell when somebody's got money and their shit is put together for them, and you can tell when they don't. But the minute Chi Chi got that in her head that she can do it without, it changed her thinking. It changed her way.
JM: I think it's like this. Drag …
MV: Jinkx's dress is probably five dollars and she looks amazing.
JM: I think it's like this, okay, so … We drag queens … What I love that has happened for years now with Drag Race is the queens can go on to have any kind of career. Bianca Del Rio's a legit stand-up comedian, and Violet's doing burlesque …
MV: And you had a very successful Off Broadway show.
JM: I wasn't gonna talk about myself.
MR: Absolutely, The Vaudevillians.
BY: The Vaudevillians. Drag Becomes Her.
JM: So it's like, not every queen's talent is putting a look together, you know? But I do think it's a skill you can learn at any economic level, because like Michelle said, you can wear a five-dollar dress but if you're wearing it right and you've … It's like the Olympics of drag, so it's something that requires training. I obviously had slacked off in the look department on my season. I really identified with Monique's narrative because I took out every cent I had to buy the best things I could possibly go with to give myself that competitive edge. And so some of my looks were big misses, and some of them were bull's-eyes in my opinion, but if your other talents are strong enough, you can still do … Monique made it really far in the competition.
MV: Monique is amazing.
MR: She's the ooh-ah-ah sensation.
JM: Who cares that she just … it was that Derrick Barry thing all over again. It's a piece of fabric.
BB: But also, when people like…
MV: That's my favorite thing that I ever said. Jinkx will out of nowhere …
BB: Okay, girl.
MV: … voice-mail me and she'll just go, "It's a piece of fabric."
JM: It's a piece of fabric. You're a fairy.
BB: But even when Michelle criticizes … When she gives constructive criticisms to the contestants, she never, in my opinion, she never comes to say, "Oh, you don't have money" or "You're cheap." I think it comes more to styling, because there are people who have thousands and thousands of dollars in their gowns and they come out and they look really, really cheap. And it's somebody who's gonna have a five-dollar dress, not necessarily this one, but …
MR: But they work it.
JM: I found this dress.
BB: But, you know with your aesthetic and your styling power, that makes it so different. So it's not about the money that you put in your drag.
YH: It's about making it work for you, right? With whatever situation you're given, you have to make it work for yourself. Whether it's good or bad, economically good or bad, you have to make it work for yourself. I think that's where she's trying to say.
BY: Well, I think we're asking this because with the show being so revolutionary, the drag industrial complex has sort of formed around all of this in a great way, but how do Kalorie and Yuhua feel about this? How did you, going into season ten, figure out your way to plug into this huge network of merch and …
MV: The system.
BY: The system.
MR: The whole industry.
BY: How do you guys feel about this now? That's kind of where we're coming from with this whole …
YH: It was very overwhelming because back to season one, they didn't have merch, all that stuff. They didn't have social platform. They didn't go on tours and all that stuff. But now it has become this huge phenomenon that if you're not doing what everybody else is doing, you fade out. So I wish that there was a course that we could all learn that after you finish the show, what you need to do, what needs to be done, and how you can navigate through this crazy lifestyle.
YH: Because usually in your career, you usually go from the bottom and you slowly, gradually, go up in your career. But with Drag Race, after the announcement, you go from here to 360 degrees. Your whole entire life flips around. I mean, I'm going to places I've never been to before because of Drag Race. I'm very, very thankful. I'm going to here, here, here. Before, the furthest I've ever gone was New Jersey, but now I'm going to …
MV: Lucky you.
MR: Give it up for Jersey.
YH: But now, I'm going to places I've never thought I would go to.
MV: Like Yonkers.
YH: Like Yonkers. A little bit further, you know. So your life changes immediately. So I wish there was a course that teaches you or navigates you. But luckily I've had so many fabulous mentors. I've asked Jinkx questions before. I've asked Bianca Del Rio questions before. Peppermint, Bob the Drag Queen, to ask their experience on what to do, what not to do as a performer, as a RuPaul's Drag Race girl, so, very, very, grateful for that.
MR: Kalorie, anything to add?
KW: Yeah, finally. Sorry. I was waiting for you to breathe. It's kinda the same thing. I wish there would have been a course for this because whenever I had my audition, I did not anticipate any of this. And very much like she said, I come from a very small state … Well, not small state. That got me in trouble last time.
MV: New Mexico ain't Rhode Island, baby.
KW: True, very true. So I come from New Mexico. It's not really like this huge pop-culture scene. So I go from nobody to being somebody within literally what amounted to hours. And I'm sure Yuhua and everyone else here, but my followers on Instagram went from like 2,000 to 17,000 overnight. And it's this crazy thing and it also puts a lot of amount of pressure on you, because now not only do you have the pressure from your community, but you have the pressure from the world. I get people that have comments about me from Brazil, from England, the U.K. and all this other stuff, but …
YH: Mars.
KW: Mars. But at the end of the day, I wish there was a course to keep me prepared. Because it wasn't something that I was prepared for, but I'm very blessed.
MV: This is giving me a wonderful business idea.
MR: Professor Jinkx.
MV: The course is Drag Race seasons one through nine. That's your course. There's nothing that can prepare you, nothing. Because it's ridiculously difficult. There's literally nothing, unless you're gonna train for an actual marathon, a triathlon even. Decathlon even.
YH: Exactly, exactly.
MV: So there's nothing that could prepare you, but watching the show, you get an idea of what's expected of you. Like, do not come on the show and tell me you don't know how to sew. I don't wanna hear it. It's true. I don't wanna hear that you don't have characters for Snatch Game that don't make any sense. These things that you know you're gonna have to do. You're gonna have to sing, you're gonna have to act, you're gonna have to dance, you're gonna have to shut up, Jinkx. These are things you're gonna have to do. So, to me, that's the course. Because nobody can really prepare you. You gotta prepare yourself.
MR: You know, Michelle, you just mentioned Snatch Game, and I wanna know from you guys, who were you planning on doing, and what'd you think of the Snatch Game this season?
YH: This season, I loved watching Monet X Change as Maya Angelou. I thought she was fabulous, fabulous, spot-on character-wise, look-wise, very, very funny, and I also thought Aquaria was very good as well. Which was very, very surprising because I know her from New York City. She's very … Why is that funny? I know her from New York City and she's this very ditzy, bubblegum kinda girl, so to see her do Melania Trump, I thought it was hilarious. So I thought those two were amazing.
MV: I think the top three were great.  All three of them, and Eureka too, bitches.
BY: Yes, yes, yes.
MV: Seems to be a lot of hate going on.
JM: Who would you have been?
YH: I would have done Jackie Chan, because I think he's a character of his own. I mean, you never understand what he says, he is always talking about fighting you, fighting himself, so I think I was gonna do Jackie Chan, but I didn't get the opportunity to do it.
MV: And Ru would have said, why not Jackie Chan's sister?
YH: Because I'm a man, Michelle.
MV: The world doesn't need to know that, Yuhua.
YH: I'm not a real woman.
MR: How about you, Kalorie?
KW: So, for Snatch Game I was gonna do Anjelah Johnson. So I'm not sure if y'all are familiar with that
YH: So purty.
KW: She gotta go. She gotta go.
JM: I have a plan if I ever get asked to do an All Stars.
MR: We were gonna ask you about that.
BY: We're gonna ask, but please continue.
JM: I was just gonna say I already have a Snatch Game strategy.
MR: Who is it?
MV: Don't tell it.
JM: Fine, then, I'll give you one of my backups.
BY: All right, give us a backup.
MV: Okay, what's your backup? See, that's how you prepare, you have [a] backup.
JM: Oh, now I'm forgetting all of them.
MR: Well, wait a minute, Michelle, do you say don't tell it because the all-winner season is on the table?
MV: No, I would never confirm or deny anything. Honey, getting all those egos into one building. I don't ever … I'm not even sure if I wanna be around all of … I feel bad for the people that work on the show for that season, but with that said, what was your question about that? The winner season?
MR: Well, I think we're interested in seeing an all-winner season.
BY: I agree.
MR: And I know that it was discussed between you guys on the podcast, so I guess we're curious to find out if that's something you guys would be interested in participating in?
JM: You know, it's funny, because Drag Race is the only reality show where they don't bring back the … Until now, until All Stars 3, they hadn't brought back any winners. Like every other competition show brings back the winners right away. So I kinda want my chance to get into the diva dome again.
MR: She just wants to be on VH1.
MV: But I agree with the winners not coming back. I think they've already done it. Give the other little kids a chance, you know what I mean? Let the ones who almost did it … That's my opinion. They're gonna do whatever they want, and I'll be a part of it anyway.
JM: I feel that way, too, but then it's also like, just the same way so much has changed between Bebe's season and then her season of All Stars, I would love to show how I've evolved in five years, and I would love to like … It was a shot of adrenaline that I didn't know that I was always missing in my life, was the competition.
MV: Which is a RuPaul song available on iTunes.
JM: It was like I have always had big dreams for my drag aspirations, and I talked myself into doing Drag Race. I'm like, take a chance. You might not make it halfway through, but if you can make it to Snatch Game, you'll consider it a success. And then I get on the show, and something about being in that competitive environment, which was something I never wanted, suddenly lit a fire under me, and then I was like, I'm a wonderful drag queen, dammit.
MR: I'm talking. I'm talking.
BY: I'm talking.
JM: Alaska loves doing that impression of me. I am talking, let me finish.
BY: It's powerful. It's good.
MR: It is powerful. Memorable. Make your presence known. Speaking of that, is there any catchphrases of the other queens that you find yourself employing in your own life?
BY: Besides the obvious one right now.
MR: Which is, "Miss Vanjie."
BY: Thank you.
MV: I get it anywhere that I go.
MR: I'm sure you do.
BY: Is it critical mass now …
MV: In the Starbucks line, on the speaker, and I'm like, that's great. I said that like 20 times, thanks. You know, it's that type of thing. It's adorable. I love it, but there's a lot. She texts me after every show, and she'll text me with something else that I said from Jinkx, and then she'll ha-ha on her own statement. There's all that going on.
JM: I'm befuddled.
MR: Yeah, like, what is it? These things that catch on, why do you think they catch on? What is it about it?
BY: Yeah, we get it, yeah.
BB: You just never know what catches on. I don't think any of us go into the show saying, oh my gosh, we're gonna put this catchphrase …
MV: Well, water off a dog's back, she tried.
BB: Okay, girl, she's calling you out, bitch.
JM: It was a tactical decision.
BB: But I don't think … Well, okay, except from her, I don't think a lot of the girls go saying, even with the Vanjie thing, I don't think people go and say, "This is what I'm going to say." I think we just … We say what we say in our confessionals and then people just latch onto what they latch onto. You just never know. So don't try to prepare all catchphrases honey.
JM: I mean, who could have expected that everyone would be doing … You know? That became a thing. I think the more … Because I don't know, like I said, I've been a drag queen for 15 years. I started drag at 15 years old. I'm 30 now. I lied about my age.
MV: That's true.
JM: That is true.
MV: She looks much older, but she really is only 30.
JM: I play older. I lied about my age, got into bars, and was performing at … This was my after-school job.
MV: I have so many jokes I wanted to do there, but I know there's younger people. It had to do with the glory and the hole.
MR: You guys have internet.
JM: When you put drag queens in a room together, like she said, it's loud personalities, we all have our crazy past, we all have our different reasons why we do drag, we all think we're the biggest thing in the whole wide world, you know? And then you put all those energies together, and weird stuff just gets generated. That's why it catches on, is because like, how did you ever think of yelling, "Miss Vanjie, Miss Vanjie."
BY: My favorite description of Miss Vanjie is someone tweeted, it's like the end of a Tennessee Williams play. It's just so sad.
MV: That's a smart-person reference.
BY: Right, there you go.
JM: I mean, and everything Alyssa Edwards says.
MR: Do you know what we were saying today, which is low level but, the shade is knee-deep.
BY: Amazing.
MR: That's a good one.
BY: That's a good one.
JM: Romper room fuckery. That's one of my favorites.
BY: These are returns to manufacturer catchphrases, and that's just textbook inauthenticity.
MR: Learn to sew first.
BY: Learn to sew first.
MR: Then do the catchphrases.
BY: There you go.
MR: So, season ten, obviously you might take a back seat to this question, but who are we rooting for? Season ten. Yes, being a judge and all.
MV: I'm voting for RuPaul Andre Charles.
MR: There you go. Pageant answer.
BY: Do we have any faves? I know you guys had a little glimpse inside the workroom.
YH: I'm still rooting for myself. I am delusional, but I'm still on the show, I'm still not eliminated, I'm still on the show.
MR: I believe that. Crazier things have happened.
KW: In her dreams. No, I'm just kidding.
YH: I did a interview a few days ago for DragCon. They asked me how are you dealing with after the fact that you're eliminated? I told them, I'm not eliminated. I'm still in the workroom. I'm just there as a chair.
BY: Kellyanne Conway that shit. Just tell them that they're lying.
MV: No, thank you.
KW: But no, I'd probably say, who I'm rooting for is my big girl sister. Because I feel like as a big girl, it's hard being on Drag Race. Not necessarily because it's … Anyways, Michelle's just gonna tell me I'm stupid anyways. I'm really rooting for her because she's a fellow big girl and I feel like it's finally time …
MV: Who, Aquaria? Just kidding.
KW: I just feel like it's finally time for a big girl to take home that crown. And I feel that Eureka does possess everything that a winner should have.
BB: But I don't think that … Okay. I don't think that the winners are chosen because of their sizes.
MV: No, I promise you, no.
BB: You know what I mean? I just don't believe that, and I don't think that if you consider yourself a healthy lady, I don't think you … It's true, it's true.
MV: My tits are healthy ladies.
BB: I'm a healthy lady, too, honey. No shade, honey. Big girls are just mean like this. It's even the height as well, too. I don't think that's what happens when you go on the show. It's like, okay, we're gonna crown a skinny girl or we're gonna crown a big girl, you know? It just so happens that the competition ends up being what it is. But I don't believe, and I can say that coming from season one, I don't believe that mother chooses according to sizes. I think people just … If you talk of a big girl, you probably just wanna see yourself represented. That's a different story. But the choice is not made because of your size.
BY: It's like how maybe a majority of the winners have been queens of color, and that's not intentional or anything, it's just sort of a symptom of the system.
MV: It's because they fierce, honey. They fierce.
BY: They fierce. Okay, wait, we're gonna direct some specific questions. We're gonna start with Bebe. What do we think of, one, the rumors that you were a mole on All Stars 3?
MR: I was buying it.
BB: Bitch, that would've been everything.
BY: It would've.
MR: Here was my mental block for that.
MV: Why do you guys listen to Reddit, first of all?
MR: Because a lot of times it's right.
MV: A lot of times, but not 100 percent. There's always that little thing that goes, what?
BY: Yeah, 100 percent, that it's not always right. But Bebe, I had a hard time envisioning a moment where it cuts to you being like, "Mother, I have something to say." And like, then what? Like, what goes on? What do you think about all those rumors?
BB: Well, you know, I think it would've been so fun if I was actually the mole, no shade. Because you don't even … Ma, you didn't even think about that, did you? About me [and] the whole mole thing, but when the rumor came out, it would've been a fun idea.
MV: It would've been fun. If I didn't know, I would've been pissed as hell. Why didn't anybody tell me?
BB: I think it's because that people, fans, and supporters were craving for a winner's season so bad, so when I was introduced in the show in All Stars again, they didn't wanna believe that the bitch was competing. And then I was safe throughout that time. When the rumor came out, I was always safe, week after week. But when I started winning the …
MV: Because you were good.
BB: But when I started winning that challenge, oh, the vultures came out. Oh, bitch, she is no … She gotta go. She gotta go.
MR: Yeah. It felt like they were keeping you safe, even though sometimes we felt you should have won challenges, we're like, why is she safe?
BB: Right. But the fans were thinking that, oh, if she is safe, then that means she's just sitting and watching the girls. She's watching the girls, because she's in the bottom, then the girls can send her home, but if she is safe, then she can be able to take that to Mother and tell Mother exactly what's going on, so.
MV: Guys, it's a TV show.
BB: Right.
MV: It's not that serious.
BB: I know. No shade. I was not the mole. Were you disappointed?
MV: No, you were amazing. You did great, yes.
MR: Incredible. So you, of course, "Rakata ti ti ta ta" is now the drag pledge of allegiance, in this room at least as far as it's concerned.
MV Have they all been initiated?
MR: Yes, oh, they all stood on their feet, honey. All right, so listen, that was you saying, it's whatever you're feeling at the time.
BY: An emotional language.
MR: Yes. So, if you could say, what are you feeling at this time right now in your language, Bebe Zahara Benet?
BB: Rrrrrrakata ti ti ta ta. Listen, listen.
MR: You were hungry for the whole thing, bitch. These 6-year-olds were on their feet.
BB: Yeah, you gotta wait next Friday for my single dropping, "Jungle Kitty," yeah.
MR: Oh, you heard it here first.
MV: "Jungle Kitty," the single.
BB: No, but I think, bitch, it is a state of mind, okay? And it's an attitude. You don't have to be from Africa. It's not an African thing. It's everybody. It's a state of mind. It's not apologizing for who you are, and it's taking power of what belongs to you. And that applies to every single person in the room, so right now, that's what I'm feeling, is very rakata ti ti ta ta.
MR: Yes, you are giving that.
BY: Can we go down the line …
MV: What was the question?
MR: I was gonna ask you, what are you feeling right now in this made-up language, but you're feeling rakata ti ti ta ta.
BB: Bitch, I'm feeling jungle kitty rakata ti ti ta ta.
MR: Yes. That's acceptable.
BY: Can we ask the other queens, if you could speak in this emotional language that is again, not African …
BB: Oh, no.
MR: What are you feeling?
BB: Not Jinkx.
MR: Like, okay, we'll go first.
JM: Rubadubdubdub wah wah wah. Scooby dooby doop doop.
MR: Scooby dooby doop doop doo.
JM: Rakati takati takatata.
BB: Bitch, that's how you feeling?
JM: Rakata ka ka. I mean, you're insane. You're an insane person. She's like, oh, it was just whatever you're feeling at the time. It was that she didn't wanna have to write anything.
MR: But you did write something and it was …
JM: I can just imagine Miss Bebe sitting there like, girls, I do not write lyrics.
Girls.
BB: Oh, no, no, no, I don't …
JM: That is beneath me.
BB: Oh, bitch, don't forget I started … I was the first drag entertainer to start releasing singles from season one. I'm the shit, honey. So a bitch can write, oh yes, a bitch can write. A bitch can write good singles but guess what, honey? Sometimes it doesn't have to be that stuffy, okay? Because when we were writing, when we're sitting and writing and Kennedy …
JM: Face, face, face, beauty, face, beauty …
BB: Kennedy and my sister Shangela and Trixie, all of them. When we were doing that verse, they were like, "Bebe, so what are you gonna write?" I said, "Girl, I'm gonna take the bridge," and then Shangela was like, "Girl, are you sure you wanna take the bridge?" I said, "Bitch, I'm gonna take the bridge." So then we're all sitting and everybody is singing, so Trixie's giving it and everybody's giving it, and so I'm giving mine and I'm like, "Rakata ti ti ta ta." Kennedy turns and looks at Shangela and say, "Bitch, she's gonna take us to the bottom, bitch." She said, Kennedy, she said, "Shangie, take the bridge."
BB: "So sister," this is Shangela, "Sister, so I'm gonna take the bridge, okay?" I said, "Bitch, you are not touching the bridge." Girl, when we went to record that song, I said, "Watch, bitch. Watch Mama work." When we went to record that song and Miss Adam gave it to us, it say bitch, perfection. Shangela turned and looked at Kennedy and said, "Bitch, really?"
MR: Oh, my God, that is the tea.
BB: Yeah. But I love them, yeah.
BY: Yuhua. What's your emotional language right now? What are you feeling at this time?
BB: What are you feeling? Sorry.
YH: I'm feeling …
BY: There you go.
MR: To the point.
BY: To the point.
MR: Miss Kalorie?
KW: I could probably roll my R's really good, so rrrroohoo.
MR: Come on turkey. Hit the back of your teeth.
KW: I just got too excited.
MR: Okay, I have a question for the season-ten queens. Is there a season of the show that you feel you could have won? And if so, which season?
KW: Season 11.
MR: Season 11.
KW: No, too soon? Too soon?
BY: All Stars 4. That's an option.
MR: There you go. So speaking of All Stars 4, Michelle, for you, I know they're all your daughters, but is there a queen that you are really pulling for on All Stars 4?
YH: Pick me, pick me.
MV: This is All Stars 4, what are you talking about?
BY: It hasn't been greenlit yet.
BB: Girl. Is there an All Stars 4?
MV: You guys know something that I don't know?
BY: There you go. All of Viacom, yeah.
MR: We're friends with the people very close with Viacom.
MV: I have no idea what you're talking about.
MR: Well, in a world where an All Stars 4 is greenlit.
MV: Okay. Hypothetically.
MR: Hypothetically of course. Now, what queen are we looking forward to seeing? Who are you feeling like maybe we don't know, they've come a really long way that you can specifically pinpoint as someone who would gag the kids if they came on All Stars 4?
MV: Oh, God. There's a lot. They've grown … Let me just use Shangela for an example. Because Shangela was there for like 25 seasons and then came back again and she slayed the game. She was amazing. I was so proud of her. There's a lot of queens that have grown so much. There's names that people totally forgot about, like Serena ChaCha, who I've seen, not kidding, who I've seen recently and she looks so much better. I don't know how her performance is and how her attitude is, but I know that there's some that I talk to Serena and she's like, "After I saw myself I realized oh, shit, bitch, I need to check myself." But there's a lot of queens out there that have fully changed and fully grown and their game has really stepped up. So there's so many, I'm not going to sit here and keep naming names, but there are plenty to choose from.
BY: There you go.
MR: So Serena ChaCha. Thank you, great.
MV: She's just an example of who, right off the top of my head, because she has grown so much and I was really proud of her, and I know she does like wigs now for the girls, but I'm really proud of the person that she's become and that's amazing.
JM: She's also a little muscle twink now. She's stacked.
MV: Ooh, really?
JM: Have you guys watched Sasha Belle's Instagram play out? She's on a fitness journey.
MR: She's a man, now, girls.
MV: She takes selfies at the gym every day.
JM: I think it's a zaddy now.
MV: She looks great.
MR: We know about the zaddies. Okay, so, I know we have some audience questions, so let's go to, I believe Audra has a question. Wave your hand, Audra.
Audience Member: Hi.
BB: She's shy, honey.
Audience Member: I am shy, you're right.
BB: Don't be shy.
Audience Member: Okay. So I was wondering, even Michelle, too, for this question, how did you guys get into drag, and who inspired you to go into drag in the first place? It's such a challenging art form.
MV: Well, I'll be quick, because you guys will be longer, so let me get mine done. Because I am a cisgender heteronormative-presenting girl who has been part of the community since I'm 17 years old, so me, learning what I learned from trans people who didn't have a name as trans people yet.
JM: You can be everything she just said, and also be hella queer, because she is so queer, you guys.
MV: Correct. And you don't know where I've been and all that shit, so never judge. Amen, girl. But at the end of the day, my first inclination of something different and drag was when, it's a true story: Back in my day, we didn't have computers. We had these things called encyclopedias, and I was writing something they would call a report on … I was a swimmer. I spent every day of my life when I was young at the pool, and I was obsessed with Mark Spitz. If you don't know about him, just look him up.
As I was going to Mark Spitz, I passed Mae West. And I went, what is that? And then I started getting books and asking my mother to get me to movies and all that stuff, and I realized at that point, she was my first drag inspiration. And I thought, if I could look like that, my life would be perfect. And that's kind of where I realized, it's okay to just go all the way, and from all those queens on Christopher Street at the piers that I would be with vogue-ing every night and doing our thing, that's where I learned to be who I am completely, whether it's in drag or out of drag, and love myself for who I am. So that's where my journey began. And what about you, Bebe?
BB: Well, mine is a little different because you know, of course, coming from Cameroon …
MR: A bop for the ages, Cameroon.
BY: Look up the video, it's gorgeous.
MR: Do your homework.
BB: So just coming from there, growing up as a child, I knew that I was very interested … You know, this is me being very young and not even knowing what all this is all about, but I know hair and makeup, fashion, performance, and all that. That was just something that was kinda innate in me, in a way. I was very curious about it, but I didn't see … I wasn't surrounded by that art form, and I wasn't even surrounded by artists that could even make me figure it all out. But I know, growing up as a child and watching television, yes we had television back at home, okay? Not just sitting on tree trunks, honey. Bitch. We got grocery stores, too, just saying, honey.
MV: Educate us, honey, educate us.
BB: Girl, they tried it, honey, they think I live on just mud huts, honey.
MV: Eating crickets.
BB: Oh, crickets, girl, they think I know Kunta Kinte too, and I don't, honey. Just saying. Yes, they did. But growing up, I remember going to the bathroom and I know that the people I was always lip-syncing to, I didn't even know what lip-syncing was, but I know I was always … I believed I was Diana Ross. I believed I was Whitney Houston. I believed I was Grace Jones. Those were the divas we saw back at home. So I was like, oh, my gosh, bitch, that's me. So I would go in the bathroom and I would be in that mirror, and I would be giving all the life. And I didn't even know what that was.
BB: When I came to the United States of America, I was in Minnesota and one of my friends was like, "Come, let me take you to the Gay Nineties." I said, "The gay nineties? What is the gay nineties?" So just very, very ignorant about it. And he said, "Bitch, I want to take you to go watch a drag show." I said, "A drag show? What is a drag show?"
BB: And so we go there, and bitch, the curtains opened, and these divas walk out, and looking so flawless to me, I was like, oh my gosh. That's when I put all the puzzles together and was like, that is why I am so interested. This is what it is. But I still did not even start building my brand until I got casted to go on stage with Cyndi Lauper, "Girls Just Wanna Have Fun." When she came to Minneapolis, and they were doing that and they wanted girls to go, and so I got paid. So I said, "Bitch, you can look like that and make all this money, too? I'll be doing that." And the rest is history.
MR: Yes, it is. What about you, Jinkx?
JM: I just always wanted to be a performer. It was just always my path in life, was finding a way to the stage. I tried everything to see which ones I liked the best. My heart belongs in theater, but I find that creating a drag character lets me do theater constantly. I mean, I still go for auditions for plays and stuff. I've done musicals and classical theater and I occasionally still get offers for male roles in plays. But I just like, at a very young age, I just knew I wanted to grow up to be Bette Midler.
JM: I mean, I think crossgender casting is a way to get a fresh perspective on the classics. And the classics include, like from the '70s, like Sondheim and stuff. I think we should just be allowed to play the characters we wanna play, no matter what our biology is. When I saw my first drag show, this drag queen Abby DeMonico pointed directly at me at one point and she was like, "Finally it happened to me." And it was like she like poked into my sternum and touched my soul in her cheap little wig and her fur duster. It was such a low-rent drag show, and I was like, aah. Because it was a drag queen pointing at me and it just felt like she had passed it on to me. Like a werewolf in 30 days, the full moon, I all the sudden became a drag queen. And I haven't ever stopped, and I find I get to do everything I planned on doing. I'm a musician and a singer/songwriter, a cabaret star, I've acted in television and movies, and I've done all of it in drag.
MR: Amazing. How about you, Miss Hamasaki?
YH: Well, I started drag before … I was 15 at the time, before Drag Race happened, so before they said it was something to look down upon. But I started doing drag because I just felt like I didn't fit in to society, and the only way to feel like I wasn't judged was back at a gay bar again. To get into a gay bar was to do drag, because the security did not know who you were when you were in drag. I didn't go there to party. I didn't go there to drink. I just wanted to fit in and not be judged. And that's why I did drag. I don't know if you guys remember MySpace? Yes, MySpace? Before on MySpace Jeffree Star was this huge, huge, huge icon on MySpace, and I saw his photos. He played with all the colors of the rainbow. His hairstyle was crazy. His makeup was crazy, but I loved it all.
YH: And I thought to myself, I wanted to be just like that as well. I wanted to play with all the colors. I wanna dress up too. Because when I was younger, I would wear my mother's heels. I would wear my sister's dresses. I was always pretending I was Britney Spears or Christina Aguilera. I never thought of me, myself performing as the Backstreet Boys and N'Sync. So when I got older, I put all those pieces of puzzles together of me liking hair, outfits, makeup, dressing up, entertaining people, into one element, which was being a drag queen.
MR: Kalorie?
KW: Oh fish. So for me, it was kinda the same thing. I was actually … I was born and raised in Roswell, New Mexico, if any of y'all are familiar with that? Yes, it's the aliens. There's nothing there, I promise you. There's only illegal ones. And I can say that because that's like half of my family. Roswell, New Mexico.
So we didn't really have this whole drag scene. We didn't really … Gay culture was a very forbidden thing in my hometown. I remember I was watching a rerun on VH1, and it was season two, and it was Jujubee. She had walked out, she was doing this little runway, and I'm like, "God, who is she? She's beautiful."
YH: That was me.
KW: Oh, it was you? When you were 15? When you were 15?
YH: No, I am Jujubee.
KW: So, yeah, so I was watching this, and of course that's when it started to get me into the whole drag scene. And I started to understand what becoming a drag queen was. I had seen that all these queens had been such amazing beacons? Bacons?
MV: Beacons, not bacons.
KW: I am not a calculator, okay? I'm not a calculator. I had seen that they were all these beacons of hope and light and everything that they were doing for the community. And I realized that that's something that I wanted to do. And of course, this whole being in the spotlight and glitter and glamorous, it all appealed to me. And it really helped me kind of decide where I wanted my future to go. And then of course, I met my drag mom from back home in Albuquerque and she really inspired me because she was also a big girl and she was like, "Bitch, we are sickening, bitch, we are Williams. We eat what we want, and we eat as much as we want."
And I was like, okay, cute. So with her, she … I was like, yay, bitch, this is my family, because remember carbs are friends. And so with that, all of it just with being this pillar for people, especially with my role, body positivity, I love being a role model for girls, even though I'm not a real one. I mean, I know it's hard not to believe. But it's great knowing that I can be that role model for somebody. So that's why I started doing drag.