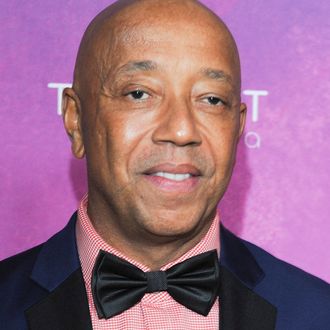 Simmons.
Photo: Amy Graves/WireImage
Russell Simmons, the music producer who has been accused of rape by multiple women, is now filing a lawsuit against one of his accusers — an anonymous woman who Simmons insists made allegations "for purposes of publicity, which this case has garnered." According to E! News, Simmons wants the woman, listed in legal documents as Jane Doe, to pay him $35,000 for her "baseless" actions. The woman sued Simmons in March for $10 million, but the case was dropped because the statute of limitations had passed. Even so, Simmons is asking for money, as well as sanctions imposed on the woman's attorney, Douglas Mastroianni. The law firm representing Simmons in the case also happens to have represented Bill Cosby and Harvey Weinstein.
In her initial lawsuit, the Jane Doe alleged that Simmons raped her in a hotel room after meeting her at a concert, which she had attended with her son, and then inviting her to an after-party. The suit says Simmons told her, "I'm going to fuck you," further threatening, "I'm going to fuck you or I'm going to fuck your son," before forcing her onto the hotel bed and raping her. In March, Simmons told Billboard he was "shocked [to his] core" by the allegations, insisting that he has "passed all of the lie-detector tests" in his assertions that he has never sexually assaulted someone. Well, nobody can argue with a good lie detector.