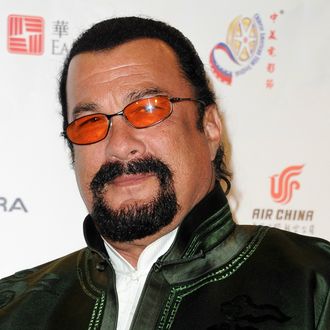 Steven Seagal.
Photo: Allen Berezovsky/Getty Images
Actor Steven Seagal has most recently been in the news in connection to Hollywood's #MeToo movement, having been accused of alleged sexual harassment and assault, so what better time for Russia to name him a special humanitarian representative between to our two nations? According to CNN, the country's Ministry of Foreign Affairs announced Seagal's new role, which the ministry says is akin to a U.N. goodwill ambassador, in the hope that he will help foster collaborations between Russia and the United States "in the sphere of culture, art, public and youth exchanges."
Steven Seagal was given Russian citizenship and a Russian passport back in 2016, and has become a personal friend of Vladimir Putin over the years, even attending Putin's swearing-in ceremony this past May. Last year Seagal was banned from Ukraine for five years for allegedly "committed socially dangerous actions … that contradict the interests of maintaining Ukraine's security," likely because of rising tensions between Russia and Ukraine last spring.