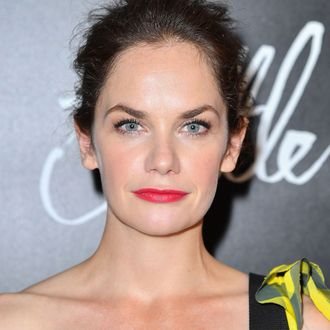 Ruth Wilson.
Photo: ANGELA WEISS/AFP/Getty Images
Ruth Wilson has repeatedly said that she's "not allowed" to talk about her Affair character Alison's death late into the fourth season. (When Vulture caught up with her at an event earlier this month, Wilson told us that she didn't have a say in Alison's arc, or her death.) Now in a New York Times interview, however, the terms of Alison's death seem even more mysterious: Wilson said Alison wasn't killed off because of the show's pay inequality (earlier this month, Wilson said that she's sure co-star Dominic West gets paid more than her, even though she won a Golden Globe for her work on the show). She also told the paper that she didn't leave The Affair for another role, as rumored:
"It isn't about pay parity, and it wasn't about other jobs," Ms. Wilson said. She added coolly, "But I'm not really allowed to talk about it."




There was a meaningful silence. "There is a much bigger story," she eventually volunteered, urging me, more than once, to contact Sarah Treem, a writer and producer of the show.
When the Times contacted Treem, the producer repeated an earlier explanation offered by Showtime: "The character of Allison had run its course. By completing her arc this season, the consequences of her death will lead to compelling story lines for our final season." Previously, however, Treem told The Hollywood Reporter that Alison was killed off because of Wilson's decision to leave the show. Can someone grab that GIF of Oprah saying "So what is the truth!"