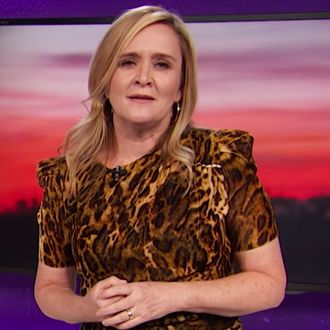 This spring, Samantha Bee decided to call Ivanka Trump a "feckless cunt" during a Full Frontal segment about her father's flawed immigration practices — owing to the First Daughter, rather insensitively, posting a cute photo of her son on social media while approximately 1,500 migrant children were lost track of by the government. The backlash from all political aisles was swift, and Bee soon issued an apology for using that specific language to get her point across. "It was inappropriate and inexcusable," she said at the time. "I crossed a line, and I deeply regret it." Donald Trump himself, unsurprisingly, also became involved, tweeting how the "no talent" Bee should be fired from her "low ratings show." The entire segment — not just the "cunt" slip-up — was pulled by TBS from reruns and its YouTube account, a decision that, Bee now reflects, has her regretting those words the most.
"It was definitely unpleasant. It was a real learning experience. I was very surprised. I felt that it was incredibly overblown. Like beyond overblown. And I was very regretful that that moment really took away from what I was trying to say with the segment," Bee told The Daily Beast in a new interview. "The segment really effectively disappeared, you can't find it anymore. That's really a shame, because the subject matter was really important to me … I felt like it did a disservice to the [separated] families. Not that we would expect to have a huge impact on them, but I felt that anything that took away from that story, which is so critical and an ongoing story that continues on to this moment, I felt terrible."
Bee also clarified that her apologies did not serve as a "concession" to the right's "demands", but rather because it was the right thing to do. "It was offered in a very specific manner and I don't regret putting it out there," she explained. "There is literally nothing that I can do to please loud voices on the right and I don't expect to try anytime soon. It really wasn't for them.
I don't really care what they think of me." As for Ivanka, she's never addressed Bee's words. Publicly, that is.