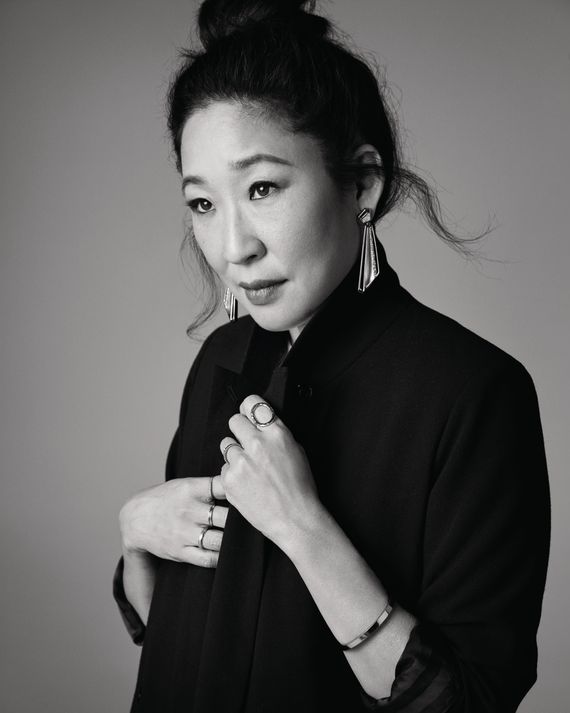 Photo: Justin Coit/trunkarchive.com
When Sandra Oh was 21, her older sister spotted an ad in an alt-weekly looking for a young Asian actress. Oh, a student at the National Theatre School of Canada at the time, became fixated on the part — the starring role in The Diary of Evelyn Lau, a TV biopic on the Canadian novelist and poet's teenage-runaway years. She took a seven-hour bus ride from Montreal to Toronto for a tryout with the director, Sturla Gunnarsson. Before her audition, Oh slept in a bus station and went to a park to do breathing exercises. When she arrived, in baggy overalls and a T-shirt, she laid down on the floor and asked the casting director to hold her hand before she read a scene. "I said, 'I'll just squeeze it until I'm ready.' Who knows how long it was?" she says, laughing. (Gunnarsson says it felt like ten minutes.) Then she stood up and won the part.
The memory still impresses her. "I really admire who that person was at that moment who just said, 'I don't know what the rules are. I'm going to lie down,'" Oh recalls. "That person took her time and was unapologetic about it."
Shortly thereafter, Oh landed her second big part: the lead in Double Happiness, Canadian director Mina Shum's first feature film. Both Evelyn Lau and Double Happiness were released in 1994; Oh was nominated for Best Lead Actress at the Gemini Awards (the Canadian Emmys) for the former and won in the same category at the Genie Awards (the Canadian Oscars) for the latter. She didn't know it then, but this would be a momentary window in her career where she would be the lead storyteller, without caveat or reservation. "That set up the template for me," says Oh, now 47. "Let's have everything!"
We're sitting in a restaurant on the 35th floor of the Shard, Renzo Piano's appropriately named glass skyscraper jutting up in the skyline along the Thames, overlooking London. She's in the city filming the second season of BBC America's Killing Eve, her first lead role on a TV show, and most prominent since her ten-season run on Grey's Anatomy. It's been 25 years since Evelyn Lau, and it's as though her career is once again resembling what it was at the start. She looks at me, amazed, like she can't believe she's here. She clips and then unclips her hair — that famous hair — and her curls fall into place. A waiter stops by to take our order for afternoon tea — Darjeeling First Flush and pink Champagne — and he asks us if we're celebrating a special occasion. "No," she says. "Just joy."
Earlier this summer, Oh became the first woman of Asian descent to be nominated for an Emmy in the lead drama category for her role in Killing Eve. If she wins, it would be another history-making first. Oh is loathe to discuss it. Honestly, she's not even sure about the importance we're attaching to this system of validation. Maybe it's just another distraction from the work that really matters. "Thinking ahead or thinking behind is not good for me," she says. "If it is to happen, then I promise [I'll say], 'This is what I feel!'"
Still, I think to myself, how incredible it would be if she won. By virtue of her long career, Sandra Oh occupies a tender spot within the Asian-American psyche (yes, I know she's Canadian). She could always be counted on to do the work year after year, hit her mark, and turn in ferocious performances in secondary roles. Sure, it's just an award. But if there's something distinct about working as an Asian person in Hollywood, it might be this feeling of waiting to be seen.
Oh grew up in Nepean, Canada, a suburb of Ottawa, where her family was one of the few Korean families in the town. She was one of three siblings, and her older sister was the one who encouraged her to try acting, including her very first play, a musical called The Canada Goose in which she played the Wizard of Woe when she was 10 years old. (Meanwhile, her parents thought she should go into journalism and then become a politician, because she was good at talking.) She never looked back after that.
After Double Happiness, she went to L.A. and hit a wall. Late in the summer of 1995, she had a meeting with an agent who told her that she wasn't a leading lady; she wasn't pretty enough and maybe she should consider plastic surgery. "It was the way that she said, 'Listen: I'm not going to lie to you. A lot of people are going to lie to you. But I've got nothing for you here. I have Suzy Kim' — I'm just making up names — 'she has an audition in like six months. There's nothing for a year,'" Oh recalls. "'My best advice for you is to go back home and get famous.'"
The interaction affected her deeply. "There's a lot of people in our community who can relate to this feeling," Oh says. "I had already done all I could do to get to that A level, which is star in theater, TV, film, and somehow, that wasn't enough for someone to say, 'I believe I can get you an audition.'" She gestures toward the nape of her neck. "There's like a dark needle or a nail that lives at the back of all of our heads, and that's your fear," Oh says. "That's like, 'It is true. There's nothing there. And she's saying that she's not going to lie to me. Other people are going to lie to you, but she won't lie to you. She told the truth. Go back.' I used a pay phone to call [Gunnarsson] and was not able to stop crying. It just cut me at the knees."
Oh remembered that conversation well over two decades later when she got a phone call from her current agent about the part in Killing Eve and didn't realize she was being offered the lead. "I'm like, 'So Nancy, I don't understand, what's the part?' And Nancy goes, 'Sweetheart, it's Eve, it's Eve,'" Oh told me over the phone this spring. "It's like, how does racism define your work? Being told to see things a certain way for decades, you realize, 'Oh my god! They brainwashed me!'"
Before Eve, Oh had built a solid career in Hollywood out of supporting parts: the spastic vice-principal in The Princess Diaries, a weepy porn star on an episode of Six Feet Under, a spurned love interest to Thomas Haden Church in Sideways. Then, in 2005, she became prime-time famous as the ultimate best friend and bullish surgeon Cristina Yang on Shonda Rhimes's Grey's Anatomy. Rhimes says Cristina was her avatar. "It's no wonder I leaned into Cristina, wrote her more eloquently, colored her more brightly, drew outside her lines," Rhimes wrote in her 2015 memoir, Year of Yes. "That is who Cristina was. A piece of my soul and a piece of Sandra's soul wound around each other and placed on television." Cristina's relationship with the title character, Meredith Grey (Ellen Pompeo), was the central one of the show. "One of the first things that I remember Shonda saying to us is 'While the show will be sold as a love story between Meredith and Derek, the truth is, the show is a love story between Meredith and Cristina,'" remembers Krista Vernoff, a writer and now showrunner on Grey's.
Over a decade of plotlines, Cristina got left at the altar, married, divorced, had an abortion, performed surgery at gunpoint, caught a fish, and eventually moved away for a better job. Oh, meanwhile, racked up five Emmy nominations for supporting actress. (She never won.) At the end of season nine, she decided to leave the show after the tenth season. "It just felt like I did all I wanted to do," she says. "I didn't feel like, Ugh, that's all I can do, I've done everything. It was more than that. It was actually, dare I say it, a sense of satisfaction."
Then she waited. For three years, Oh worked quietly, mostly on small personal projects. She made a movie, Catfight, with Anne Heche, a satire about a rivalry between two women; she did a couple of plays; she voiced an animated film Window Horses; and she took a supporting part in her third Mina Shum film, Meditation Park. "I didn't realize how special it was that she did Meditation Park," says Shum. "She says no to everything. I have an agent in the States, they were like, 'Oh, no. The whole thing is the script with Sandra, and Sandra will turn it down if you are making an offer to her.' She just wouldn't play the second banana."
"It's not like there were tons" of offers, says Oh. "It's not like I was, like [swats away invisible scripts with her hands]. People assume that there's more choices that came to me than there was." There were some though, including a lead role she turned down, in a show that Vernoff was developing with Warner Brothers and Bad Robot. "She had really specific ideas about what she wanted to do next," says Vernoff. When Oh got the script for Killing Eve, she knew this was it.
Created by Fleabag's Phoebe Waller-Bridge, Killing Eve showcases Oh's range and feels like the next iteration of a career through line: playing women with tough, spiky relationships with other women. The psychosexual thriller centers on Oh's character, an MI5 agent named Eve Polastri, and a female assassin code-named Villanelle (Jodie Comer). Eve is overlooked and underutilized at work; she's fallen into an easy groove and hungry for inspiration. But after a number of high-profile killings across Europe, something shakes loose inside her. She knows the killer is a woman, and she becomes obsessed with catching her, in part because she recognizes her as a kindred spirit.
The show is a tonal tightrope act, flipping around notions of gender and genre with Waller-Bridge's familiar mordant wit. Oh's performance anchors the show while inhabiting all of its humor and morbidity, its dangerous femininity. "Killing Eve wouldn't work nearly as well without Oh's ability to convey her character's grounded morality and repressed frustration," Maureen Ryan writes in Variety. Matt Zoller Seitz of New York describes her performance as "a magic trick of a high order."
"It's definitely the most deeply psychological piece I've done," she says. Also maybe the most collaborative: Oh is now a co-executive producer on the show. In the climactic moment in the season-one finale, Eve approaches Villanelle and — to their mutual surprise — stabs her. The idea to make Eve the aggressor was Oh's and came about when they were all working the scene out together at Waller-Bridge's mother's house. "I remember straddling Phoebe, like, 'Okay, what if I do this? Then do this [makes stabbing motion]?'" They both gasped. "Then the entire scene came to Phoebe."
"She wants to be surprised," Shum says, of what it's like to direct Oh. She remembers working on a scene in Double Happiness, where Oh's character has an emotional breakthrough and runs through the streets, finally free. "[Oh] said, 'Give me something, I need something.' And I said the most horrible thing — 'You're born alone and you will die alone.' And she ran with that."
Oh's approach to acting is informed by a loose creative collective she's a part of, led by Kim Gillingham, who teaches "creative dream work." It fuses Jungian dream analysis with method acting in an attempt to burrow beneath the subcutaneous layer to something deeper — to what Oh calls "those things that want to kill you, those things that we need to believe about ourselves." Practically speaking, the class gets you into a "lucid meditative state" to bring your "subconscious work into consciousness," explains Michelle Krusiec, a fellow actor and friend of Oh's, who's also in the class.
The work is apparent when you talk to her. Oh's collaborators all mention how present she is, and in person, the result is magnetic. She has an intense gaze and talks with her hands, as though her nerve endings are flying through the air to connect with yours. She speaks vaguely, in that California way, about authenticity, self-care, and openness. She practices Vipassana, a Buddhist form of meditation that's interpreted as "seeing deeply." And Oh sees all of it — acting, meditating, waiting, even this very conversation between us — as an extension of the same practice, an attempt to operate from a place where you're fully grounded within yourself, of "finding that authentic kernel."
She knows it all sounds terribly self-important, but she's also learned to lean into it. "When you are going to those places, [you] have to figure out a smarter self-care," Oh says. "Self-care doesn't necessarily mean jogging!" And while she's guarded when it comes to her private life, nothing about Oh suggests that she didn't come to this place after some real shit.
When Grey's Anatomy first premiered as a midseason replacement in 2005, it was a ratings hit for ABC, becoming the first building block of TGIT (Thank Goodness It's Thursday) and the Shonda Rhimes empire. The cast became overnight stars, and tabloid journalists assiduously chronicled those early dramatic years, clinging to bits of gossip and drama from the set that would include multiple alleged firings, or "parting of ways." "We had paparazzi sitting outside the gates at our little, tiny studio, and people were getting followed in cars. It was bad," remembers Linda Lowy, the casting director for Grey's Anatomy and now the head of casting for Shondaland productions. "I don't really know how [Sandra] handled it. Probably she ran home and hid because that's who she is. I don't think she wants to live in the limelight like that."
The swirl of scrutiny and attention from the media and the public at large provoked a deep, existential anxiety in Oh: How should an artist be? Moreover, how should an artist be when her divorce is covered by TMZ? She won't discuss personal matters — her marriage and split from filmmaker Alexander Payne, on-set drama — but of that period in her life, she says: "There's a certain type of perceived success, but I can also see how that causes stress, how that can cause conflict, and how that can cause people to lose their way. I experienced it as traumatic."
Part of it was what celebrity — becoming it, desiring it — did to her creative process. The idea that you had to create and manage a public persona, one that could interface with the public, smile, and present well as a shiny, always-on version of herself was bewildering and taxing. "If you choose to step into that persona, I think it's harder to get back to your base level to create from an authentic place. At least it did for me," she says.
Oh looks at me, takes a sharp breath, and hangs her head. "I'm going to tell you a story," she says, looking up, and begins to tell me about her first — and to this date only — cover of a mainstream U.S. magazine. [Editor's note: Oh didn't name the publication, but it is very easy to Google.] "I was extremely excited. I was definitely holding onto image in a way that was — I don't know — it hurt me a lot. It hurt me to not see ourselves," she says. "I don't know what it is, but I put a lot of that into this one magazine cover because I wanted to look good. Like, I'm not a fucking model, but I wanted to look like those actresses that look great on magazines. And I was so profoundly disappointed with the cover they chose."
Why? "Because I didn't feel like it was representing me, and it wasn't a good shot," she replies. "It was all about trying to control an image. Me. I was trying to control this image that I would look great and beautiful on this American cover and it had a wide publication. I was chasing after something, and I did not get it. It was almost like I was trying — especially at that time, the majority of all images on magazine covers were attractive white women — I was trying to be accepted that way."
She exorcised that insecurity with another magazine cover she did a few months later for Nuvo, a Canadian quarterly. They offered her the cover, and Oh agreed to it on the condition that she could come up with the concept. She wanted it to be Korean and fashion-forward. Oh wore modernized hanboks by L.A.-based designer Mehee Kim for the shoot. "It was me," she says. "[When] I did my own thing, it didn't matter — I stopped caring about images of myself. I was plagued with it, honestly, for a long time."
These days, Oh tries to live in a kind of eternal present. She doesn't dwell on what could have happened or speculate on what might happen. She's deliberate about what kind of press she does, but has also learned to accept that she can't control it. We've been talking for three hours; the other patrons have left and the lemon curd on the dessert tray has settled into a puddle. "I'm interested in being who I am," she says. "I feel now I have enough space so that you can write whatever you're gonna write, and I'll be okay about it. I don't think I had that ability then."
In meditation, Oh explains, there's an entire world in that first breath — no, quarter of a breath — where you try to clear your mind and get inside your body. Clear out the white noise. "It takes a long time to free oneself from chatter — goals, social media, image, persona," she says. "And if you're able to move through in that way, you can actually start trying to create from a different place."
This place, she says, is it. She's being vague again, but Oh is holding my gaze now, pulling me in, and I feel the tears start to fill my eyes because I know exactly what she means: She's telling me the secret of how to make art, and how to make it last. It's a place that doesn't need magazine covers, beauty contracts, or gilded statuettes. It's unbothered by racism or stupidity. "[It's] where no one can touch you. No one can get to you, except you. But you have to be worthy to go there. No, worthy is not the right word. That space is not easy. It's yours if you want it. Just yours. That's the place to create from. That place," she says, her voice descending into a low whisper, "has real joy."
*A version of this article appears in the August 20, 2018, issue of New York Magazine. Subscribe Now!