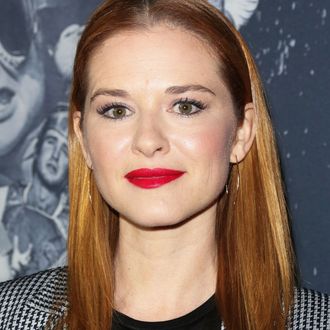 Photo: Paul Archuleta/FilmMagic
If you're going to suddenly lose your job of nine seasons, the least the universe can do to soften the blow is give you an Emmy nomination. That might be why Sarah Drew sounds so chill with her dismissal from Grey's Anatomy in March. The actress received a nod for her work directing the ABC digital-short series Grey's Anatomy: B-Team. In a new interview with The Hollywood Reporter, Drew looks back at getting the news that she was about to exit Shondaland.
When she and co-star Jessica Capshaw were both let go from the series this spring, fans immediately tried to connect the dots between their departure and Ellen Pompeo's recently announced $20 million salary. The show, meanwhile, chalked it up to a new "creative direction," the same explanation they gave Drew as to why Dr. April Kepner wouldn't continue on the series.
"I was told that the show had too many characters and that they needed to downsize because they couldn't service all of the characters effectively," she explained. "Because there were so many series regulars, they needed to downsize and to find some characters that they felt like they could tie up their stories well. [Showrunner] Krista Vernoff said that she felt like April had been through so much and had come out the other side and that she didn't know what she could put her through again. It was really hard to hear that."
In the end, Drew sees being fired as something of a positive development as, like many successful TV stars, she never would have pursued other opportunities had she not been dismissed. Said Drew, "[Being let go] was painful when it happened but, in retrospect, I think it would have been hard for me to walk away from that job."
And while she is excited to explore new roles (she was immediately cast in CBS's Cagney & Lacey reboot pilot, which was ultimately not picked up), there is one thing she does wish she could change about her time on Grey's: who her character ended up with. "I thought Jackson and April were meant to get back together and they were going to get married again and realize they'd been crazy and it was just going to be this long, slow burn," the actress says of her character ending up with former fiancé Matthew. "I can see the beauty in it. But part of me will always be a little heartbroken that April and Jackson were not end game."