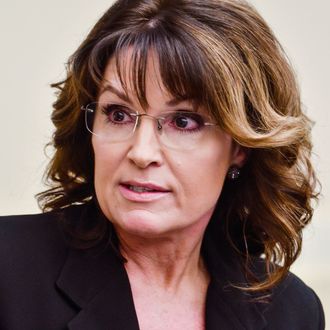 Former Alaska governor Sarah Palin.
Photo: Kris Connor/Getty Images
Sarah Palin made a big deal of complaining about how she was tricked by Sacha Baron Cohen for his new show Who Is America?, but it turns out that we might not see her segment after all. According to Indiewire, Showtime CEO David Nevins told critics at TCA that when it comes to Palin's appearance, "All I can say about that is there are several people who have thrown themselves into buses that may not be heading their way." Nevins added that Baron Cohen is always refining the show so it's always changing: "Sacha is incredibly hard-working and selective in the final product," Levine said. "He has a very high bar. We will see what we see."
Palin wrote a blog post in early July about getting duped by Baron Cohen, calling his humor "evil, exploitive, sick" and claiming that he posed as a disabled U.S. veteran for the interview. Baron Cohen responded in character as Billy Wayne Ruddick Jr., Ph.D., by demanding an apology from Palin and a releasing a statement saying that while he never said he was a veteran, "I fought for my country once — when I shot a Mexican who came onto my property." Showtime later backed Baron Cohen up in a statement of its own. Three episodes remain in Who Is America? season one, so we'll have to wait and see if Palin's blog posts and calls for viewers to boycott Showtime were in vain.
Nevins also revealed that, unsurprisingly, Showtime would very much like Baron Cohen to return for another season (so far, four of the show's seven episodes have aired). "I'm dying to bring it back," he said. "There will be a process. I don't know that I'll be making any announcements [soon], but [Cohen] had me at 'Hello.'" Nevins went on to praise Baron Cohen for creating "a ton of publicity" with the show, noting that Who Is America? was a risk he is "really glad we took … I think Sacha is one of the greatest comedians of our time. He is the Daniel Day-Lewis of comedy."