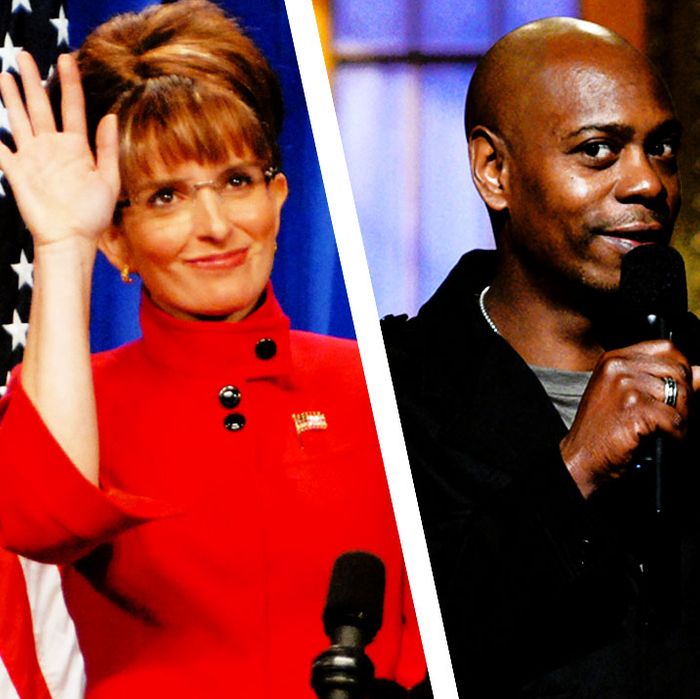 Tina Fey, Dave Chappelle, and Jimmy Fallon on
SNL.
Photo: NBC
Saturday Night Live debuted Tina Fey's remarkable Sarah Palin impression in the fall of 2008; the following year, she was nominated for an Emmy in the Outstanding Guest Actress in a Comedy Series category. Justin Timberlake didn't deliver a culture-shifting performance during his SNL hosting gig in early 2009, but he was nominated for Outstanding Guest Actor for his dynamic, playful, and consistent appearances on the show. Since the '70s, character actors in recurring sitcom roles won these awards, but in the first year the TV Academy recognized SNL players or hosts in these categories, both Fey and Timberlake won. Since then, the Academy has given the nod to many SNL regulars — as many as five in a single year. This year, with Tiffany Haddish, Bill Hader, Donald Glover, and Tina Fey all contending in the Guest Actor or Guest Actress categories, let's look back at those nominees who won, and why they nabbed their Emmys.
Tina Fey (2009)
If there's one political impression from the last decade that shifted cultural perceptions of a public figure and arguably altered the trajectory of a political campaign, it was Fey's Palin. Thanks to a notable likeness between the two, there were calls for Fey to play the Republican vice-presidential candidate long before fall of 2008. Once Fey committed to the idea, playing the loopy, gun-toting Alaskan opposite Amy Poehler's calculating but barely constrained Hillary Clinton, it felt like a shot in the arm. With a writer as sharp as Fey, of course, the impression wasn't just vocal tics, mannerisms, and a few clever turns of phrase. While exaggerating Palin's natural wackiness and indulging her word salads, Fey's take was not a cartoon. It was real enough to be approachable yet barbed enough to be damning.
Justin Timberlake (2009)
During his first two hosting gigs, and with his frequent drop-ins, JT proved himself capable of playing credible characters, trying on accents, leveraging his musical talents for comedic purposes, and otherwise milking moments for all they were worth. Timberlake also found conspirators in both Andy Samberg and Jimmy Fallon; he made the famed "Dick in a Box" short with the Lonely Island guys, and played giggling cohort to Fallon in "The Barry Gibb Talk Show." This award surely was a nod to everything Timberlake had accomplished on the show by that point, but his third hosting gig in 2009 offered new levels of confidence and control. JT's turn as his own great-great-grandfather Cornelius Timberlake — a man with a preternatural sense of what his great-great-grandson will accomplish in America — let Timberlake strut like a peacock, only to scorch his own feathers moments later.
Betty White (2010)
It's tempting to view this Emmy as a celebration of Betty White's life and achievements in general, but that would discount how goddamn funny she was in her episode. White, who was 88 at the time of the filming, threw herself with abandon into every bawdy bit the writers imagined. More than just an old lady talking about her "dusty muffin," as she did during "NPR" (a.k.a the "Delicious Dish" or "Schweddy Balls" sketch), White's impeccable timing and superbly dry delivery showed that age and wisdom really could win the day. And as fun as the naughty stuff was, watch "Census Taker," the sequel to a Tina Fey classic in which crafty wordplay and precision were key. And to whoever created and promoted the Facebook campaign that helped bring this event about—your name ought to be scratched somewhere on this Emmy, too.
Justin Timberlake (2011)
Emmy voters, it seems, couldn't get enough of JT. In 2011, Timberlake bested four supporting actors and Zach Galifianakis (for his own SNL hosting gig) with a little song, dance, and self-effacement. In a "The Merryville Brothers" sequel, he made for a perfectly calibrated, creepy robot. He chewed scenery alongside Kristen Wiig in "Secret Word" and skewered his own celebrity persona in "What's That Name." This time around, he didn't do double duty as host and musical guest — he stepped aside for Lady Gaga and her attendant costume rack — but his best bit was musical. This opening number (about not singing an opening number) also won an Emmy for Outstanding Original Music and Lyrics.
Jimmy Fallon (2012)
Something in Jimmy Fallon was just built for sketch comedy. He's always silly and consistently high energy, he's a uncanny musical impressionist, and he breaks character often enough that audiences feel it's cute and charming but not so often that it's cloying. His first Guest Actor Emmy came eight years after his run as an SNL cast member ended, and it felt like a reward for returning to the things he does best. This episode featured old favorites, like his yakking Bostonite Sully (attended, as always, by Rachel Dratch's Denise) and some funny new bits that suited Fallon well. Take "Beethoven," in which Fallon played one of history's greatest composers as though he were a jovial, pun-pushing bandleader introducing the many dudes in his band.
Jimmy Fallon (2014)
To win the same award not but two years later, Fallon tiptoed by heavies including Nathan Lane and Bob Newhart — as well as Louis C.K., who was also nominated for SNL. Justin Timberlake returned to 8H for this one, too, and was in onstage seemingly as much as Fallon; the Emmy felt like a cosign of the bromance that has continued to flourish on Fallon's version of The Tonight Show. JT and Fallon did "The Barry Gibb Show," of course, but Fallon also joined JT in "Wrappingville," one of an ongoing series that had been one of JT's signature bits on the show. Fallon's big highlight had to be an ad for a compilation "Now That's What I Call Christmas," which gave Fallon space to play Michael Bublé, Alan Rickman, Harry Styles, and Pitbull in the span of three minutes.
Tina Fey & Amy Poehler (2016)
Lorne Michaels could not have picked a better time for Fey and Poehler to co-host SNL. By the winter of 2015, they'd spent three years charming and challenging A- and B-listers from the Golden Globes stage. During their night at 30 Rock, they were firing on all cylinders. Big opening number? Check. Poignant political sketch (involving Sarah Palin and two Hillary Clintons)? Check. Retro parodies? Check. Recurring characters? Check. Boisterous digital short? Check. All that and "Meet Your Second Wife," a stunner of a sketch in which three guys come to a game show set only to learn their futures: Each of them will leave their wives and meet someone, uh, new. It was perfectly disturbing and disturbingly perfect.
Melissa McCarthy (2017)
By the time she won her Guest Actress Emmy, McCarthy had hosted SNL four times and had been rightfully lauded for sharp characters and gonzo performances. Her 2017 show may not have been a next-level event, but her year of playing White House Press Secretary Sean Spicer was revelatory. Alec Baldwin's Trump is a caricature that teaches viewers nothing about Trump the man. McCarthy's Spicer, on the other hand, is strangely humanizing. For all the outsize gestures and props in these sketches, McCarthy paints Spicer as a furious little man barely staving off the humiliation constantly threatening to swallow him. McCarthy not only brought Spicer into the spotlight, she helped SNL fans see the desperate machinations of an entire White House staff attempting anything to please their president and keep him in office.
Dave Chappelle (2017)
"Seemed like Hillary was doing well in the polls, and yet … I know the whites." This quote — from Chappelle's monologue at the top of SNL on November 12, 2016 — sums up the reason why he won the Guest Actor category in 2017. Yes, there was certainly some nostalgia mixed in. Chappelle had been doing stand-up gigs since 2013, but not a lot of TV, and certainly not sketch comedy. His appearance in a Walking Dead parody, which brought back several Chappelle's Show characters, scratched that itch for many. But in general, the night belonged to Chappelle's attempts to process the political moment of which the country was trying to make sense. One sketch in particular, featuring Chris Rock and co-written by Chappelle's longtime collaborator Neal Brennan, was an honest and painful record of what happened across America (for black and white people) on the evening of November 8.