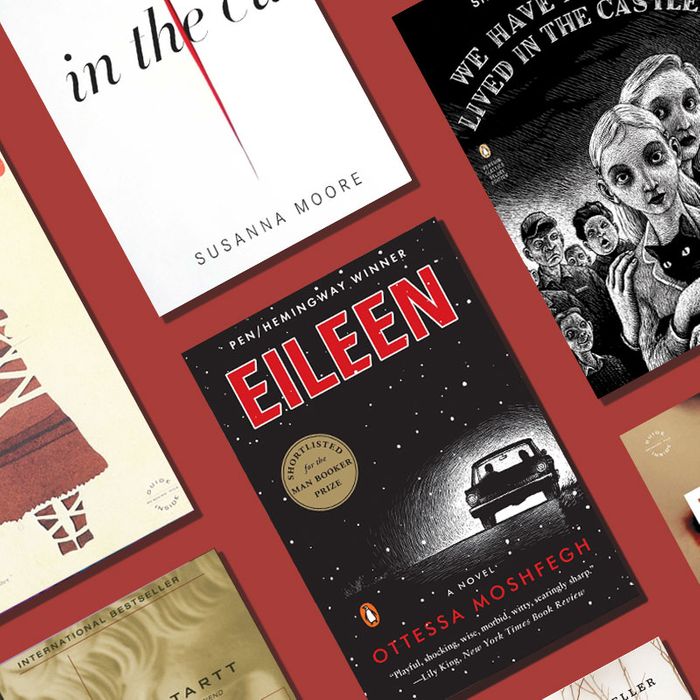 On the last page of the first chapter of Gillian Flynn's Sharp Objects, protagonist Camille Preaker slips into bed in her mother's Victorian mansion, where she recalls a blood-spattered hunting shed she'd stumbled on as a little girl. The walls, she explains, "were covered with photographs of naked women. Some of the girls were spreading themselves wide, others were being held down and penetrated." Camille closes her eyes, reaches her hand between her legs, and masturbates to the memory of the shed. And that's just the first chapter.
Gore and kink aren't exactly unlikely totems of the thriller, but Flynn lends them a special unvarnished grotesquerie. She doesn't transport readers to a more screwed-up version of reality — she stirs up the dredges of what we already know to be terrible about ourselves and our world. Flynn demands that you sympathize with villains even more than victims. Her novels are terrifying because they perch just on the edge of what we know our fellow humans to be capable of.
With the glut of Flynn derivatives out there, it's easy to find a novel that a publisher claims is "like a cross between Gillian Flynn and … " but few live up to the hype. Here are seven novels that serve up some of what Sharp Objects offers.
Dare Me by Megan Abbott
This novel about teenage cheerleaders will scare the pants off parents of girls. Not because the football players chase after them looking for action, but because the girls knock one another off pyramids, share naked photos of each other, drink themselves into weepy oblivion, and gag each other to encourage post-binge purging. Oh, and try to frame each other for murder. Abbott's teenage girls are like Regina George on steroids: sharp-elbowed and willing to dig their knees into someone else's eye sockets just to clamber a little higher to the top of the heap. Dare Me is possibly her best work, with its masterful play between the glitter-bedazzled pep girls out on the field and the malicious creatures underneath the hairspray and painted lips. They're the pom-pommed versions of Amma and her crew.
The Secret History by Donna Tartt
There's something cultish about collegiate friendships, forged in the fires of high pressure and close quarters. The classicists at remote Hampden College in Vermont are even cliquey-er than most, with their private classes and bacchanals and enactments of ancient rituals. But each member of the group harbors a secret, and when one of them ends up dead in a ravine in the woods outside campus, the newcomer in their midst has to figure out whether or not he's willing to keep their confidence, even if it costs him his conscience. Tartt's world-building skills are phenomenal — you'll simultaneously wish you were one of the classics kids and thank God that you aren't.
We Have Always Lived in the Castle by Shirley Jackson
Eighteen-year-old Merricat Blackwood lives in an isolated house, tucked away from the village, with her reclusive older sister Constance and their feeble Uncle Julian. Six years earlier, Merricat and Constance's parents and younger brother, and Uncle Julian's wife, were all poisoned at dinner. Someone sprinkled arsenic in the sugar bowl the family used to sweeten their after-dinner raspberries. The three remaining Blackwoods are a bit too happy for a family living under the weight of such a tragedy, until a cousin intervenes and Merricat's hackles go up.
Jackson is most widely known for that great high-school-anthology short story "The Lottery," and We Have Always Lived in the Castle tiptoes deliciously in its shocking wake, leaving us to worry about what small-town pressure can do to the minds of the young. Wind Gap rings with echoes of the gossipy, self-righteous townspeople who bedevil — and are bedeviled by — the Blackwoods.
In the Woods by Tana French
I don't wait for new Tana French novels to come out in paperback (in fact, I usually email the publicists, desperate for an advance copy). Yes, they're detective stories with fairly standard narrative arcs — a body turns up, detectives arrive on the scene, things gets out of control, and the murderer is revealed with a shocking twist. But starting with In the Woods, her first novel in the Dublin Murder Squad series, French gives her detectives life. They aren't character detectives, burdened by their swagger. They're people, and the hellish crimes they investigate yank on tender threads in their psyches. As a child, Detective Rob Ryan was the only one of three missing friends who turned up alive in a plot of woods near his suburban home. Now, he's investigating the murder of a young girl who was found in those same woods. Memories of his childhood friends haunt Rob, just as Marian's spirit flashes in Camille's peripheral vision.
Eileen by Ottessa Moshfegh
No matter how many critics recommend this book, I still meet people who haven't even heard of it, let alone read it. (Where have you guys been?) So before you pick up Moshfegh's stellar new novel, My Year of Rest and Relaxation, read Eileen for all its filth and dilapidation and booze-soaked envy. A fall-down drunk of Camille's ilk, Eileen Dunlop works in a boy's prison by day and fantasizes by night, especially about sex, although she claims the excitement makes her sick. "I'd always believed that my first time would be by force," Eileen explains. "Of course I hoped to be raped by only the most soulful, gentle, handsome of men, somebody who was secretly in love with me." When a vivacious new colleague named Rebecca arrives at the prison, Eileen mistakes envy for devotion and ends up wrapped up in something uglier than her own repugnant mind.
In the Cut by Susanna Moore
First, Frannie catches sight of a woman giving a blow job in a bar bathroom. Then, that woman turns up dead. Next, Francine's dear friend Pauline ends up dead and dismembered, just like the first victim. Along the way to figuring out just what the hell is going on, Francine starts screwing the detective assigned to the case. She's the prototypical young New York fuck-up, a writer who isn't working her way through life so much as stumbling about in it. An admirer of words, Francine collects them, deploying them as a shield to protect her from her own feelings. And her collection includes, of course, "the cut" itself, a slang term that happens to mean vagina and a place to hide. To that end, In the Cut positively heaves with sex — it's possibly the horniest book I've ever read, including Portnoy's Complaint. Moore once told an interviewer that the combination of women and sex is "the only thing that interests" her. And this book positively spills over with it.
The Collector by John Fowles
Imagine if we heard the captor's point of view in Emma Donoghue's Room — all the practical, unsettling details about how he soundproofed and outfitted the shed — and you'll have some sense of the feel of The Collector. When Fowles's novel was published in 1963, it created a massive stir for its meticulous creation of a delusional mind. (At least three real-life killers have since cited it as inspiration for their crimes.) Tired of collecting only butterflies, Frederick Clegg turns the cellar of his remote house into a bedroom and kidnaps Miranda Grey, a student he's been watching for some time, in the hopes that she will one day love him.
Miranda, meanwhile, keeps a diary of her time imprisoned, and we follow along as the desperation ratchets up for both characters. This is the OG modern thriller, and its depiction of girls as collector's items bears a strong resemblance to the dead young girls of Wind Gap who were gathered under Adora's wings and primed to be her little dolls.